Estimated read time: 6-7 minutes
This archived news story is available only for your personal, non-commercial use. Information in the story may be outdated or superseded by additional information. Reading or replaying the story in its archived form does not constitute a republication of the story.
PROVO — Tanner Mangum had a big grin on his face as he walked off the BYU practice field Friday afternoon, and that isn't anything new for the generally happy sophomore from Eagle, Idaho.
But Mangum had reason to celebrate this day: Football is back in session, and he was feeling it.
"Being out here was fun. Everyone is having a blast," said Mangum, one of two potential starting quarterbacks for Sept. 3 against Arizona. "There's a good energy with the team. We were bummed that practice ended; it went by quick. We want to keep getting better."
The quarterback competition between Mangum and fifth-year senior Taysom Hill hasn't been resolved, though both players saw the bulk of the snaps as the Cougars opened the first fall camp under new head coach Kalani Sitake.
For now, they're just getting used to playing again — even in the required days of practicing in just helmets, jerseys and shorts. The low-pressure environment was evident on opening day as players hustled and ran through drills with gusto, but also seemed to enjoy being together after a long summer.
"The goal is to lay a foundation and be able to compete and find the best 11 on both sides of the ball and special teams," Sitake said. "That will be the competition throughout the month, and as they start sorting themselves out, we'll start naming starting spots in the coming weeks."
Seeing Hill back on the field was good, too. Sitake called him 100 percent, a term that's been applied to the medical redshirt-senior coming off a Lisfranc injury in 2015, and Mangum added he's pumped for the return of No. 4 — or No. 7, now.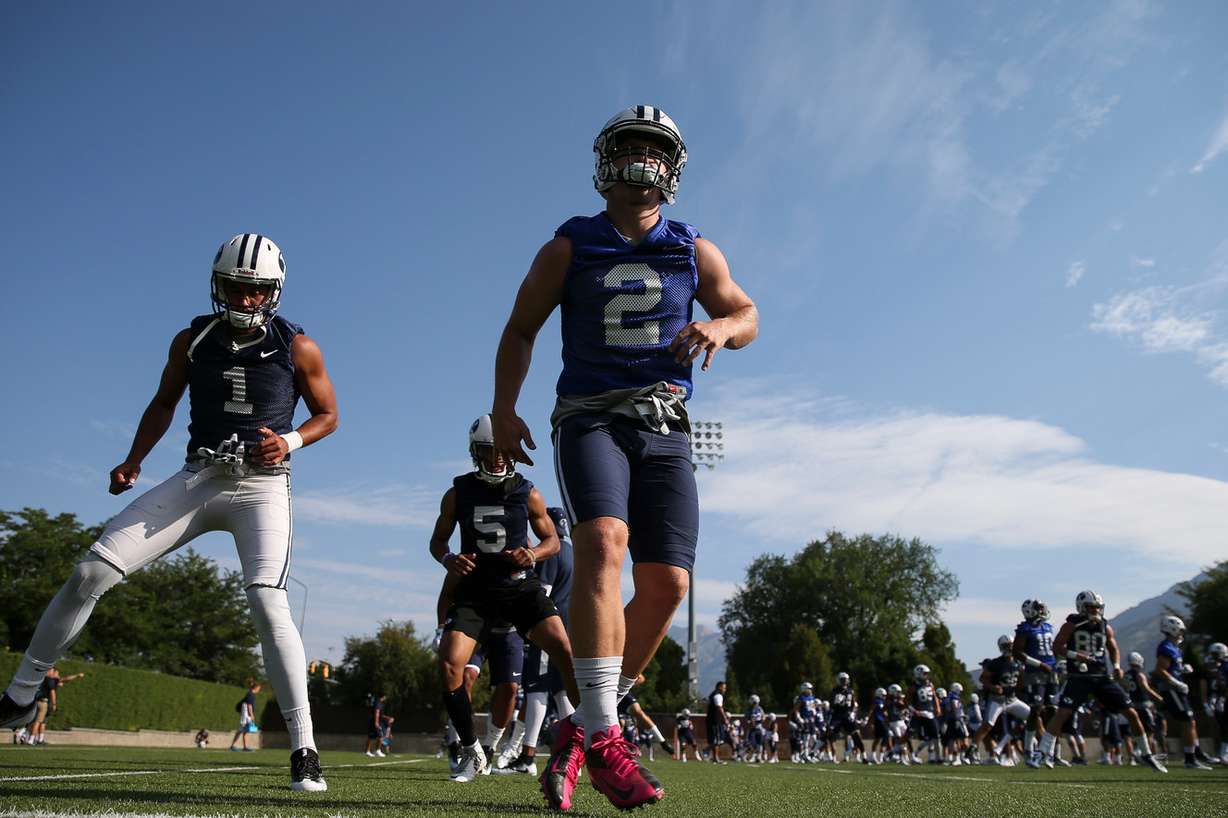 "I think it was the first time I was in this offense with coach (Ty) Detmer, so I wasn't totally comfortable," Hill admitted. "But I thought for a first day, it was a pretty good practice. Overall, I was happy."
As is customary with the first day of fall camp, attention also shifted to multiple players who were not practicing or listed on the current 105-player roster.
Among the players not on the roster are offensive linemen Kyle Johnson, Brad Wilcox and Zac Dawe; linebackers Sione Takitaki and Va'a Niumatalolo; and long snapper Matt Foley. Britton Hogan and Mitch Harris are new long snappers joining BYU on the current 105-man roster that will balloon to 123 players when school starts.
Sitake said each of the players not present on the roster were held off for a variety of reasons, including academics. Their status is day-to-day as the roster evolves over the next month, but Sitake isn't currently planning on anyone being out long term.
"I think everybody is a different case. I can't give one blanket statement, other than these guys are working through some things," Sitake said. "It varies from injuries to academics, and I just want them to work through their personal stuff right now, regardless of what it is."
Takitaki is perhaps the most notable absence. The senior linebacker has been suspended multiple times during his career, most recently after he was cited for theft during an incident with his on-campus custodial job to which he pled guilty for a reduced sentence last year.
A few players from the past season won't return, despite remaining eligibility. Those players who have been ruled out for the season for medical reasons are fullback A'i Ho-Ching, tight end Steven Richards, tight end Bryan Sampson and linebacker Tyler Cook for medical reasons.
Related Story
Such is an unfortunate part of the business of athletics, but Sitake has enough to worry about with players who are on campus.
"There are a lot of guys who showed up today who we know will be fast or strong," the first-year head coach said. "But I was really impressed with how big and how good the offensive line looked. A lot of our guys got significantly bigger, and hopefully that works out in our favor."
Former freshman All-American center Tejan Koroma was among those who reported for the first day of fall camp. He was not made available for postpractice interviews with the media, but he appeared to be a full participant with new offensive line coach Mike Empey and teammates.
New tight end Solomone Wolfgramm reported to camp for his first-ever outing of football. Wolfgramm, who played two seasons of basketball at BYU-Hawaii before transferring to Provo, is listed as a sophomore and figures to play a role in his first season at tight end.
The Cougars do not return a single tight end who has a caught a pass in a BYU uniform, and lost a key veteran in Sampson to a career-ending injury in the offseason.
Thus, the 6-foot-5, 260-pound Wolfgramm from Menlo Park, California, has drawn high praise from his coaches. Another former basketball player who reported was defensive lineman Corbin Kaufusi, who went from being a 6-10, 255-pound power forward/center to a 6-9, 270-pound defensive lineman on the football roster while adjusting to the physicality of his new position.
"We asked our guys to do a lot more in the offseason than most teams," Sitake said. "These guys took it and ran with it, and that part is the physical part."
BIG 12 EXPANSION
With the end of the offseason comes swirling rumors and political posture involving conference realignment, and BYU is in the thick of it as the Big 12 looks to expand to 12 or 14 teams.
Sitake won't ignore that the Cougars are in the thick of the hunt, but he's also asked his players to try to focus on the season because there's not much any of them can do about Big 12 Commissioner Bob Bowlsby and the board of directors' decision in the upcoming week, either.
"I've always said 'that's a (BYU athletic director) Tom Holmoe type of question,'" Sitake said. "To be honest, talking about that right now as a head coach doesn't help our seniors and our team right now. But I'm not going to sit here and pretend like it's not in the background, either."
NOTES
A planned update to the practice jersey was unveiled Friday: Each player had personalized attire with their names on the backs of the shirts. Not everyone was in the right numbers, of course. Wide receivers Nick Kurtz and Micah Simon swapped jersey numbers for the day, but Kurtz is currently recovering from a fractured foot suffered in the offseason, so he was only on hand as a second receivers coach in a walking boot.
Most of the defensive players also wore royal blue jerseys, a change from previous seasons when offensive players wore blue, defensive players wore white and quarterbacks wore green.
×
Photos
Related stories
Most recent Sports stories