Estimated read time: 4-5 minutes
This archived news story is available only for your personal, non-commercial use. Information in the story may be outdated or superseded by additional information. Reading or replaying the story in its archived form does not constitute a republication of the story.
SALT LAKE CITY — Day one of Utah's fall camp is in the book.
The excitement for football has returned as players prove their worth on the field, but few, if any, of the questions leading up to camp have been addressed, including who will be named as the team's starting quarterback.
Head coach Kyle Whittingham said "all of them did a good job throwing the football," but that it would take "several days, if not a couple of weeks" before a starter would be named. However, Whittingham added that each of the three quarterbacks — Troy Williams, Brandon Cox and Tyler Huntley — had "done their work this summer and look sharp."
Following spring camp, Whittingham said Williams had started to separate himself from the rest of the quarterbacks, but after an injury sidelined him, Cox and Huntley evened up the competition, with no real separation identified on the first day of camp.
"You're not going to get a great read in just one day, but we've got a good start on that," Whittingham said. "They're not enemies, but it's competitive and there's a lot at stake. It's the starting quarterback for a top-20 football team, so it's a big deal."
Cox said he welcomes the competition and looks at it as an advantage to help the offense and defense improve.
"It's really healthy for us to come out here and compete every day," Cox said. "It's only going to make us better as a team and a collective group. All three of us can throw, all three of us can sling it, so it's going to be a great competition.
"All three of us are great," Cox added. "All three of us are friends before teammates, so we're all ready to help each other and we're all supportive of each other. On the field it's a different story. Once we're in, we're ready to compete. It's a healthy competition, but at the same time it's very competitive."
Williams added that he believes the "competition will bring out the best in everybody. We're all out there bringing our best to the table and supporting each other on the way there."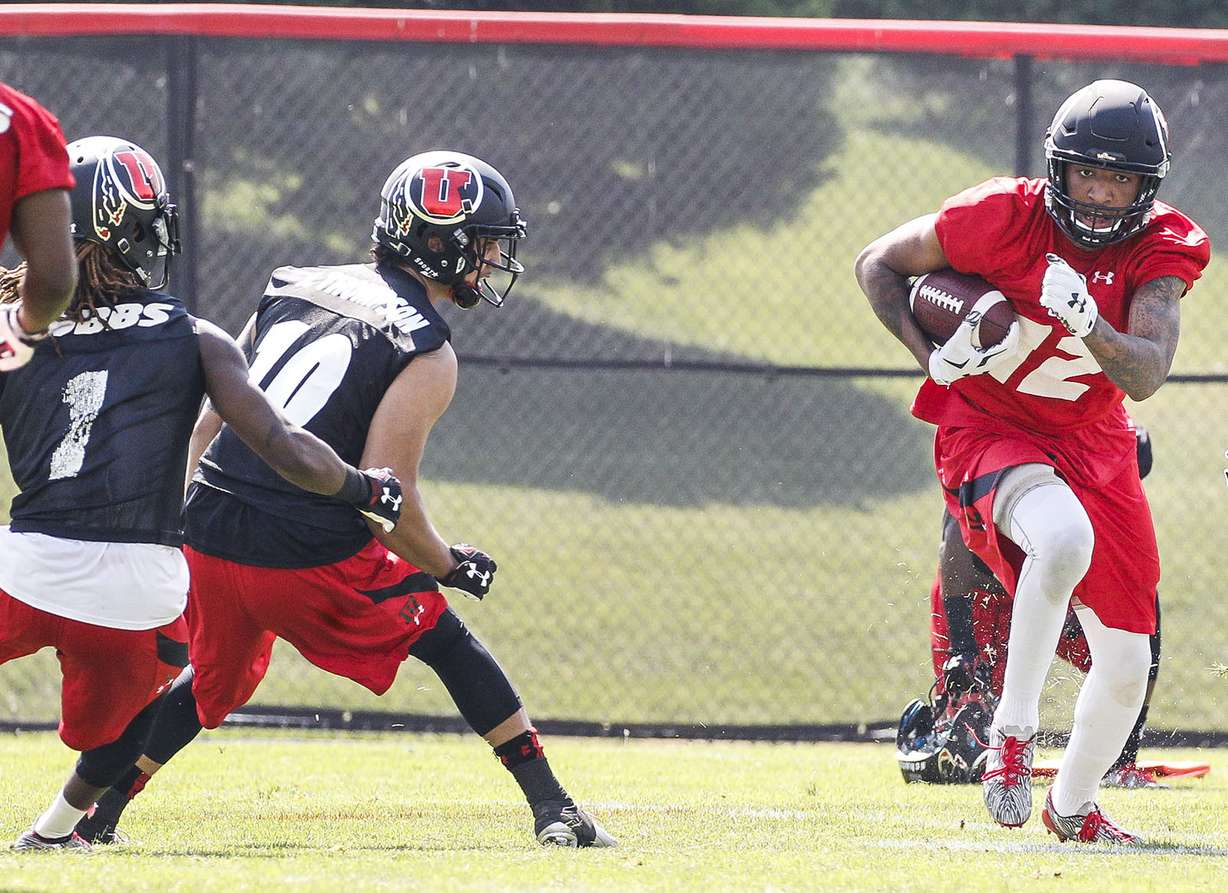 Although the starting quarterback was the biggest storyline coming into camp, it's the wide receiver group that has the most questions around it with the inexperience on the roster. Senior Cory Butler-Byrd appeared to be a stable option at slot, but was suspended from the team indefinitely Thursday morning. Likely backing up Butler-Byrd now is Kyle Fulks, who had a solid spring camp and is expected to be a contributing receiver to a program in desperate need of a legitimate passing game.
"I feel better about myself being in the system now a year," Fulks told ESPN 700. "Now I've gotten more acclimated with the playbook. Now I feel a lot more comfortable running around out there."
Returning is senior Tim Patrick who sustained a knee injury in 2014 against USC, forcing him to miss the remainder of the season, as well as the 2015 season. Patrick has the most experience at the position, but is still an unproven receiver. Patrick said he was happy to be back and was looking to help Utah improve in the receiving game after Utah ranked last in the Pac-12 in passing last season.
"We can't be at the end of the Pac-12 in passing," Patrick said. "We have to be in that top five. That's the goal for the team, we have to be in the top five of the Pac-12 if we want to win a championship."
Also on offense, Utah is returning four starting offensive linemen, but projected center Hiva Lutui was forced to retire as a result of an injury. Whittingham said Nick Nowakowski was getting first team reps today and that Lo Falemaka was playing with the second team. However, the center position remains open until someone steps up and proves the best option, even if that means shifting around the linemen.
Although few questions were answered on the first day, Whittingham said he was pleased with his team for the first day.
"We hit the ground running and there were very few mistakes," he said. "It's great to have that experience up front. We also got out front on defense, so we've got a lot of guys that have played great football for us."
×
Photos
Most recent Sports stories