Estimated read time: 4-5 minutes
This archived news story is available only for your personal, non-commercial use. Information in the story may be outdated or superseded by additional information. Reading or replaying the story in its archived form does not constitute a republication of the story.
BOUNTIFUL — Rulon Gardner won an Olympic gold medal in wrestling in 2000, and added to his haul with the bronze in 2004.
But his monumental upset of Russia's unbeaten star Alexander Karelin at the Summer Games in Sydney, Australia, was only the beginning of his remarkable journey.
"Life has always been about tripping, falling and getting back up," said Gardner, who is in the process of moving to Utah to start a financial consulting business.
Karelin was a 13-time world and Olympic champion. Gardner didn't have a chance … right?
"My coaches said anything is possible," he said. "I had put so much time and effort into it. This was my chance to go out and beat him. I just stuck to my game plan."
After the match, though, Gardner couldn't believe the moment.
"It was surreal," Gardner told KSL Golf after a round at Lakeside Golf Club in Bountiful. "I saw him walking off with his head down, devastated that he lost. But I thought there's no way they're going to give me the gold medal.
"I thought they were going to try to take the gold medal from me. There's no chance they were going to let me win the gold medal and de-throne Karelin."
Gardner won that gold, and it forever changed his life. A former junior college All-American wrestler at Rick's College in Rexburg, Idaho, who went on to Nebraska, Gardner had just pulled off one of the biggest upsets in Olympic history.
A country boy from Afton, Wyoming, had the world's attention. And Gardner didn't realize until his senior year of high school that he could have a future in wrestling.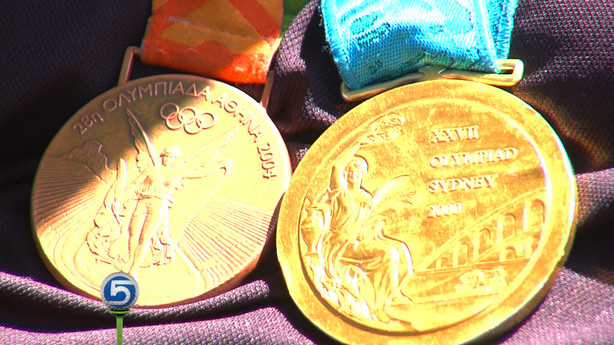 "I had a brother Reynold who beat every day until the end of my junior year," Gardner said. "When I finally got the opportunity to go to state, I won the state championship in Wyoming. That's when Rick's College called me.
"At that point, I realized I had some potential. I just didn't know how far I had to go."
In a lot of ways, wrestling became easier for Gardner — he won a world championship in 2001. But it also became more complicated with public appearances, media obligations and school speaking engagements. Oh, and preparing for the next four years.
But just one year after his monumental upset win, Rulon's life changed when he nearly lost it for the first time.
While snowmobiling without a coat, Gardner was stranded and spent the night in the snow.
"It was a very beautiful day," he said. "As much as I sweat, a lot of times I'm up there so hot. That afternoon, I didn't prepare everything. I didn't have what it would take to survive the wilderness.
"I didn't think I was going to die. I knew I was going to die. That was my ultimatum."
The heavyweight Greco-Roman wrestling standout survived, but at the price of one of his toes. Still, it was a small price to pay.
"When I arrived at the hospital in Idaho Falls, the doctor told me I might have to have both feet amputated and I may never walk again," Gardner recalled.
Gardner persevered in his rehabilitation. Eventually, he did walk again. He placed first at the U.S. Olympic Trials, and in 2004, he was back amongst the leaders in the sport he loved.
"There was nothing that was going to hold me back right now," Gardner said.
---
I'm just going through trying to figure out life. I'm at my middle ages; I'd better start figuring it out pretty quick. My nine lives are almost down to one or two.
–Olympic gold medalist Rulon Gardner
---
Three years after nearly dying, Gardner won the bronze medal in Athens, Greece.
"The ability to walk every day is a miracle," he said. "The ability to win a medal with nine toes, I can't even put it into words."
After the Olympics, Gardner and two other men crashed their light aircraft in Lake Powell. After swimming for an hour in 44-degree water, they managed to make it to shore and spent the night without shelter.
"It was a beautiful flight and it ended quickly: 150 miles per hour with a sudden stop in Lake Powell," he said. "I remember we jumped in, and it was a 1-2 mile swim, and it took me almost two hours to get to the shore.
"It was taking forever, and I thought to myself, 'what if I just give up and drown?'"
All three of the men survived. It was another miracle.
Since the end of his wrestling career, Gardner has stayed busy. After his weight swelled as high as 474 pounds, he appeared in 2011 on NBC's "The Biggest Loser," and briefly worked in mixed martial arts with the Pride Fighting Championships.
Now he's just trying to enjoy his middle-aged bliss, without wrestling — but with a pretty good golf swing.
"I'm just going through trying to figure out life," he said. "I'm at my middle ages; I'd better start figuring it out pretty quick.
"My nine lives are almost down to one or two."
×
Photos