Estimated read time: 5-6 minutes
This archived news story is available only for your personal, non-commercial use. Information in the story may be outdated or superseded by additional information. Reading or replaying the story in its archived form does not constitute a republication of the story.
Another warm one this morning as the Cougars opened the second week of camp with the first of two sessions. This morning's practice concluded with the offense performing in "backed up," "Blue Zone" and "goal line" situations. Bronco pronounced the offense successful in their efforts today, as outlined in his post-practice interview you can hear by clicking his link to the right.
*******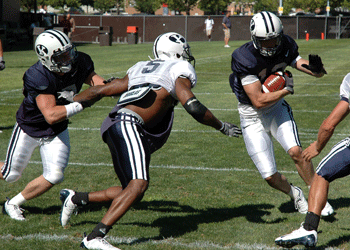 Of note in the "Blue Zone" segment, WR Luke Ashworth took an end-around in for the touchdown on the first play from the 20-yard line, but then the defense stiffened, keeping the offense out of the end zone on their next two Blue Zone series. Ashworth, by the way, has had a real nice camp, and gives BYU a solid option at #3 receiver, along with Mahuika, assuming his return to full health. O'Neill Chambers (see below) is right there, just a bit behind Ashworth but making an impression, nonetheless.
In "goal line," Harvey Unga scored on consecutive touches--on a sweep and up the middle, respectively.
*******
Bronco starts his post-practice interview explaining why he kept the defense after practice for running and up-downs.
*******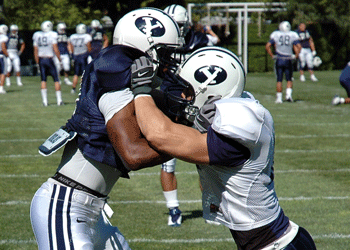 He also addresses the absence of projected starting Kat safety David Tafuna, who took a blow to the head during Saturday's scrimmage was still feeling the after-effects today. Minus Tafuna, Jordan Pendleton took over with the 1s at Kat, with Shiloah Te'o backing up Pendleton. Andrew Rich remains the backup to Kellen Fowler at free safety.
*******
Still no Bryce Mahuika today (quads). He said one of his two quads was actually feeling much better, but that the other was still giving him trouble.
WR Austin Collie was out and about, and undoubtedly anxious about returning to the field. In a positive development, his pain symptoms are lessening day-by-day, and he will begin light weight-bearing activities on the underwater treadmill this afternoon.
RB Fui Vakapuna was kept out of most of practice today--still nursing his sore hamstring, which is being treated with tobacco packs, among other things.
LB Matt Bauman was back on the field and taking part in all but full-contact periods. In "Skelly" and other drills, he was back at his starting "Mike" spot, with Matt Ah You sliding over to the number one spot at "Buck," ahead of Shawn Doman. Bronco talks about the competition at "Buck" and how Ah You is now a solid option at both inside spots.
Which reminds me, after last week's note about the linebacker designations, I was then asked what differentiates the "Mike" from the "Buck" at inside linebacker in the 3-4, and why the "B" or "Buck" designation?
The simple answer is that the "true" middle linebacker, or "Mike," has the primary play call responsibility, and lines up on the strong side or field side in practically every defensive alignment. He is in essence the defensive quarterback, and the other defensive signal-caller (free safety), keys off the "Mike." The other inside linebacker plays opposite the "Mike," and the letter "B" or name "Buck" are kind of throw-aways, if you will. No special meaning--just a way to differentiate between the two inside backers.
*******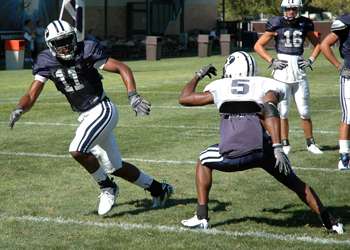 WR O'Neill Chambers was singled out by his position coach for his blocking in a drill that requires two wideouts to block downfield for a ball-carrying receiver, and was also applauded for a nice scoring catch on a goal line fade. He later recorded a significant gain on an end-around run, and you get the impression it may be tough to keep him off the field, his relative lack of playbook knowledge notwithstanding.
*******
Linebacker Jadon Wagner found himself playing with the 2s at "Sam" today--quite a move, considering he was with the 4s last week. Bronco talks about the move in today's post-practice comments. With Wagner moving up, Michael Alisa was with the 3s at "Sam" today, sending Masi Tuitama to the weakside to run with the 3s there. Essentially, Alisa and Wagner are both merely depth options at "Sam," since Vic So'oto would be the primary backup option on the strong side, should David Nixon go down. Coleby Clawson is running behind So'oto on the weakside, but would be a first-stringer if So'oto had to move over.
*******
Bronco called a 15-yard penatly on OL Jason Speredon for shoving Brett Denney after a play in the "Team" portion of practice.
*******
You can hear post-practice interviews with RB J.J. DiLuigi and FS Kellen Fowler. DiLuigi talks about staying healthy after his camp was cut short last season. DiLuigi re-broke a foot in the team's first scrimmage in '07, and ended up taking a redshirt season.
By the way, he says he had the same injury Ben Olson suffered at UCLA (both the break and the re-break of the fifth metatarsal), and he warned that the second time around takes longer to heal. So, when I told him Olson was supposed to be out 8 weeks, J.J. said it would probably take longer. He's not a doctor, but he did go through what Olson is going through now, and speaks from experience.
Fowler, meantime, talks about the competition in the defensive backfield, then sets up his post-BYU plans and spills the beans on his GPA. And, by the way, if father Blaine were to ever tire of the broadcast booth, Kellen could take over immediately.
*******
Scouts from the Green Bay Packers and Miami Dolphins were present today.
*******
Both placekickers performed well today--Mitch Payne and Justin Sorensen each nailed their two longest attempts this morning, from between 35 and 40 yards. The kicking portion of practice was sharp, and kickers' coach Paul Tidwell celebrated with the kicking units after their solid execution today.
*******
Brenden Gaskins has been the primary holder the last few days, with both Austin Collie and Bryce Mahuika out injured.
*******
With Mahuika out, Luke Ashworth and Reed White are the primary punt return options. O'Neill Chambers also floats back to join the returners in the pre-practice punt/punt return work.
*******
A light, "helmets only" or "shells/thud pads" workout is set for 5:00pm this afternoon. I'll be back on the scene for tomorrow morning's fully-padded practice.
*******
I failed to mention that 2008 recruit Jake Murphy was at the stadium scrimmage on Saturday. He embarks on an LDS mission to Australia in October.
*******
×
Photos
Most recent Sports stories