This archived news story is available only for your personal, non-commercial use. Information in the story may be outdated or superseded by additional information. Reading or replaying the story in its archived form does not constitute a republication of the story.
LEHI — Blaine Lindgren won four state hurdles titles at Cyprus High, then won a conference championship at Utah.
In 1964, the Utah native competed in the 110-meter high hurdles at the Summer Games in Tokyo. He finished first in the event — but earned a silver medal based on a technical oversight.
Lindgren spends his days on the golf course and officiating high school football games for the Utah High School Activities Association. But in 1964, he ran under the tape in the pre-photo-finish era at the Olympics, and his final winning time was changed to a silver medal on a technicality.
It took Lindgren plenty of time to get over the oversight. But he finally did, and he's still grateful for track and field, which led him to become the man he is today.
"The friends I had growing up ended up at Point of the Mountain (prison)," Lindgren said in between a round at Thanksgiving Point Golf Club in Lehi. "What kept me straight was the memory of my twin brother — he was killed when he was 9 years old — and my dad. I pretty well did what he wanted me to do. I looked up to him that much."
Lindgren kept his nose clean and became a track and field star. Football was his first love at Cyprus, but his football coach told him he should go out for track to prepare for football season.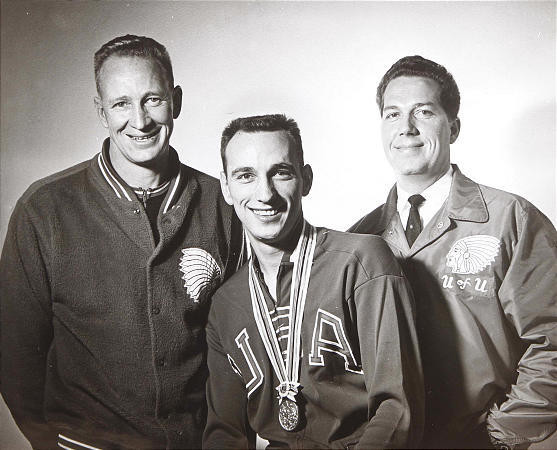 He lucked into the hurdles because the Pirates didn't have anyone else there, and he went on to win two state championships in the low hurdles and two more in the high hurdles.
"I never lost a race in high school," Lindgren said. "I didn't think about (college) because I had signed up for the Army. So 13 days out of high school, I went into the service."
Lindgren returned in December, and worked briefly for a lumber company until the University of Utah came calling. He played one season of football, then started with the track team.
"I won the conference championship as a freshman," he said. "So coach said, 'You are now on the track team; forget about football.'"
An ankle injury also helped deter his football career, and track and field became Lindgren's life. By his junior year, he began entertaining thoughts of representing Team USA in the Olympics. After graduating in 1962, he began training for the Summer Games in Tokyo with a team in Southern California.
"I had two years to try for it," Lindgren said. "Thanks to Marv Hess and the Judge Memorial boosters' club, they gave me the money to go to the Olympic trials in Randall's Island, New York. Even though I didn't have enough money for a hotel room, I slept in the lounge.
"But I did qualify."
A second-place finish at the trials made sleeping on a lawn chair all worth it.
"I was very elated. I was so happy," he said. "It was a lot of work to get to that point, and I felt like it was all worth it."
Lindgren beat veteran superiors like Hayes Jones leading up to the Olympics and went to Tokyo as one of the favorites.
---
I was very elated. I was so happy. It was a lot of work to get to that point, and I felt like it was all worth it.
–Blaine Lindgren, 1964 Olympic silver medalist
---
After qualifying for the 110-meter high hurdle finals, he and Jones were among the finalists.
In 1964, the International Olympic Committee wasn't using the photo-finish technology popular in today's track and field meets. The technology was entering the realm of possibility, but it wasn't as easy to calibrate in cameras at the highest level. The race, then, came down to who broke the tape at the finish line first.
"When I finished the race, I went over to the teletype and it said that I had won," Lindgren said. "But I went underneath the tape.
"The rule was that you had to break the tape. I leaned at the tape, and the Japanese had put the tape up at 5-foot-2. It doesn't take much to lean under 5-foot-2."
For a few brief moments, Lindgren had won Olympic gold. Then as he headed to the podium to accept his medal, the unthinkable happened.
"They reversed it and announced that I was second," Lindgren said. "They announced it over the loudspeaker.
"I was angry. It was probably the last time I really cried. I thought I had the gold."
The public demonstration didn't leave much room for reaction, either.
"I had no other choice; I had to reconcile it with myself," he said. "And the only way I could do that and take away some of the pain was (admit to himself) that I made a mistake. I went under the tape."
It took about 35 years, but Lindgren is finally at peace. After all, he has a silver medal. His wife Maiva — probably his biggest supporter — helped him get over it.
"I got to say that I'm happy with it," Blaine Lindgren admitted.
×
Photos
Related Links
Related Stories