Estimated read time: 3-4 minutes
This archived news story is available only for your personal, non-commercial use. Information in the story may be outdated or superseded by additional information. Reading or replaying the story in its archived form does not constitute a republication of the story.
PROVO — The BYU men's volleyball team has been playing like the top-ranked team in the nation for much of the season, as it demonstrated with its No. 1 national ranking down the stretch.
But the Cougars have had an Achilles' heel: serving. BYU served three times the errors as aces in 2015-16 — but for one night, none of that mattered.
In the MPSF tournament title match against No. 3 UCLA, the Cougars were light's out at the service line, with the Bruins the struggling team in that regard. BYU capped six aces with just nine errors, while UCLA struggled to 27 errors on just one ace.
And according to setter Leo Durkin, it all came after the most hours of work in practice implemented by new head coach Shawn Olmstead.
"That's been our main focus this season," said Durkin, who described earlier in the week the extra practice sessions where players would do nothing but serve and receive for an hour. "Shawn has gotten on us since the very start. Someone told him 'You're moving to the men's game, so prepare for a lot of missed serves.' He put his foot down and said it's not going to happen. That's become characteristic of our team. We serve in, get after it and put pressure on the other team."
Ranked No. 1 in the preseason, it's fair to say the Cougars are looking like the best team in the country right now — and the NCAA Tournament committee agreed.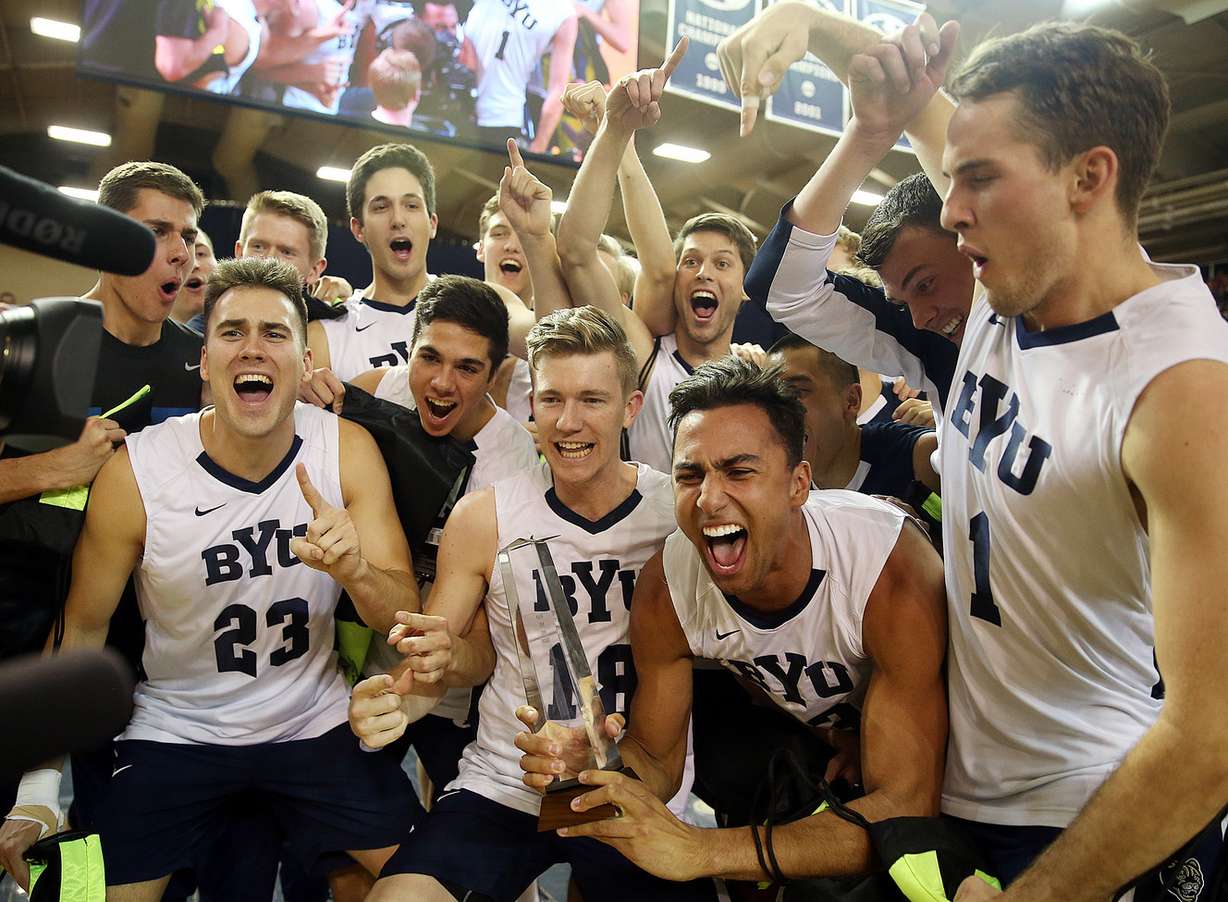 BYU (26-3) received the No. 1 overall seed to next week's NCAA Tournament hosted by Penn State. UCLA (25-6) was given the No. 2 seed, a nod by the committee to the MPSF's overall strength of schedule.
Of the Bruins' six losses, three have come to BYU. UCLA has played every team in the NCAA Tournament field except Conference Carolinas champion Erskine and went 4-0 against each of them.
The Bruins' only other losses came to Hawaii, UC Irvine and Stanford in MPSF play.
"BYU is the best team (the Bruins have played)," UCLA coach John Speraw said after Saturday night's match. "All of us are hoping to get to the finals against them and get another shot."
The Cougars will face the winner of at-large entrant Long Beach State (24-7), the tourney's No. 4 seed and Erskine (21-6) on Thursday, May 5 in University Park, Pennsylvania. BYU split the regular season series against the 49ers.
MIVA champion Ohio State (28-2) fell to the No. 3 seed and will play sixth-seeded George Mason (18-11) in the play-in round Tuesday, May 3. The EIVA champion Patriots are making their first appearance in the NCAA Tournament since 1988.
The winner moves on to face UCLA in the semifinals.
Opposite hitter Ben Patch remembers BYU's last trip to the national semifinals, three years ago before he left for a two-year mission for the LDS Church. Now he's excited to be back — but he has a word of caution for his teammates, many of whom haven't been on college volleyball's biggest stage.
NCAA Tournament
At University Park, Pennsylvania (hosted by Penn State)
Play-in Round
Tuesday, May 3
No. 4 Long Beach State vs. No. 5 Erskine
No. 3 Ohio State vs. No. 6 George Mason
National Semifinals
Thursday, May 5
No. 1 BYU vs. Long Beach/Erskine
No. 2 UCLA vs. Ohio State/George Mason
National Championship
Saturday, May 7
Semifinal winners
"Humility is key," Patch said. "But we are a humble team. We might look like a confident group, but we are humble in that we work really hard. You have to kill us to beat us. I'm so confident that hard points and tough situations, we'll just be humble and grind them out. That's just our thing."
With three of the best pin hitters in the country in Patch, California-bred Brenden Sander and Jake Langlois, the Cougars are enjoying some of their best volleyball of the season. Even the serve-receive is coming together, if Saturday night's final is an indicator.
But Saturday night was never meant to be the culmination of their season.
"We're beyond hungry for more than just this, without a doubt," Sander said. "It's nice to win this (MPSF title), but this is not our goal. This is not where we want to end."
×
Related stories
Most recent Sports stories