Estimated read time: 5-6 minutes
This archived news story is available only for your personal, non-commercial use. Information in the story may be outdated or superseded by additional information. Reading or replaying the story in its archived form does not constitute a republication of the story.
PROVO — The BYU men's volleyball team had spent nearly three weeks playing away from its home court in the Smith Fieldhouse.
Its return home wasn't perfect. But every time the Cougars slipped, Jake Langlois was there to pick them back up.
Ben Patch had a match-high 16 kills and nine digs, and Langlois added 13 kills — including the match-winner — to give No. 3 BYU a 25-20, 25-16, 26-24 sweep of the No. 10 Gauchos for its third-straight sweep of the season.
"I felt like all of us stepped up when we were down, and the last point was one I just got lucky on and hit it off the block," said Langlois, whose 13 kills came on 28 swings with four errors. "My team played awesome tonight.
"I just swung and hoped. I was happy when it went down, but it was good."
Leo Durkin dished out 38 assists and seven digs for the Cougars (7-2, 5-2 MPSF), who got five kills and five blocks from Price Jarman and seven digs from Erik Sikes.
"It seemed like everybody contributed a lot," Jarman said after the match. "We just didn't back down, even when they got up by a few. We kept doing what we were doing, and trusted it to go our way in the end."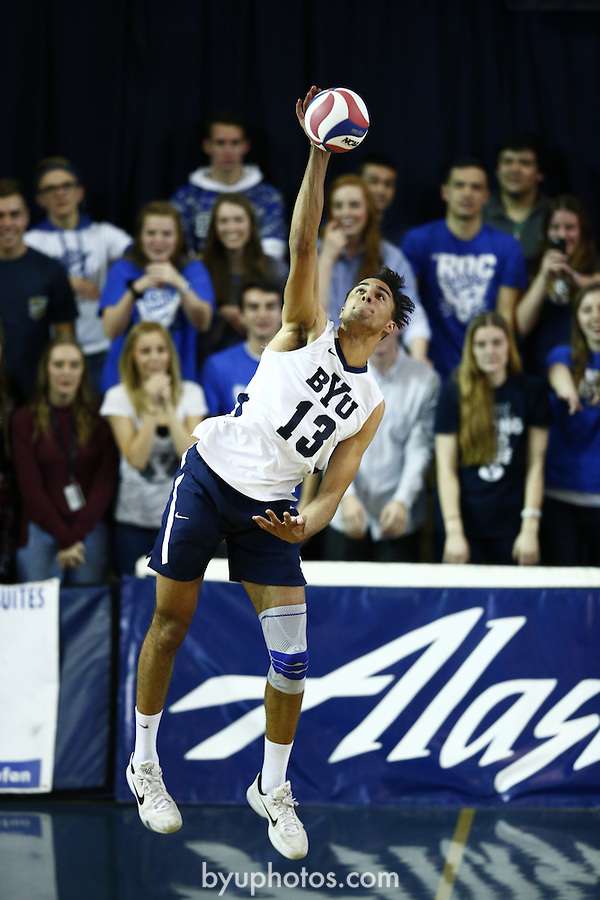 BYU clung to an 11-10 lead on Brenden Sander's fourth kill of the first set from the back row. But Ryan Hardy put down his second block to give the Gauchos a 15-14 lead in the back-and-forth opener. No team led by more than two until Jake Langlois' kill gave BYU a 20-17 lead, capping a set-high 3-0 run.
Matt Marsh led the Gauchos (8-4, 4-3 MPSF) with eight kills, and Austin Kingi added seven kills with Hardy, Jacob Delson and Connor Drake each supplying five for Santa Barbara, which hit just .165 on the night to BYU's .330.
But every time the Gauchos earned a little momentum, Langlois was there to pull the Cougars back up.
"He had good energy, he was jumping hard, and he literally went around and over the block a couple of times," BYU coach Shawn Olmstead said. "He had some really big swings for us at some crucial times, with good energy. He did a real good job."
Jarman laid down back-to-back blocks to give the Cougars a 25-20 win in the first set. BYU finished the match with eight blocks, and five players tallied at least two block assists.
"We watched a lot of film, and we just tried to get in good spots," Jarman said. "When we do that, good things happen."
Neither team recorded a service ace in the opening set, but Sander gave BYU a 2-0 lead with the first ace of the match on the second point of the second set. Santa Barbara tied it up at 5-5 on a block by Hardy and Jacob Delson.
Patch capped a 5-1 run with a cross-court kill to give BYU a 13-8 lead in the second set, prompting Santa Barbara coach Rick McLaughlin to call a timeout.
It didn't get much better, with Langlois and Hatch teaming up on a block to give the Cougars a 19-14 advantage late in the set. BYU then closed a 6-2 run, capped by Patch's 11th kill of the night to go up 2-0 in the break.
"I thought we were really physical," Olmstead said. "Our guys made really good decisions. They're disciplined, and if you start going low, you're going to get in trouble.
"But it was to our advantage; we've got some big boys. It's nice to be out of here in three, but we know it's going to be a grinder tomorrow night."
UCSB jumped out to a 3-1 lead early in the third set, and maintained just enough of the 2-point advantage until Patch tied it up serving a ball that was returned past the end line, 10-10.
The Gauchos kept just in front for several points, but back-to-back kills by Patch gave BYU its first lead of the set, 15-14. Langlois gave BYU an 18-16 advantage with the team's eighth block of the match, and Jarman hammered down a kill for a 19-16 advantage to force the Gauchos into another timeout.
BYU earned a match-point opportunity at 24-21, but Santa Barbara fought off its back for three-straight points to pull within 24-23 before Jacob Delson tied the set at 24-24.
"We just needed to relax, basically," Langlois said. "All we had to do was side out once. We didn't get it, but we came back and got two in a row. We were fine, and we were playing well."
The Gauchos then drove a serve straight into the net, and Langlois forced home the final kill to give BYU the sweep, 26-24.
"I told the guys they have to be a lot more confident at the end. It started with a missed serve, and I wasn't pleased with that on match point," Olmstead said. "You've got a team trying to figure out how to win here in Provo, and you've got a lead, so we need to put pressure on them. I wasn't very happy with that.
"I hate that I get a little wired up, but we just need to force them to play. When they can't find points, you've got to force them more."
BYU returns to the Fieldhouse for a 7 p.m. MST match Saturday against Santa Barbara, followed by another road trip to New Jersey to face Princeton and New Jersey Institute of Technology.
×
Photos