Estimated read time: 4-5 minutes
This archived news story is available only for your personal, non-commercial use. Information in the story may be outdated or superseded by additional information. Reading or replaying the story in its archived form does not constitute a republication of the story.
PROVO — It's hard to win road games in college basketball, especially road challenges like the one BYU faces Thursday night at Gonzaga.
Fortunately for the Cougars, they've already done it — just last year, 73-70 over the then-No. 2 Bulldogs.
Unfortunately for the Cougars, only three players on the roster remember playing in that game. Kyle Collinsworth, Chase Fischer and Corbin Kaufusi were the only Cougars who played in last year's upset of the Zags in Spokane (forward Nate Austin also returns, but he was out for the season with a hamstring injury before the Gonzaga game).
Duplicating the experience of The Kennel, which BYU (12-5, 3-1 WCC) will see Thursday night at 7 p.m. MST against the No. 25 Bulldogs on ESPN2 and KSL NewsRadio, has been a difficult task for head coach Dave Rose.
"You just have to experience it to really understand it," Rose said. "I think that it's a great home-court advantage, but it's also a great opportunity to go in and play and experience that, and then to be able to execute at your best in that setting.
"We'll see how it goes; we've got a lot of young guys that are playing a lot of minutes for us, and we depend on them for the success of our group. Hopefully they'll be able to figure it out pretty quick."
One of those critical young players is starting guard Nick Emery, who currently ranks third in BYU history in 3-pointers by a freshman with 42. The former Lone Peak standout has had a remarkable first season following a two-year LDS Church mission to Germany, averaging 15.2 points, 3.3 rebounds and 2.5 assists per game.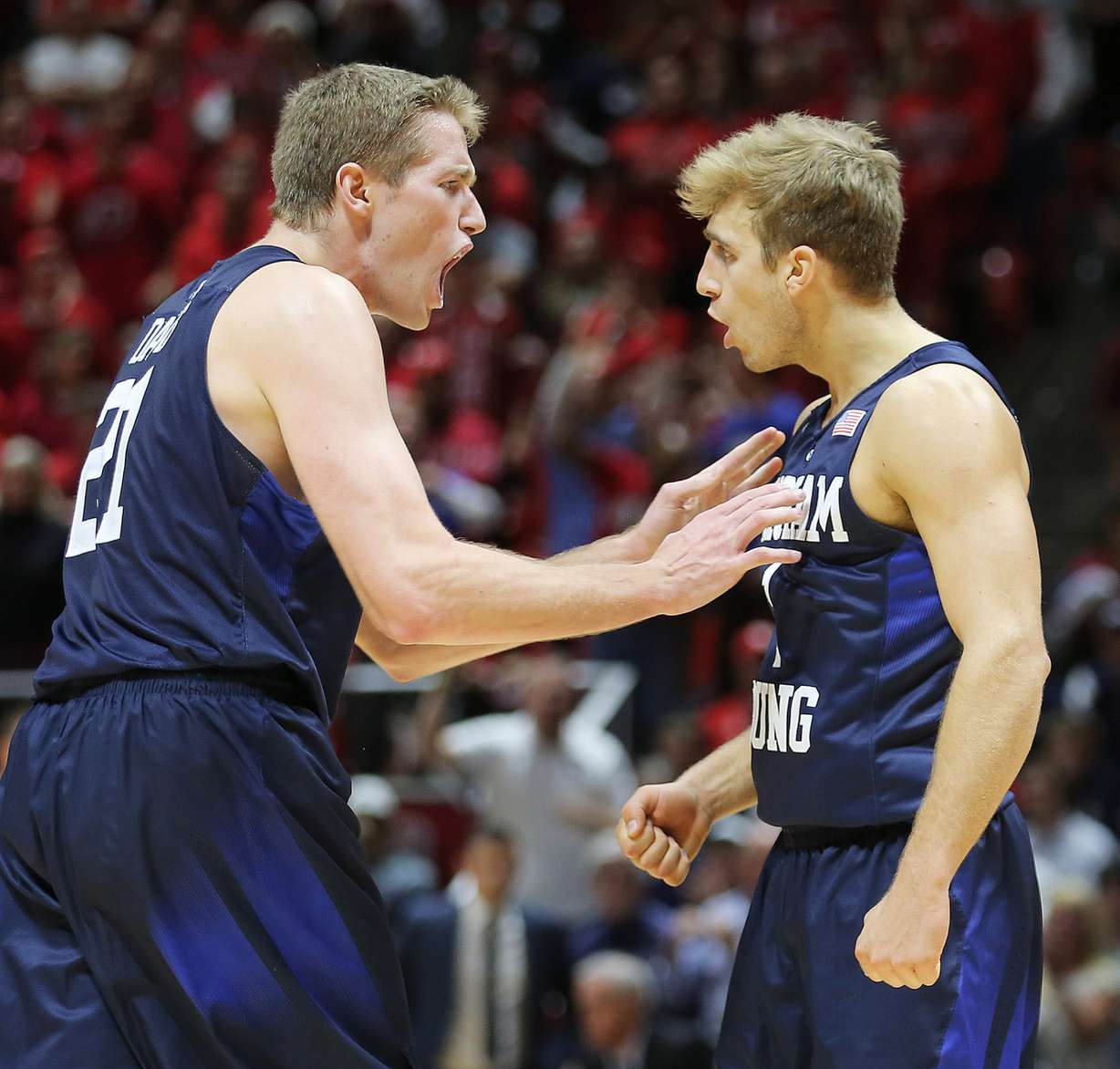 But even he is relying on the veteran experience of Collinsworth and Fischer to know what to expect from one of the more raucous student sections in the West.
"They've said they play well up there, just like any team in the WCC on their home court," Emery said. "They say the fans get into it, the coach gets into it, the players. We've just got to stay level-headed and play our game."
On the other side, the Zags return a loaded frontcourt with starting posts Kyle Wiltjer and Domantas Sabonis. Wiltjer averages a WCC-leading 21.5 points per game, while Sabonis adds 18.9 points and 11.0 rebounds per game for the Zags (13-3, 5-0 WCC).
Junior forward Kyle Davis also hasn't played at Gonzaga. The former Utah State post sat out last year's game in Spokane during his ineligible season following a Division I move. Thus, he's been picking his teammates' brains about the team and venue, as well.
"They've told me how fun it is to play there in that environment," said Davis, who is averaging 12.8 points and 9.5 rebounds per game in 2015-16. "They have a great home crowd, and we obviously have great memories from last year. We just hope to go in and try to repeat them."
Related Story:
A year ago, BYU was able to beat Gonzaga by forcing the Bulldogs' big men off the court and rotating to a consistent four-guard lineup. But the addition of Davis has made them a more "regular" team, slotting the power forward into the post alongside Kaufusi, Austin or fellow newcomer Jamal Aytes.
"I think that Kyle has really changed and gotten us back to where we feel more comfortable in how we play," Rose said. "I loved our team last year for how they competed, but it was uncomfortable at times because of the size of the players. We didn't have a low-post scoring threat, and Kyle brings that to us."
Rose said this year's new team has been one of the biggest challenges of his decade-long tenure as head coach at BYU. But the newcomers haven't all been bad, either — when the young talent makes an impact like Emery and fellow freshman Zac Seljaas, who ranks sixth in BYU freshman history with 38 3-pointers.
"It's so impressive to see how both of them have responded in their first year," Davis said. "But it's something that hasn't shocked me. I've seen them be able to play well all summer, and they have the skills needed to play this well. I'm just grateful that they are playing so well."
×
Related stories
Most recent Sports stories