Estimated read time: 3-4 minutes
This archived news story is available only for your personal, non-commercial use. Information in the story may be outdated or superseded by additional information. Reading or replaying the story in its archived form does not constitute a republication of the story.
LOGAN — Utah State coach Tim Duryea got to know former UNLV coach Dave Rice when the two were colleagues in Logan during the 2004-05 season, and the two kept in touch when Rice took a six-year position at BYU and ascended to the first head coaching job of his career.
So when Rice parted ways with his alma mater Sunday night after the Runnin' Rebels opened Mountain West play at 0-3, Duryea was understandably upset for his good friend.
"I'm nauseated by how he's been treated down there during his tenure," Duryea told the media Monday. "I think it is a sad commentary on the coaching profession."
Duryea pointed to last year's Boise State team that opened league play at 0-3, nearly going 0-4 before an 82-73 win over UNLV gave the Broncos their first conference win of the year.
The Broncos went on to win the league's regular-season title and finished 12-4 in conference play, before falling in the first round of the NCAA Tournament to Dayton.
That luxury won't be afforded to Rice midway through his fifth season at UNLV.
"For somebody after three games in a conference season — two of them on the road in hard places to play — to lose by a couple of points, and determine that is a reason to fire our coach is a line of think I think is absurd," Duryea said. "It is just a sad commentary the way coaches are treated.
"I think that is an awful situation and reflects very poorly on their administration."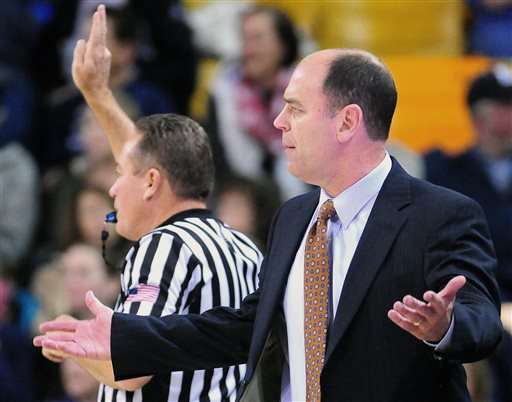 BYU coach Dave Rose was similarly disappointed in UNLV's decision to part ways with Rice, who was an assistant to Rose at BYU from 2005 until taking the UNLV job in 2011. Rose said he has spoken with Rice via text messaging since the latter's departure, and Rose is open to bringing in his former associate head coach to consult on this year's team.
"I think that there will be a time during this season where we can actually get together and maybe evaluate our team and have him help us," Rose said. "I think that he is a great coach, and one of the smartest guys I've ever been around as far as a basketball mind is concerned.
"Sometimes, in this business, you might need a little more time and he just didn't get that. I don't know the situation, but I felt bad for he and (Rice's wife) Mindy. They are great people, and he's a great coach. I'm sure he'll land on his feet somewhere."
Duryea also weighed in on the controversial move by the University of Utah to buy out its 2016-17 contest at BYU. The Runnin' Utes haven't played the Aggies since 2010, with Utah coach Larry Krystkowiak claiming in Monday's press conference that it was because of the amicable relationship he enjoyed with former coach Stew Morrill.
Duryea said there was never a reason given to him why the series between the in-state rivals ended.
Related Story:
"All I was told was that Utah wanted the series to end," he added. "We tried to start it back up and offered some dates, but those dates were never accepted because conflicts on their end. The series has been in limbo ever since then. We've asked for dates, but dates were never (sent) back to us — so at that point Larry and Stew both decided that they were not going to play. That is where it stands right now."
Rose said the conversation surrounding the rivalry series has been "active" in the past week, and reiterated his previous feelings of disappointment around the subject. When asked if Krystkowiak said anything during his press conference Monday that he'd like to refute and agree with, he added one thing.
"I probably agree with the fact that he (Krystkowiak) doesn't want the series," Rose said.
×