This archived news story is available only for your personal, non-commercial use. Information in the story may be outdated or superseded by additional information. Reading or replaying the story in its archived form does not constitute a republication of the story.
PROVO — New BYU football coach Kalani Sitake has been on the job for just under a month, with recruiting, naming assistants, and handpicking position coaches among his top priorities.
Some of the staff is already in place with assistant head coach Ed Lamb in charge of tight ends and special teams, Ty Detmer as quarterbacks coach and offensive coordinator, and Ilaisa Tuiaki as defensive coordinator. Here are my predictions for six people Sitake could bring to Provo to help round out his staff.
Wide receivers: Ben Cahoon
Former Cougar Dennis Simmons would be my first choice to fill the absence left by Guy Holliday at the position. Simmons is currently at Oklahoma, though, and it's doubtful he would make a lateral move. Cahoon would be my second choice, and I think he is going to be Detmer's guy.
Cahoon had a solid career in Provo at the wide receiver position. After being deemed too small and slow for the NFL, he was drafted by the Montreal Alouettes of the Canadian Football League team and went on to a Hall of Fame career.
Cahoon was the wide receivers coach under former offensive coordinator Brandon Doman. Cougar wideout Cody Hoffman especially thrived under Cahoon's tutelage, and the receivers were a strong group in Cahoon's tenure. After Doman was let go, Cahoon was not retained by returning offensive coordinator Robert Anae. Still, Cahoon is a BYU guy, which Sitake seems to care deeply about, and he has coached at the collegiate level.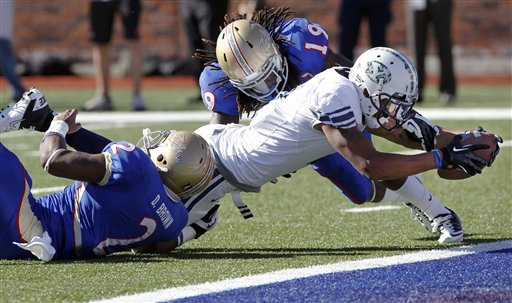 Running backs: Jamal Willis
Reno Mahe has been rumored to be in contention for the position, but I think Detmer will go with his former teammate, Willis. Willis was a dynamic running back for the Cougars from 1991-1994. His relationship with Detmer is a major reason why I think Willis will be hired, but it's not the only reason.
First of all, Willis has been a coach before. On a staff that thus far has limited actual experience, his time as head coach at Payson High could be valuable as he, along with Lamb, could act as sounding boards for Sitake's ideas.
Secondly, Willis is already on staff at BYU as an academic adviser. He knows the ins and outs of the program and would be a carryover from Mendenhall's regime. Some continuity could be a good thing for BYU players.
Offensive line: Mike Empey
Another teammate of Detmer in 1991, Empey protected the Heisman winner's blind side as an offensive lineman. Empey coached the offensive line and tight ends in LaVell Edwards' last season and throughout Gary Crowton's tenure at BYU. He was not retained when Bronco Mendenhall was promoted to head coach.
Empey makes sense as the new O-line coach for two primary reasons. First of all, he already has a relationship with Detmer and the new staff is already going with guys they either played or coached with. The second reason is his experience as an O-line coach. As already mentioned, Empey was on BYU's staff for five seasons. Prior to that, he was the head coach at Snow College for two years. His experience as a head coach, like Lamb and Willis, could be a valuable asset to the program.
Secondary: Jernaro Gilford
Gilford was a talented cornerback at BYU from 1999-2003. Gilford makes sense for football reasons but also other reasons. From a football perspective, he played and has some coaching experience. He was on BYU assistant head coach Ed Lamb's staff this past season at Southern Utah as secondary coach. It seems possible, then, that Lamb could bring him to BYU's staff.
From a non-football standpoint, Gilford also would bring tremendous value. He came from a gang-riddled area in California prior to playing in Provo. He had to deal with the culture shock of coming to a predominantly white city and had a bump in the road with the Honor Code. Gilford would immediately have credibility with black athletes from rough neighborhoods and could help them navigate their way in Provo and show them the path back if they do run into trouble.
Defensive line: Steve Kaufusi
Kaufusi has been a staple on BYU's sidelines since 2002. He coached under both Crowton and Mendenhall and has produced some outstanding linemen, most notably Ziggy Ansah — the fifth overall pick in the 2013 NFL draft.
A former Utah assistant, Kaufusi and his family have strong BYU ties. It's common for new coaches to retain at least one member of the previous regime's coaching staff.
Linebackers: Paul Tidwell
Tidwell has been coaching for a long time. His first gig was as a head coach at Richfield High in 1978, so he's spent nearly four decades as a coach. Since then, he's worked at numerous schools and coached numerous positions. He has been at BYU since 2000 and worked under Edwards, Crowton and Mendenhall.
Tidwell's coaching experience would be terrific to have on such an inexperienced staff. Tidwell has been an anchor during three coaching changes and brings a lot of knowledge with him. Another reason Tidwell makes sense is because he has had two stints in his time at BYU as a recruiting coordinator. Sitake has placed a major emphasis on recruiting, and Tidwell's experience in that regard should be appealing.
Who do you think will be the new assistant coaches? Let me know in the comments below.
---
![](http://media.bonnint.net/slc/2539/253958/25395882\.jpg?filter=ksl/65x65)

**About the Author: Dylan Cannon** ----------------------------------

Dylan Cannon is a regular KSL.com contributor and can be reached at DylanCannon86@gmail.com or via twitter @DylanCannon11.

×