Estimated read time: 5-6 minutes
This archived news story is available only for your personal, non-commercial use. Information in the story may be outdated or superseded by additional information. Reading or replaying the story in its archived form does not constitute a republication of the story.
PROVO — Technically, BYU had a 51-45 lead on San Francisco going into halftime.
But it sure didn't feel that way, even after the Cougars had shot 53 percent from the field, according to senior guard Chase Fischer. The Ripley, West Virginia native felt like BYU trailed after giving up 45 first-half points — and they weren't completely happy.
Fischer scored 25 points, Nick Emery added 21, and Zac Seljaas chipped in 20 points to help BYU to a 102-92 home win over San Francisco for its third-straight win over West Coast Conference opponents on the highest-scoring night of the season at BYU (12-5, 3-1 WCC).
They had us back on our heels a bit," said Fischer, who scored 12 of his 25 points after the break. "In the second half, they made a lot of shots to keep them in the game. I think we just needed to be tough at the end, and close it out."
"They're a really good offensive win, so I think it was a good toughness win for us."
In the first three minutes of the second half, Fischer dived into the the lane and scored on a layup, and Emery followed with his second 3-pointer of the evening to put BYU up 62-50 with 16:33 left. But it wasn't easy as Dons (9-7, 3-3 WCC) kept coming back.
"We played well offensively, and shot the ball well. We were able to win the game, and I'm happy with that," BYU coach Dave Rose said. "But we were outrebounded, and just need to move on, learn from this, and hopefully get some good practices in next week and get off on the road for four games."
Seljaas, who had his best scoring output since Dec. 18 against Central Michigan, converted on 6-of-10 3-pointers for BYU, the third-most triples in a single game by a BYU freshman in program history. Emery added five rebounds and four assists on top of his 20-plus point game for the Cougars, the fifth-most 20-point games by a BYU freshman in program history. Kyle Collinsworth chipped in 13 points and seven assists, and Kyle Davis scored 14 points on top of a career-high three blocks for BYU.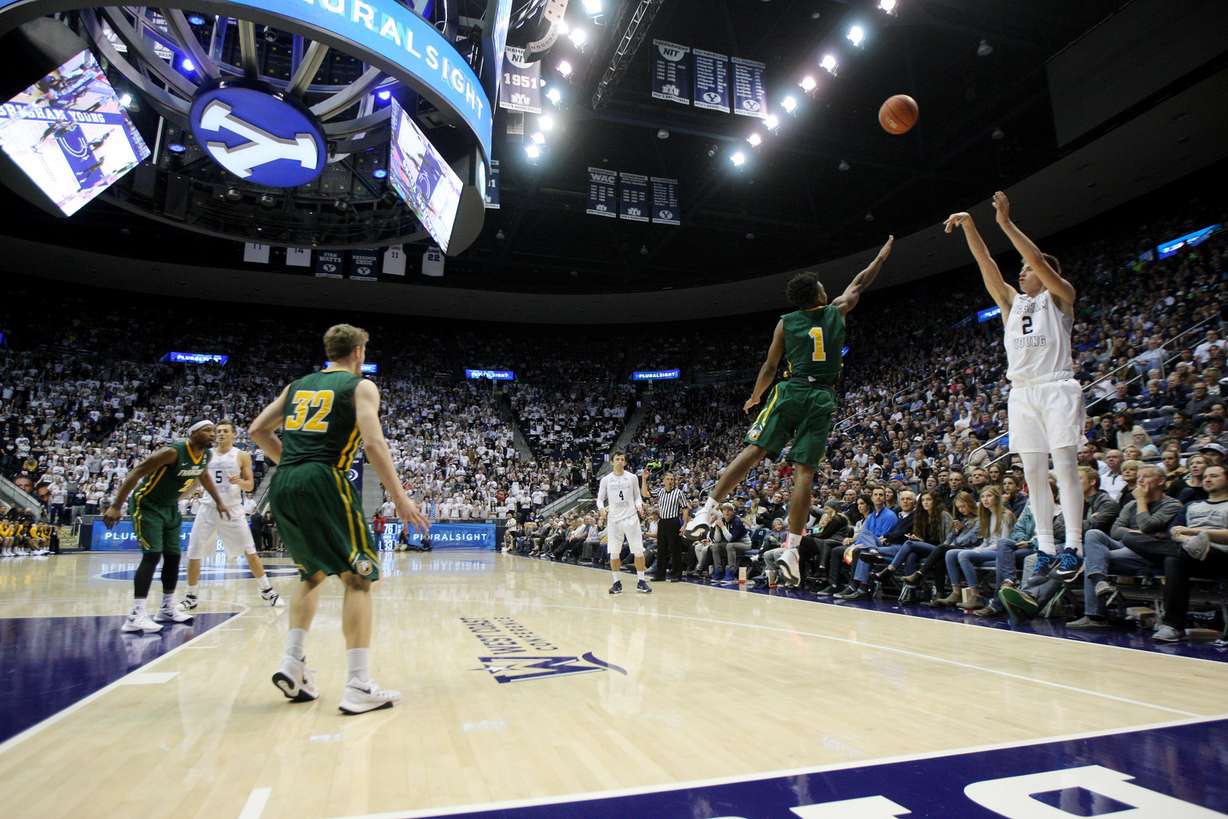 "We were just running our plays," said Seljaas, who credit his teammates with the big night from the field. "Coach designed them, and the defense was stepping back so it was open."
BYU's 15 3-pointers were the most triples in a single game in Marriott Center history. But they needed every one, as the Dons outrebounded the Cougars 40-38 and made one more shot from the field at 33 in a game that featured 68 offensive possessions for a BYU team that also scored 12 points on 14 turnovers.
At times, the game resembled a track meet more than a basketball game. But that wasn't entirely unexpected either, Fischer said.
"They've always had the ability to hit threes," Fischer said of USF. "It's fun, but sometimes it's not, if you miss a couple of shots. You can fall behind when the other team gets hot. But it's always fun playing against them."
USF pulled within six at 72-66 on Tim Derkson's 3-pointer with 10:21 left in the game. But Jordan Chatman's 3-pointer 22 seconds later ended the Dons' 7-0 run, and BYU took a 10-point lead on Seljaas 3-pointer with 8:48 left to go up 78-68.
Still, the Dons would not go away. Ronnie Boyce pulled USF within six again on a jumper with 7:16 left, but Fischer converted a 3-pointer on the next play to give BYU an 83-74 lead with 7:02 remaining. Seljaas then drained his sixth 3-pointer of the night to give BYU a double-digit lead, 86-76 with 6:06 remaining.
Seljaas scored a first-half season-high with 14 points before the break, connecting on 4-of-6 3-pointers to move to sixth on BYU's all-time freshman list for 3-pointers made. The former Bountiful standout tied his total scoring output from the previous two games in the first 20 minutes off the bench.
The Cougars trailed by as much as five when Nate Renfro's jumper gave the Dons a 28-23 advantage with 9:05 left in the first half. But Seljaas pulled BYU back within a bucket a minute later, and Fischer drained a shot with a minute left to cap a 9-1 run to end the half and give BYU the 51-45 advantage.
The Dons were led by Devin Watson, who had 25 points and five assists. Derksen finished with 20 points and five assists, and Matt McCarthy added 13 points and six rebounds for San Francisco, which had too many options at the point of attack than Rose would have liked.
"It's been a while since we've been in a game where we've given up so many points at halftime," Rose said. "This team has got a real mindset that we want to be better defensively. I think we have progressed into a better defensive team. But tonight, we won this thing by making baskets. Hopefully we can get back to work on Monday and fix some things."
WOMEN'S BASKETBALL
BYU 66, SAN FRANCISCO 57 — At San Francisco, Kylie Maeda scored 14 points, including going 3-for-3 from 3-point range, to help the BYU women's basketball team rally by San Francisco, 66-57 for the Cougars' fourth-straight win in West Coast Conference play.
Maeda paced a 7-0 run to help BYU (12-4, 4-1 WCC) regain the lead for good with a 53-47 advantage midway through the fourth quarter. Lexi Eaton Rydalch scored a game-high 22 points for the Cougars, who got six points and nine assists from Kalani Purcell.
The Cougars kept pace with San Diego at 4-1 in league play, just one game back of defending league champion Gonzaga at 5-0.
Taylor Proctor led the Dons (10-7, 1-5 WCC) with 14 points, and Kalyn Simon added 13 points for San Francisco.
BYU returns home for a four-game homestand beginning at 7 p.m. MST Thursday against the Zags (13-4) in the Marriott Center.
×
Photos
Related stories
Most recent Sports stories