Estimated read time: 5-6 minutes
This archived news story is available only for your personal, non-commercial use. Information in the story may be outdated or superseded by additional information. Reading or replaying the story in its archived form does not constitute a republication of the story.
PROVO — Kalani Sitake met the media for the first time as BYU head football coach this past week. From the moment he stepped on campus, you could tell there was a different vibe with Cougar football.
That's because Sitake is "one of us," former coaches and players said. As many as 50 former players attended Monday's press conference, and some of them have been out of college for as long as 40 years.
Sitake, a former BYU fullback, is finally getting a chance at his dream job. And he's brought scores of BYU alums along for the ride.
"It's great to be back," Sitake told those gathered at the BYU Broadcasting Building. "I enjoyed my journey the last 15 years, and it's great to be back home."
Athletic director Tom Holmoe called Sitake's hiring the beginning of "a new era in BYU football." His hiring was quickly followed by the naming of Provo native and Sitake's longtime right-hand man, Ilaisa Tuiaki, at defensive coordinator — and Heisman Trophy winner Ty Detmer as offensive coordinator.
In addition, Sitake is bringing along former BYU teammate Ed Lamb, the Southern Utah head coach who will take on the assistant head coach title at BYU and also coach BYU's special teams and tight ends. Those hirings drew equal praise from the community of former players, who beamed at Sitake's opening press conference.
"It's the dawning of a new day in BYU football," Holmoe added.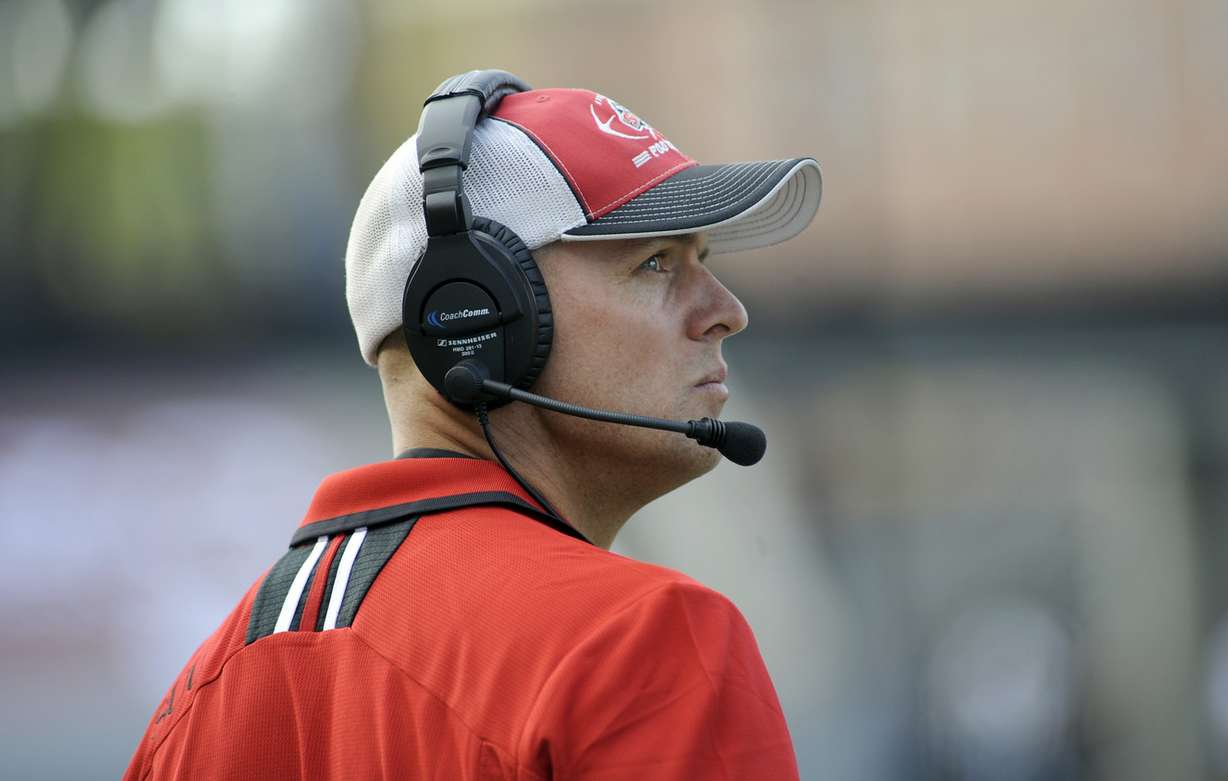 Detmer has partnered with former quarterback Dustin Smith in the Quarterback Elite camps, mentoring young signal callers for six years. He said Detmer can immediately improve the Cougars' quarterback corps.
"One of the things I love the most about Ty is his really unique ability to simplify things," Smith said. "Ty is very good at simplifying things: you make one read, and if it's not there, you go here. He has a motto of telling the guys to 'clear your head and play the next play.'"
Detmer's influence on sophomore-to-be quarterback Tanner Mangum will be vital for the young on-field leader.
"There are three things that we stress to our kids that I think Ty will stress (at BYU): decision-making, timing and accuracy," Smith said. "Part of what happened with Tanner was the system. Ty will help him sit in there a little longer, get down to the second and third option, and run the ball north and south."
Sitake said he plans on bringing the "family" aspect of the former teams he played on under legendary BYU coach LaVell Edwards, who was also present Monday afternoon.
"That's what I know, and that's what I plan to do here at BYU," Sitake said. "I'm grateful for all the love and support from so many different people, and I'm honored to be in this position. It's humbling for me."
Sitake has been preparing for the job his entire life. He started pretending to be the coach of his favorite team when he was 8 years old — giving him a special connection to the fans.
"I know all the names and the guys I grew up with as a BYU fan," Sitake said. "I was voicing my opinion from day one. My job isn't to tell anyone what to do, because I used to be one of (the fans).
"My job is to make sure I give them a reason to rise and shout. That's my job."
His former coach laughed at that comment. Edwards has heard that talk plenty of times before.
"He's not alone there," Edwards said. "I had brothers and sisters who did that.
"Just in watching him develop and now having a chance to visit with him, it becomes very apparent that he is ready."
Sitake said he is the product of plenty of sacrifice — and he's not taking any of it for granted in his first collegiate head coaching job.
"In raising me as a BYU fan and supporting me as a player and coach, I'm proud to be part of this family. I never left; I always bled blue. But I've learned a lot along the way, and met some great people. I look forward to bringing my experiences the last 15 years, and creating a program where these players can thrive."
Sitake comes home
Many current players remember Sitake from his days on another sideline: He spent eight years as the defensive coordinator at Utah, recruiting many now-Cougars to try to join the Utes out of high school.
"I remember him recruiting me in high school," BYU offensive lineman Ului Lapuaho said. "But it was red, then. It wasn't my color. Hopefully he doesn't hold that against me.
"He was happy to see me today."
Sitake's first head coaching job at any level is not without questions. But he feels he is well prepared after being mentored by Utah's Kyle Whittingham and Oregon State's Gary Andersen.
"I was with coach Whittingham when he was first a head coach, and I learned a lot from coach Andersen," Sitake said. "I've had really good men around me, from my days as a youth playing sports, and I've seen a lot of good men. They've all been good influences on me.
"I'm very grateful to all of them, and I'm proud to be from that coaching tree, which also came from coach Edwards."
Sitake's defense will likely come from what he's done at Utah and Oregon State: aggressive, aggressive, aggressive. But as a head coach, what will his offenses look like?
"We're going to be a balanced team: We're going to run the ball, and we're going to throw the ball," said Sitake, before cheekily adding, "And we'll try not to punt as much on offense."
×
Related stories