Estimated read time: 5-6 minutes
This archived news story is available only for your personal, non-commercial use. Information in the story may be outdated or superseded by additional information. Reading or replaying the story in its archived form does not constitute a republication of the story.
BOISE, Idaho — What possesses a college quarterback to work his way back to the field after three knee injuries in three separate seasons rather than calling it quits?
For Chuckie Keeton, who didn't start under center at Cyprus Creek High School in Houston until his junior year, it was about appreciating his opportunity and relationships that developed into unbreakable bonds.
Passed over by his local universities despite winning district championships in both of his final seasons as a quarterback in high school, the Aggies' recruiting of the dual-threat signal caller was comprehensive from the start.
"These teams, and some of these coaches that have been with me since that first day, for them to stick their neck out for me like that it's something that says a lot about them, but it says a lot about the trust they have in me," Keeton said by telephone. "My thing is my parents always instilled it in me to be grateful for the things that I have and the people that I have, so this is kind of my way to show my gratitude to them."
The fifth-year senior says it began when then-offensive coordinator/quarterbacks coach Matt Wells and wide receivers coach Javon Bouknight met Keeton in between classes during his final year at Cyprus Creek.
Wells, in his second day on the job at his alma mater after leaving his post as New Mexico wide receivers coach, and Bouknight later ate dinner with Keeton and his family at their home in Houston. Keeton said he concluded the day feeling genuinely wanted by Utah State — something he hadn't experienced from other programs that demonstrated some interest.
"That was just a big day to kind of get to know each other," Keeton said. "I think that kind of set the tone for the relationship we have and kind of got it ready for what was to come in the future."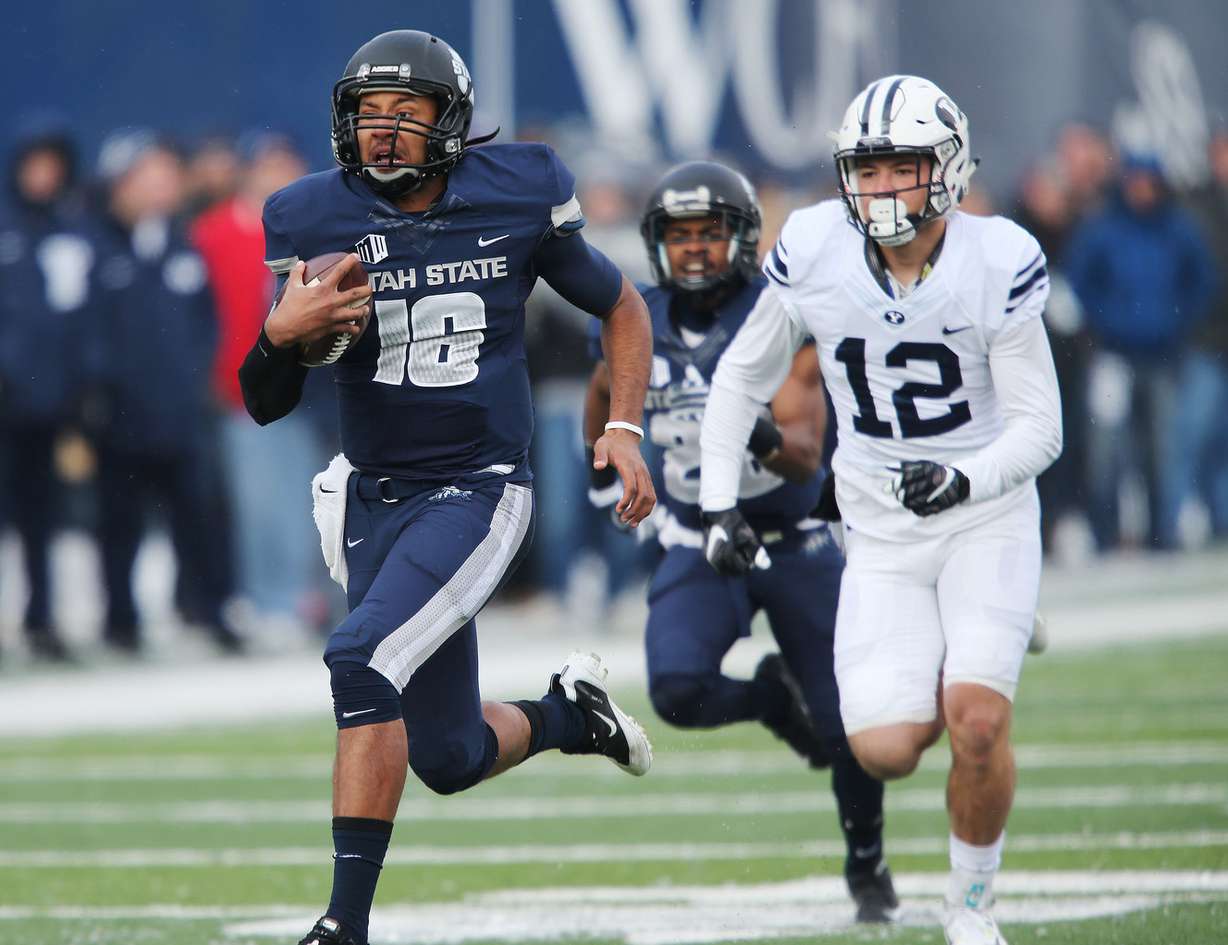 An unofficial visit was organized for the following summer, when Keeton got a better feel for Logan and the football program.
"(Bouknight) met me and my dad with open arms and really has just treated me and all of my family as if we were his own family from that day," Keeton said.
Seeing a place for himself on a team that was coming off a 4-8 campaign — its 13th consecutive losing season — Keeton eventually signed. But the less-confident version of the quarterback, who now owns at least 13 different Utah State records, wasn't sure he'd play immediately.
Keeton said much of that changed during a conversation while sitting with Michael Smith, Matt Austin and DJ Tialavea — each of whom went on to play professionally — when they told him they needed him.
"They were just telling me how much they wanted me to figure out the playbook and how much they wanted me to be a part of that team that year," he said. "And not just kind of coast by like you would as a freshman; understand that I was actually wanted and not just another body figure."
Keeton's work during camp and renewed conviction that he could help his team win straightaway nearly resulted in an upset of defending national champion Auburn.
Yet he traces the program's transformation to another moment during that 2011 season.
Following a home defeat against Louisiana Tech, the Aggies fell to 2-5. The response was a players-only meeting where they discussed what they had to do to end the postseason drought.
"You can ask anybody on that team, but that's really what turned this entire program around," Keeton said. "That and the Hawaii win coming right after that meeting."
The win over the Rainbow Warriors, who earned a share of the WAC title the previous year, required overcoming a 28-7 deficit on the road. Utah State reeled off five straight and accepted an invitation to the Famous Idaho Potato Bowl.
Keeton helped lead the Aggies to the final WAC championship the next season after beating Louisiana Tech, which he said is one of his most memorable moments next to the players-only meeting, before ACL and MCL tears against BYU in 2013 and another knee injury two games into the 2014 campaign sidelined him for a total of 19 games.
An MCL sprain kept Keeton out of another five games this year, but he never considered throwing in the towel.
"That never crossed my mind a single day or a single second," he said. "If I have to sacrifice myself for the betterment of at least, during one season, 99 guys — much less five total seasons, so over 400 guys — it's just the sacrifice you have to make. I've been happy about that decision every single day."
Chuckie's Final Game
Utah State's all-time leading touchdown passer said "more positives than people will ever understand" came from his dealings with injuries. He pointed to the repairing, in 2013, of a lingering knee injury he suffered during his freshman fall camp, and added that the public doesn't quite comprehend the necessary "day-in and day-out grind" he's gone through during rehabilitation.
"I can't say that I deserve to play more than anyone else based off of what I've been through," Keeton said. "But at the end of the day, I was able to grow more as a person and I really don't think people understand that because whenever people see me out in public I'm always in a pretty solid mood."
Now, as he finishes his classes to graduate with a degree in business administration, Keeton sees coaching in his future.
As he looks back at how the Aggies' football culture has gone from one of consistent losing to a school-record five consecutive bowl appearances, he realizes he didn't foresee this level of success.
"I knew that it was definitely a possibility to help turn some things around, but at the same time I never envisioned the magnitude that Logan has changed," Keeton said. "I'm happy to be a part of it, but at the same time it's only a very small piece of it. My big thing is I just want the program to continue to prosper. And I think me, as well as some of the other seniors that have been a part of this, are definitely pushing to instill in the younger guys that they can keep it going and try to be a role model for what they can do."
---
Kyle Spencer is a freelance journalist residing in Orem. You can find him on Twitter @kyledspencer or reach him by email at kspence04@gmail.com.
×
Most recent Sports stories