Estimated read time: 3-4 minutes
This archived news story is available only for your personal, non-commercial use. Information in the story may be outdated or superseded by additional information. Reading or replaying the story in its archived form does not constitute a republication of the story.
LOGAN — Utah State offensive coordinator Josh Heupel has only been in Logan for one season, and he already has an expiration date.
Heupel will join new Missouri head coach Barry Odom as the Tigers' next offensive coordinator and quarterbacks coach after the Aggies' bowl game Dec. 22 against Akron.
In 13 years as a college football coach, Heupel has four national championship game appearances, seven BCS bowl games and the mentorship of two Heisman Trophy winning quarterbacks.
"I am very grateful to Coach Odom for this opportunity," Heupel said in a statement. "First and foremost, I believe in the person Barry Odom is and what he stands for. I believe in the vision that he has for this program.
"I have a lot of respect for Mizzou and the football program, as someone who's seen it from an outsider's perspective for a long time. I believe this is a special place that has just scratched the surface of what it can be, and it's a program that is capable of winning championships on a consistent basis. I want to be part of that. I think it's a great time to be at Mizzou, and I'm excited to get there and to go to work."
The Boise-based Famous Idaho Potato Bowl will be Heupel's 13th bowl game as a coach since beginning his career in 2003 at his alma mater Oklahoma. But the Sooners fired him and a bevy of offensive staff members, and his replacement Lincoln Riley won the Broyles Award for the nation's top assistant coach in his first season in Norman, Oklahoma.
Under Heupel, the Aggies ranked just inside the top 100 with a 38.7 offensive efficiency rating while employing two quarterbacks in 2015 in redshirt senior Chuckie Keeton and true sophomore Kent Myers. Keeton threw for 892 yards, three touchdowns and six interceptions in his final season in Logan, becoming the Aggies' all-time leader in touchdowns with 61. Myers finished the year on the injured list, amassing 1,470 yards, 14 touchdowns and three interceptions.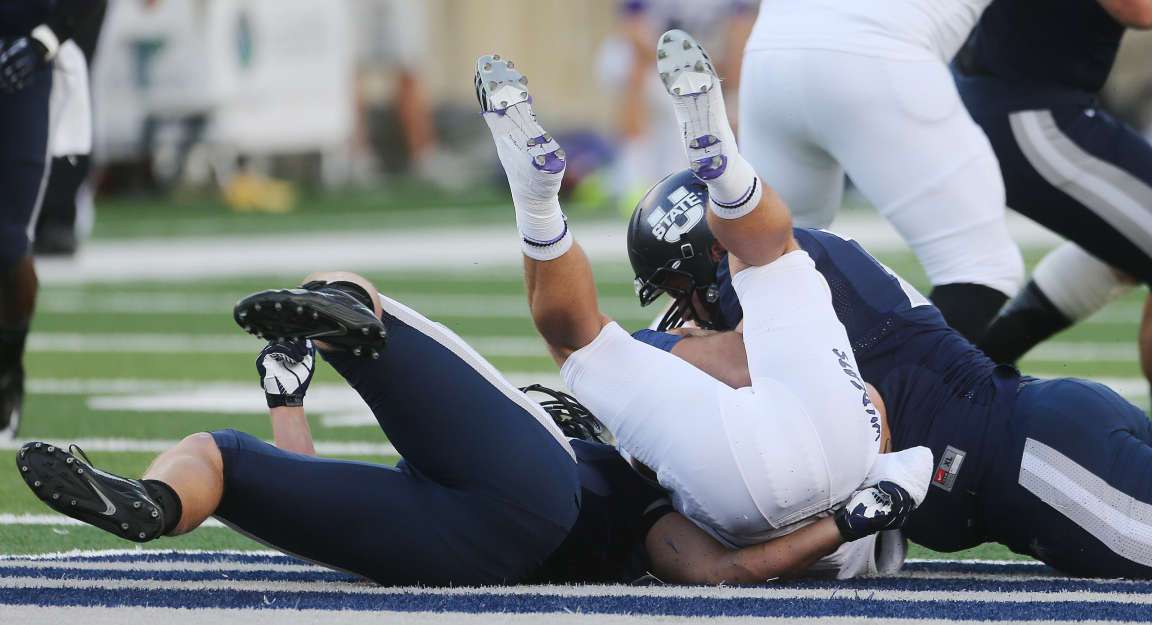 The Aggies also rank 60th nationally in scoring with 29.7 points per game, climbing 21 spots from the previous year.
Heupel was a candidate for the coordinator opening since early December. Missouri will announce the terms of his contract following the completion of human resources procedures.
The departure leaves Utah State coach Matt Wells looking for an offensive coordinator for the third time in three years. Wells was promoted from offensive coordinator to head coach following Gary Andersen's departure to Wisconsin in 2012, and Kevin McGiven was brought in as offensive coordinator and quarterbacks coach.
McGiven joined Andersen's staff at Oregon State as quarterbacks coach last season following two consecutive years at Utah State, and Heupel filled in after his dismissal at Oklahoma.
Seefeldt granted sixth year
Also Thursday, the NCAA granted nose guard Travis Seefeldt a sixth year of eligibility after the senior was injured in a car accident last summer following an excursion to Newton Dam Reservoir near Trenton, Cache County, in June.
The NCAA granted an exception to normal standards for a sixth year of eligibility because Seefeldt's injuries were not sustained in athletic competition.
The 6-foot-2, 305-pound nose guard from Peoria, Arizona, totaled 54 tackles with four sacks and 9.5 tackles for loss in 39 games across three seasons for the Aggies, including two starts.
×
Related stories
Most recent Sports stories