Estimated read time: 4-5 minutes
This archived news story is available only for your personal, non-commercial use. Information in the story may be outdated or superseded by additional information. Reading or replaying the story in its archived form does not constitute a republication of the story.
OREM — For four years, Utah Valley goalkeeper Jessica Duffin worked with her Wolverine teammates to try to secure an invitation to the NCAA Women's College Cup.
She tried to pull her team through grinding shutouts and scoreless draws, and she made save after save to keep her team in games against opponents from the now-defunct Great West Conference and eventually the Western Athletic Conference.
The Wolverines came close a few times, but never quite captured that elusive NCAA tournament bid.
Until Sunday with a 2-0 win over WAC regular-season champion Seattle.
"It was surreal and it still is and crazy to think that we are here," said Duffin, who was named WAC Tournament MVP. "We've set goals at the beginning of the season to be in this situation where we are. We weren't surprised, but that feeling of accomplishing your goals is something that you can't really describe."
Now that she's finished that goal, the senior from Sky View High School wants even more.
Duffin and the Wolverines (14-6-1) will play in their first-ever NCAA Tournament match at 1 p.m. Saturday at BYU's South Field, going up against the No. 13 Cougars (13-2-2), who have reached the postseason 17 times in the past 25 years. The match will be broadcast on BYUtv and ESPN 960 radio.
---
---
With the two schools separated by a four-mile drive along University Parkway, Duffin and the other 21 players who hail from the state of Utah know the local implications of only the second match between the two schools in program history.
"We're very familiar with those girls," Duffin said. "We know a lot of them from club and high school, and we are very familiar with the individuals on that team. It's exciting; it makes it more of a personal game. Not only is it an in-state rival, but we are very familiar with the individual players."
Many of both team's players grew up playing with, against and around each other, and some were even roommates in college as early as a year ago. Because of the proximity of both schools, it isn't uncommon for BYU and UVU students to share housing.
In other words, there won't be many surprises when the two clubs meet Saturday afternoon at South Field, Utah Valley coach Brent Anderson said.
"These girls aren't strangers, and I don't think either program will pull any surprises," Anderson said. "We know each other pretty well.
"It's a fun matchup, an interesting matchup and I don't think it surprised us at all."
Anderson almost expected the matchup about a month ago, when he saw the trajectory of the two teams and knew that the NCAA prefers regional matchups in the first round of the tournament. When BYU didn't receive any of the top-four seeds in each quadrant of the 64-team bracket, a first-round date with the Wolverines was almost destiny.
The path to this year's NCAA Tournament started even before then, Duffin added. An offseason of summer workouts brought in more players than the former Bobcat had ever seen, which proved a necessity as the Wolverines began to rework a back line that lost lost several plays to graduation, school dismissal and one 18-month LDS Church mission.
"Starting from this summer's training, we emphasized getting the girls there, and we had a bigger turnout starting in the summer," said Duffin, adding the buy-in extended from upper classmen to the youngest freshmen. "We had more girls on board, catching the vision of wanting an NCAA bid. The more we had girls catch that vision, the better off we were."
Still, the team needed a leadership presence. Duffin helped fill that void.The senior team leader averaged 1.17 goals-against per match and finished the year with a 14-6 record and a .747 save percentage.
It wasn't always easy.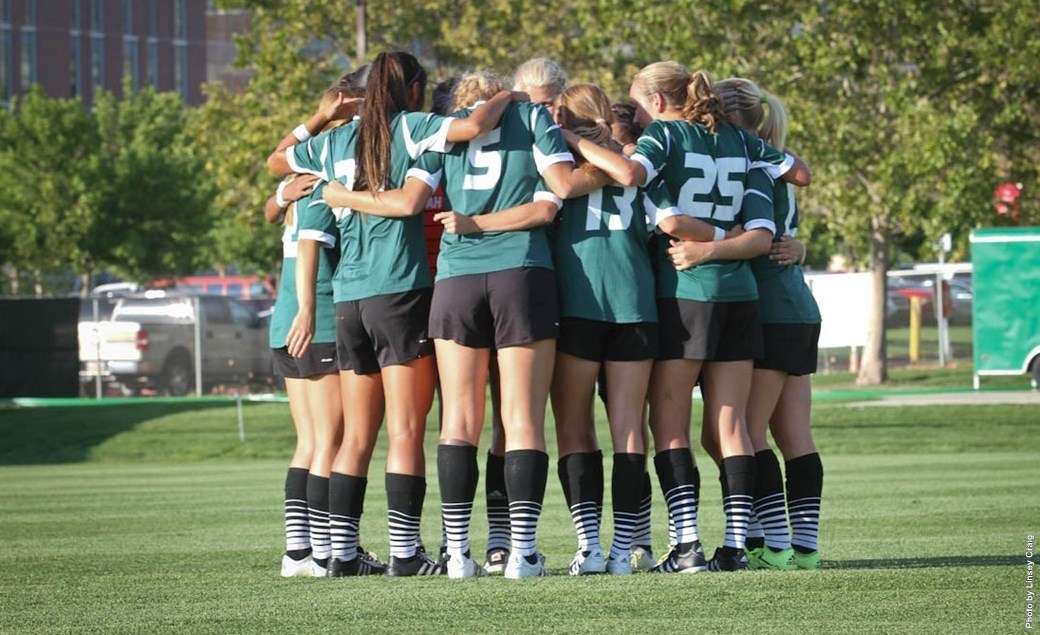 The Wolverines opened the season with a 6-0 loss at San Diego State, and back-to-back road losses at UNLV and Southern Utah.
"We were giving up a lot of goals at the beginning of the season," Anderson said. "Even though we had Jessica Duffin in goal and she made an incredible of amount of saves for us, it was tough. But it inspired our offense to realize that if we were going to get something done, we had to start scoring goals."
The team rebounded with the advent of conference play, finishing 7-2-1 and tied for second place in the WAC. The capstone came Sunday afternoon, when they knocked off regular-season champ Seattle 2-0, snapping the Redhawks' 16-match winning streak.
The turnaround would be remiss without mentioning the Wolverines' offense. Powered by a team-high eight goals from Sheridan Fox and four players with six goals apiece, Utah Valley won seven of its final nine games in the regular season, outscoring opponents 23-8 down the stretch.
The Wolverines shattered a barrier by winning the WAC Tournament and qualifying for the Women's College Cup. But they don't want that to be the end of their story, either.
"I think this is a big moment for a lot of different reasons. It's something to build on, a breakthrough of beating the top teams in our conference," Duffin said. "UVU has given me so much, and it's helped me become the person I am today. The program the coaches have developed has made me, and I'm glad I could help contribute back."
2015 NCAA Women's College Cup first round
What: Utah Valley at (13) BYU
When: Nov. 14 at 1 p.m. MT
Where: South Field (BYU)
TV: BYUtv
Radio: ESPN 960
×
Photos
Related Stories