Estimated read time: 1-2 minutes
This archived news story is available only for your personal, non-commercial use. Information in the story may be outdated or superseded by additional information. Reading or replaying the story in its archived form does not constitute a republication of the story.
TAYLORSVILLE — Un enorme incendio destruyó un edificio de apartamentos en Taylorsville la madrugada del viernes, obligando a cerca de 100 personas a evacuar.
El incendio comenzó alrededor de las 2:40 am del viernes en los Thornhill Apartaments cerca de 1.500 West y 5600 South en Taylorsville. Los bomberos dijeron que cuando llegaron el humo y las llamas estaban saliendo fuera del edificio, y el techo ya había sido destruido. Más de 20 apartamentos fueron evacuados.
"Las historias que he escuchado es que antes de nuestra llegada había gente corriendo alrededor del edificio golpeando las puertas asegurándose que las personas se despierten", dijo la Autoridad de Incendios de Estados el subjefe Stephen Higgs.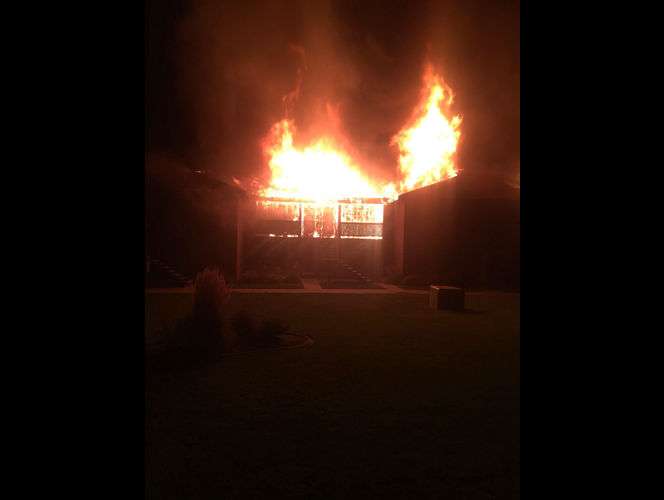 El residente Rickson Wacuk dijo que el fuego era intenso.
"Todo el mundo se levantó al mismo tiempo y salimos corriendo y miraron y había llamas por todas partes, olor a humo", dijo. "Fue abrumador".
Los bomberos pidieron más ayuda, de las tripulaciones de Murray y West Jordan. Tomó cerca de 40 bomberos para sofocar el fuego. El edificio fue destruido. Las unidades de nivel superior fueron destruidas por el fuego y el nivel inferior por el humo y el agua, dijeron los bomberos.
Cuarenta y cinco personas han sido desplazadas a causa de los daños. La Cruz Roja estaba en la escena, ayudando a las familias a cubrir sus necesidades básicas para sobrevivir los próximos días.
Los bomberos esperan estar en el apartamento durante todo el día limpiando. Los investigadores están en la escena para determinar la causa del incendio.
×
Most recent News stories