Estimated read time: 5-6 minutes
This archived news story is available only for your personal, non-commercial use. Information in the story may be outdated or superseded by additional information. Reading or replaying the story in its archived form does not constitute a republication of the story.
PROVO — Idaho State wide receiver Madison Mangum had just completed a banner day.
The senior from Boise, Idaho, had just pulled down five catches for 78 yards and three touchdowns as the Bengals led Black Hills State (South Dakota) 48-0 in the second half of a 55-0 final — including a one-handed snag in the end zone that would later earn him the No. 2 spot on ESPN SportsCenter's Top 10.
But he would never get to No. 1; that honor belonged to a sibling 945 miles away in Lincoln, Nebraska.
Whether it was for younger brother Tanner Mangum's Hail Mary pass to help BYU snap Nebraska's 29-year winning streak in home openers, or Madison Mangum's circus-catch that has brought several NFL scouts to the Idaho border community already, Saturday was a busy day for the Boise-native Mangum family.
"It was a surreal night," Madison told KSL on Wednesday. "To see Tanner get all this recognition, I love it. He deserves it, and he's a great kid. I'm so happy for him. This is his chance to shine, and he's playing the game he loves.
"I'm not even mad."
It isn't often that two brothers collect SportsCenter's top-two plays on the end-of-the-day highlight reel. But for Michael and Karen Mangum of Eagle, Idaho, their two Division I football-playing sons come from an athletic enough group of siblings to see it happen.
Oldest brother Parker played wide receiver at BYU from 2007-09. Then came sister Meredith, who played soccer at Boise State, and Madison, now in his final year with the Bengals. Tanner took over the starting quarterback job at BYU after a season-ending foot injury to incumbent Taysom Hill, just three months removed from his LDS Church mission in Chile.
And Madison said baby sister Abigail may be the best athlete of them all, excelling in both volleyball and basketball as a junior at Eagle High School and attracting her own share of college recruiters to the Boise-area campus.
But Saturday was unique, according to father Michael Mangum, who was in Pocatello with his wife Karen, Abigail and a brother, Geoffrey, who lives in Salt Lake City. The group were huddled around a video stream on an iPhone at Idaho State's Holt Arena, but the feed died with 15 seconds left on the clock.
It didn't take long for them to find out Tanner helped send the college football world into a frenzy with his Hail Mary completion to Mitch Mathews. Each of the group received dozens of simultaneous text messages with words like 'Wow!' 'He won!' and 'Unbelievable.'
Madison saw Tanner's Hail Mary completion shortly after it aired, thanks to the magic of social media and an Idaho State equipment manager's smartphone with the Bengals up big in the second half. Tanner had no idea his brother had a standout opener until he saw the one-handed catch while talking with KSL NewsRadio host Greg Wrubell during the postgame show.
His reaction at big brother's play was even better than completing 7-of-11 passes and the game-winning touchdown in his collegiate debut. But Tanner knew Madison was capable of that kind of athleticism since throwing TD passes to the then-high school senior during Tanner's freshman year at Timberline High.
"It doesn't surprise me; he's a baller," Tanner said. "I got back to Provo, called my mom, and she was just excited and happy that we could both play well and win our first games."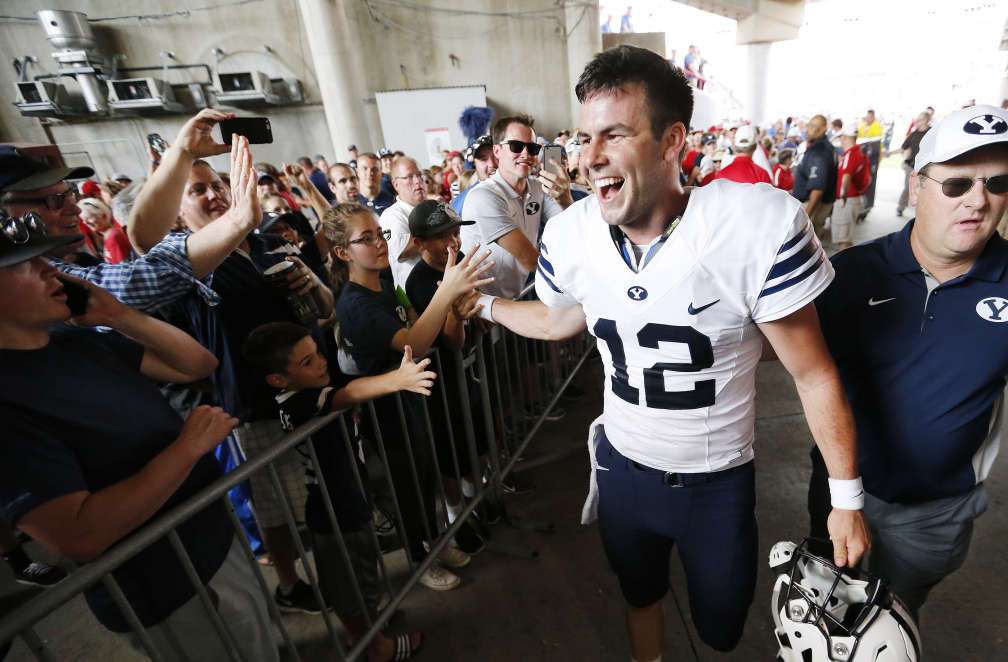 The Idaho State senior was making similar plays back in high school, before Tanner transferred to Eagle High before his junior year.
"That was the funnest year of football I have ever had," Madison said of playing with Tanner. "Catching passes from my little brother on Friday night under the lights was so much fun. I'll never forget that year."
Now the brothers' parents, who originally planned to focus on Madison's senior year while Tanner sat as a backup, will have to split time between Provo and Pocatello every weekend this fall.
"The upside is we get to watch two boys play Division I football," Michael Mangum said with a laugh. "The downside is we have to divide and conquer. There are several weekends where the schedule and timing is such that we can see both games. But the weekends where they conflict, we're separating."
That will be the case this Saturday, when Michael will watch Madison and the Bengals host Portland State — then drive his son back to a hotel room to watch Tanner and BYU face Boise State at 8:15 p.m. on ESPN2 while Karen and Abigail are in attendance at LaVell Edwards Stadium.
Related Story
But it's a small price to pay to watch their two sons' simultaneous achievements.
"BYU has a lot of Friday night games, so that allows us to go to a Friday night game in Provo and a Saturday game in Pocatello," the Mangum patriarch said. "There are probably only about 3-4 weekends where we will divide and conquer. It'll be a lot of miles, but it's fun."
BYU's season includes a brutal September schedule with games against the Broncos, then at UCLA and at Michigan. Idaho State, meanwhile, holds high aspirations, currently ranked No. 24 in the nation just a year after finishing 8-4 and tied for second in the Big Sky Conference.
The Bengals narrowly missed the FCS playoffs in 2014. This year, they'll hope to finish the job — but will have to contend with conference foes Montana, Montana State and Eastern Washington (all ranked ahead of the Bengals) to do so.
For Madison Mangum, that makes his final year of college football — paired with younger brother's achievements — all the better.
"We have so much potential," Madison said. "We want to redeem ourselves, win a championship and make the playoffs."
And his whole family will be along for the ride.
"It's just a wonderful blessing that both boys are playing a game they love to play," Michael Mangum said. "We're making it work, and we know time passes so quickly. We really have to enjoy it right now and soak it up."
×
Related stories
Most recent Sports stories