This archived news story is available only for your personal, non-commercial use. Information in the story may be outdated or superseded by additional information. Reading or replaying the story in its archived form does not constitute a republication of the story.
SALT LAKE CITY — Throughout fall camp, Utah's defense was touted as one of the best in school history — maybe even better than the 2008 defense, if such a thing were possible. But unfortunately, potential alone is not good enough in real-game situations.
Following Utah's 24-17 win over Michigan, questions abound about the defense and whether it was living up to its potential given that Utah failed to get to the quarterback (no sacks — gasp!) and the secondary had several moments of getting beat by Michigan receivers. How could Utah continue to champion #SackLakeCity moving forward if there were no actual sacks to be had? And is the secondary up to the challenge with its personnel in place?
While the defense did fail to get a sack Thursday, Utah is in a good position with its defense and actually hasn't shown much of what it can do this season. The following are a few reasons why fans should not be worried about the defense at this point, at least not yet.
Utah ran its base defense
Utah ran its base defense, a 4-3 package, almost all game Thursday, with few, if any, blitz packages seen all night. In essence, it was a vanilla defense meant to shut down Michigan in the most basic way without digging a little further into the playbook. Sure, Utah didn't record a sack, but the front seven shut down Michigan's run game, including a game-changing fourth-and-one stop in the fourth quarter.
The result? Michigan had 76 total rushing yards, with one of its best running backs, De'Veon Smith, being held to 47 yards on 17 carries.
Utah head coach Kyle Whittingham admitted that he was "disappointed" the team didn't have a sack and that it was "uncharacteristic" of the team, but was more than pleased with the defense's effort in holding Michigan in the run game.
"If you play tough run defense and make a team one dimensional, it plays into your favor," he said. "We had our standard four-man rush for most of the night, so we have to take a look at what we did pressure-wise and up the dose of that."
But despite the "standard" rushing scheme, Utah was dominant with its front seven and pushed around a physical offensive line. Gionni Paul, alone, ended the game with 14 total tackles, while Tevin Carter added another nine to the mix. Associated Press writer Ralph Russo, among others, took note:
Mostly by catching his poorly thrown passes and beating the hell out of Michigan's guards. https://t.co/Vl40X9MHjS — Ralph D. Russo (@ralphDrussoAP) September 4, 2015
Remember what I said about the Utes beating the hell out of Michigan's guards? https://t.co/Bx57ftNRuT — Ralph D. Russo (@ralphDrussoAP) September 4, 2015
As the season progresses, Utah's front seven will only continue to improve, particularly as different schemes are being thrown at opposing offenses and as the team ups "the dose" of pressure. Whittingham added that his defense could improve on getting its hands up more and working to get to the quarterback quicker.
"We didn't get any sacks and we didn't bat any balls down," he said. "Usually we try to bat down three or four balls a game, so we've got to do a better job getting our hands up in the throw lanes."
Conditioning
Michigan quarterback Jake Rudock had several wide-open players throughout Thursday's game, but failed to connect each time — a favor to Utah. While some of the wide-open looks were a result of the inexperienced secondary, particularly corners, Whittingham said his team was suffering from cramping up, which contributed to some of the issues on missed assignments and coverage.
"We had five or six guys cramping up, and that's not like us," he said. "We usually do a good job with our hydration through the week and getting things in order there. I can't remember the last time we suffered cramps, so we've got to get that fixed."
While not everything on defense can be blamed on conditioning, Whittingham said he is encouraged that it's an issue the team can address rather easily.
"Tevin Carter was cramping up, Reggie Porter was cramping, Marcus Williams got dinged a little bit, JT Thomas was cramping up, so it was predominantly that, which is a good thing because it's easy to fix," he added. "But it was disappointing."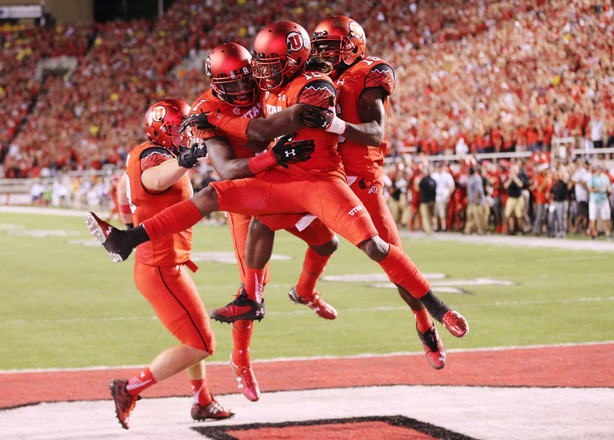 Younger, inexperienced secondary to get better
The secondary was always one of the biggest questions coming into this season, particularly after the team lost Dominique Hatfield. Although the depth is better and there's some standouts already, Utah's secondary still has some work to do.
Speaking of Cory Butler-Byrd, Whittingham said some of his mistakes were made as a result of never playing in a Division I game — everyone is faster and more precise in their route structures.
"He lost the sight of the guy, lost vision instead of continuing to sink like he was supposed to do," Whittingham explained. "The guy ran right by him and we dodged a bullet. But Cory played very well for his first game and came up with an interception for us. He's going to be a very good player for us."
Admittedly, Utah is vulnerable in this area of the defense, particularly in a conference keen on throwing the ball for big plays. But as the secondary showed last season, it only got better as the season progressed. And considering three defensive backs came down with an interception Thursday, Utah is likely in a fine position … for now.
Was Thursday's game perfect? No, but now the team has a better sense of what it's doing and how it can work together.
"We just need to be a better and smarter team," Gionni Paul said. "We made a lot of mistakes; it doesn't look like it, but we've got a lot to learn from this game."
×
Photos
Related Stories