Estimated read time: 2-3 minutes
This archived news story is available only for your personal, non-commercial use. Information in the story may be outdated or superseded by additional information. Reading or replaying the story in its archived form does not constitute a republication of the story.
El migrante sirio que sobrevivió a un naufragio durante una travesía desesperada de Turquía a Grecia enterró a su esposa y dos hijos el viernes en su ciudad natal de Kobani, en la región curda siria desgarrada por la guerra de la que la familia había huido.
Abdullah Kurdi abandonó sus planes de dejar su país. "Quería ir a Europa por el bien de sus hijos", dijo su tío Suleiman Kurdi. "Ahora que han muerto, quiere quedarse aquí en Kobani con ellos".
La imagen del cuerpo de Aylan Kurdi, de tres años, en una playa turca atrajo las miradas del mundo a la ola de migración impulsada por la guerra y las privaciones.
Los tres cuerpos fueron transportados en avión a una ciudad turca fronteriza con Siria desde la cual vehículos fúnebres con escolta policial los llevaron a Kobani. Legisladores turcos acompañaron a Abdullah Kurdi hasta Kobani. A los periodistas y un grupo de gente solidaria se les impidió pasar un retén a tres kilómetros de la frontera.
Decenas de dolientes se agruparon en torno de los cuerpos cuando los tendieron en la tierra seca y yerma del Cementerio de los Mártires. Las paladas de tierra alzaron nubes de polvo.
Algunas tumbas están marcadas de manera improvisada con bloques de concreto.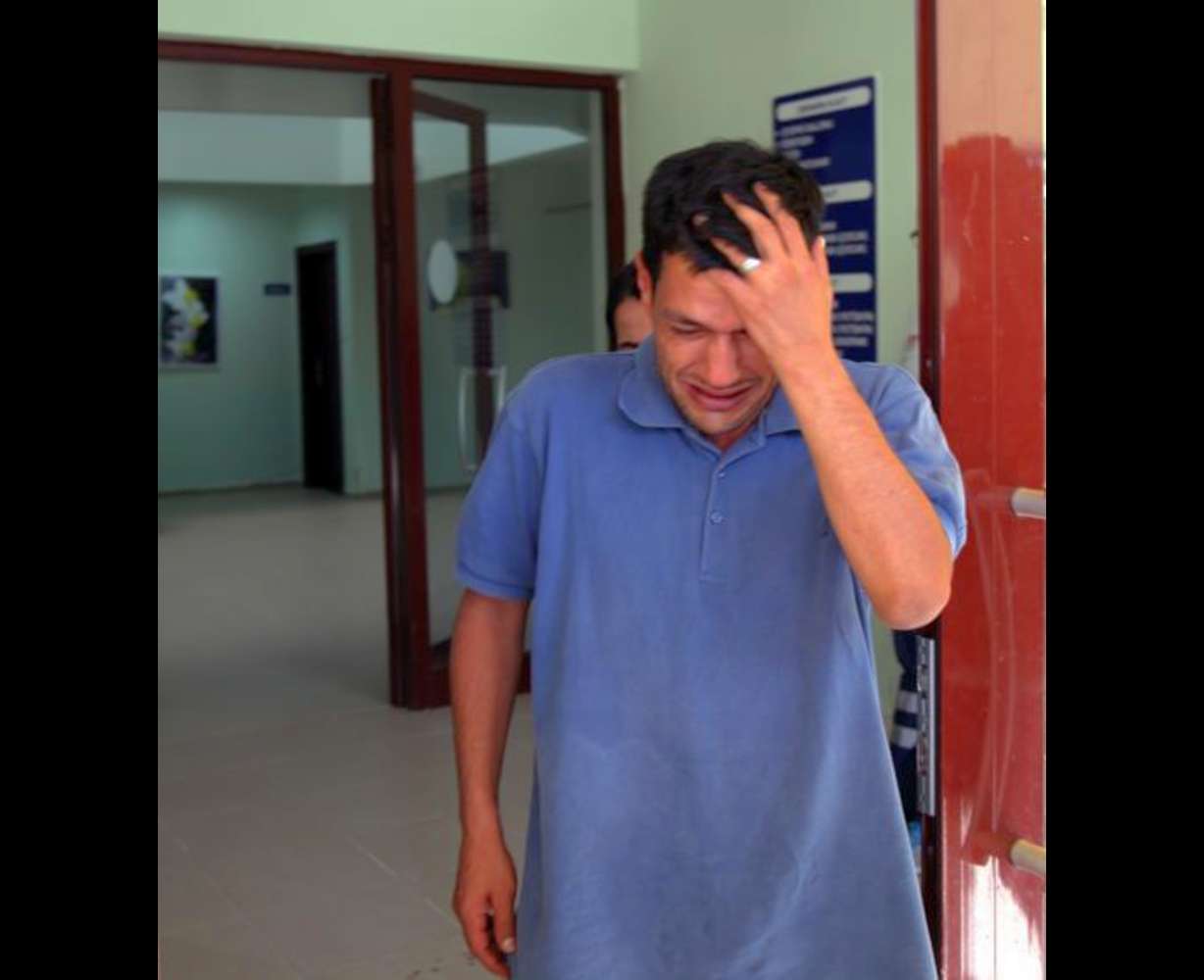 El cuerpo de Aylan apareció en una playa turca poco después que zozobró el bote de goma en el que viajaba con su familia. Vestía calzado de tenis, pantalones cortos azules y camisa roja. En total, 12 migrantes murieron ahogados frente a la costa turca de Bodrum ese día. La ruta entre Bodrum, en Turquía y Kos, a sólo unos pocos kilómetros (unas millas), es una de las más cortas entre Turquía y las islas griegas, pero sigue siendo peligrosa. Cientos de personas al día tratan de cruzarla a pesar de los riesgos bien conocidos.
Abdullah Kurdi dijo que la embarcación sobrecargada volcó momentos después de que el capitán, que fue descrito como un hombre turco, entró en pánico y abandonó el barco, dejando a Abdullah como el capitán de facto de un pequeño bote superado por un mar agitado.
En un comunicado de la policía, filtrado después a la agencia de noticias turca Dogan, Abdullah Kurdi dio un relato diferente, negando que haya habido un contrabandista a bordo. Sin embargo, los contrabandistas a menudo instruyen a los migrantes que si son detectados, deben negar su presencia.
El Departamento de Ciudadanía e Inmigración de Canadá dijo que recibió una solicitud para el hermano de Abdullah Kurdi, Mohammed, pero agregó que la solicitud fue presentada incompleta y que no cumplía con los requisitos reglamentarios. La agencia informó que no había solicitud a nombre de la familia de Abdullah Kurdi.
×