This archived news story is available only for your personal, non-commercial use. Information in the story may be outdated or superseded by additional information. Reading or replaying the story in its archived form does not constitute a republication of the story.
SALT LAKE CITY — The season has started and Utah already has a digit in the win column after defeated Michigan 24-17 Thursday night in a highly talked about open to the football season.
While the game was not perfect for Utah, it was an encouraging start to the season, particularly the offense as it made some progress with its new recruits and receivers looking to make a name for themselves at Utah. The following is a grading of Utah's performance against Michigan.
Offense: B+
The offensive playbook is open and Utah got a little creative with it Thursday night. It wasn't anything spectacular or out of the ordinary, but there were several players involved and there were simply options. It was actually fun watching Utah's offense Thursday, instead of the continual three-and-out series from last season.
Wilson stepped up and showed why the coaching staff has faith in him as their starting quarterback. Throwing just over 72 percent in the game, Wilson was a fantastic facilitator of the ball. He also found ways to run the ball when necessary to move the chains.
Utah's receivers turned out to be a relatively decent strength, particularly true freshman Britain Covey. Also, when the run-game was shut down, Utah opened things up and got Booker involved in the receiving game (one-handed catches are always welcome in football, Booker).
Overall, the offense handled itself well and should be proud of its success.
Defense: B
Overall the defense did a great job of stopping Michigan from getting much out of its offense. Michigan tight end Jake Butt, though, had a field day on Utah and really made it difficult to contain his ability.
Utah's secondary is a mixed bag at this point. They made big plays and managed to bring down three interceptions, including a 55-yard pick six, but lacked in some of their coverage techniques. There were several times where Michigan's receivers were wide open.
The pass rushing game was relatively quiet and not something to be expected considering how many times Utah got to the quarterback last season. Chalk it up to Utah really putting an emphasis on trying to contain the run, which they did phenomenally. The front seven held Michigan to only 76 rushing yards despite a talented De'Veon Smith doing all he could to break through Utah's stout line.
Gionni Paul getting two late hit personal fouls is never a good thing, particularly when Michigan was able to score a touchdown off one of the penalties. You want Paul to play aggressive, but with some constraints from time to time. But I'm sure he's learned that lesson by now.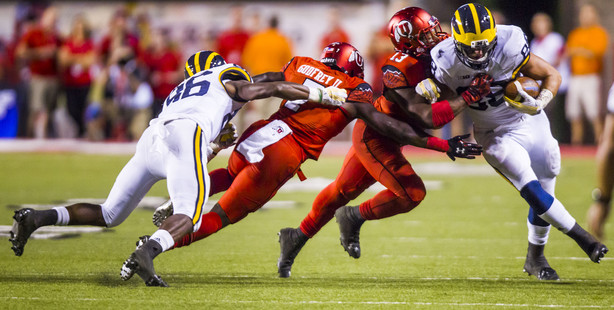 Special Teams: D
Andy Phillips was called upon to kick two 40+ yard field goals, but he missed them both. While a rare situation for a kicker intent on perfection, Utah was not overly hurt by the missed kicks. It's better to get the missed kicks out now than in a situation where they matter more. It appears to be a fluke for Phillips and he should bounce back even more dedicated to hit his target — nothing to fret about just yet.
And on the positive side, it looks like Tom Hackett can boot the ball for as long as the team needs. Hackett bombed a 74-yard punt that continued to travel an extra 20-30 yards beyond the end zone.
Coaching: B+
While not a perfect game overall for the team, the playcalling was pretty decent and showed some signs of progress from last season. The offensive made the biggest strides Thursday, with a playbook that looked like it fit the personnel better than in previous years.
What Utah showed, though, was just a little bit of what it can do. Overall Utah wasn't too tested and didn't need to bring out all its tricks to defeat Michigan. But if Utah can find a way to win with a relatively vanilla game plan, there's only room to get better and more creative.
Overall: B+
As mentioned above, it wasn't a perfect game but that's not what Utah needed in its season opener. There are certainly positives to take away from both sides of the ball. Now with the jitters worn off, Utah has all the room to grow and continue to fine tune the personnel it has on the roster.
×