Estimated read time: 4-5 minutes
This archived news story is available only for your personal, non-commercial use. Information in the story may be outdated or superseded by additional information. Reading or replaying the story in its archived form does not constitute a republication of the story.
SALT LAKE CITY — Gionni Paul is one of the biggest, loudest trash-talkers on the field at Utah. If opponents allow him to get in their minds for one play, he'll never let up for the rest of the game until they concede he's the best. And even then, he'll still continue to come at them.
With Paul, though, he backs up his trash-talking with his big, physical presence on the field. If he's not scouting out his target with eager determination, he's got his eyes on the football in an attempt to make a pick.
A lingering foot injury plagued Paul for most of last season, but he managed to finish the season with four interceptions and 61 total tackles as was one of the best defenders on a talented Utah defense.
"I felt like before the time I got hurt I was at the top of my game. Everything was going right. I was running around making play after play after play and then just a freak accident happened," Paul said. "It just seemed like the game that I love was being taken away from me. It really humbled me."
After missing the first two games of the season, Paul made his debut at Utah on the road against Michigan where he had 14 total tackles, an interception and a fumble recovery in Utah's 26-10 win at the Big House. His big game landed him the honor of being named the Athlon Sports National Defensive Player of the Week and the Pac-12 Defensive Player of the Week.
"He's one of the fastest guys on the backside in pursuit," Utah linebackers coach Justin Ena said. "That's hard to do over and over again. Consistency is what makes great players, and he's consistent."
Despite his larger-than-life presence on the field, NFL scouts and those who evaluate prospective talent have Paul listed as a mediocre prospect at the next level. According to CBS Sports' evaluators, Paul is the 40th-best inside linebacker in the upcoming draft, but the 811th-overall best player.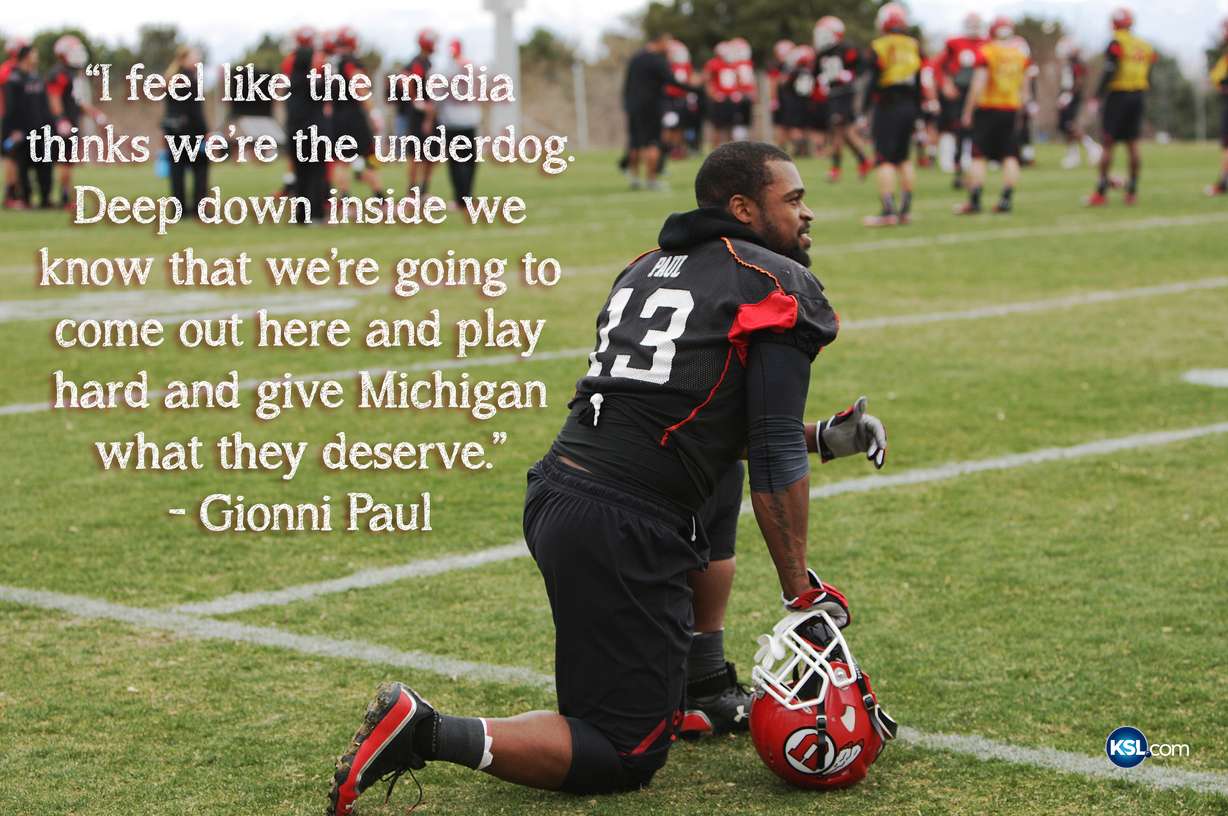 Asked if Paul is playing with a chip on his shoulder because of the lack of recognition for his work, Ena said, "I've talked to him a little bit about it, he is."
"Gionni's out there ready to prove that he belongs as a stellar linebacker in the nation," he added. "I think he's going to do it. If he stays healthy, knock on wood, he's going to do some great things."
"I've always got a chip on my shoulder. I'm always playing big — big in the sense that I guess I didn't do enough last year," Paul said. "I think I had four interceptions, 61 tackles in six or seven games. Maybe this year I'll make 10 interceptions and 120 tackles and show that I'm here to play and try to make it to the next level."
It's that underdog mentality that has Paul laser-focused on this season and a desire to prove to his doubters that he's ready to take it to the next level. The first step, he said, is knowing that he's fully healthy and ready to play all season.
"I feel blessed to be playing this game again. At one point in time I kinda got down on myself, like, man, maybe this game isn't for me," he said. "But I just looked deep down in myself and said I love it and I have a great shot at the next level, I've got a great shot at coming back and leading this team. And I worked my behind off to get myself in the great position that I'm in.
"The real job interview will come when the lights come on and during the season when you've got to show up and perform," he added. "Anybody can look good and play bad."
Fellow linebacker and team captain Jared Norris said it's been difficult to watch Paul struggle through his injuries and that it "sucks what he's had to go through." But Norris said he knows Paul has the talent to be a dynamic linebacker and hopes the two can stay healthy and have success.
"I'm excited to have him back and to be playing again," Norris said. "And hopefully everything can go well for him this year."
Paul's first step in his return is overcoming the hype surrounding Michigan in town Thursday night with new head coach Jim Harbaugh. Although favored in the game, Paul said he believes the national media doubts what Utah can do.
"I feel like the media thinks we're the underdog," Paul said. "Deep down inside we know that we're going to come out here and play hard and give Michigan what they deserve."
After Michigan, Paul said he hopes to make another statement: "I think Scooby Wright at Arizona deserves some Ute pride."
×
Related stories
Most recent Sports stories