Estimated read time: 6-7 minutes
This archived news story is available only for your personal, non-commercial use. Information in the story may be outdated or superseded by additional information. Reading or replaying the story in its archived form does not constitute a republication of the story.
SALT LAKE CITY — Putting the "Harbaugh-mania" hype and the Fox Sports camera solely dedicated to Jim Harbaugh's khakis aside, Michigan comes into Salt Lake City ready to prove to America that the powerhouse program is back and relevant again.
Michigan returns essentially the same team it did last season, minus some key players from last year, while adding to some other areas. Utah, too, is essentially the same team as last year, but with healthy players and some new talent joining the roster. Since there will be some new faces on both teams and some areas of interest and intrigue, here's a look at six players or position groups that you should watch out for this Thursday.
The following are the impact players or groups of players that will contribute to their teams' respective successes or failures.
Shane Morris and/or Jake Rudock
This is bit of a tricky situation considering how little information Harbaugh is giving about his starting quarterback. On Monday, Michigan released its depth chart for Thursday's game with the starting quarterback job (among other positions) wide open. Chalk it up to not wanting to show his playing cards a few days before game day?
Junior Shane Morris and Jake Rudock, a graduate transfer from Iowa, have battled it out for the starting QB job since spring, but neither has allegedly separated himself from the other. Harbaugh said last week in a press conference that the team knows the starter but that it wouldn't be until game time that the rest of America knows.
Utah head coach Kyle Whittingham, though, isn't concerned with who actually gets the start since they're both pocket passers and the offensive schemes don't change too much. The biggest difference? Rudock is a right-handed passer, while Morris is a left-handed passer.
"There's not a big scheme adjustment you use for whichever one's the guy," Whittingham said. "It's not like they're radically different from each other. It doesn't have a huge bearing on the game which one starts — at least the preparation."
But until America sees who trots out on the field with the first team, the quarterback position is seemingly a vulnerability for Michigan. It's likely Harbaugh will use both as he continues to assess his quarterback situation, which could spell disaster or unsuspecting success.
Kenneth Scott and Utah's young receivers
Senior Kenneth Scott received high praise from Whittingham Monday, who said Scott is likely the leader of the entire team. The question, though, is whether Scott can help a relatively inexperienced receiving group take the steps necessary to help Utah's passing game and alleviate the burden placed upon senior running back Devontae Booker.
While there were several receivers who stood out in fall camp — Tyrone Smith, Britain Covey, Siaosi Wilson, Caleb Repp and Siale Fakailoatonga (TE) — all are inexperienced in game settings and need some live reps for Utah to really understand the position as it moves forward.
Whittingham wants to open up the passing game to ease Booker's burden, but at what price? Can these receivers take the next step or will Utah continue to pound the ground with creative run packages designed for Booker and Joe Williams and an assortment of draw or option plays? Someone is bound to step up, but who?
Jake Butt and Michigan's receiving core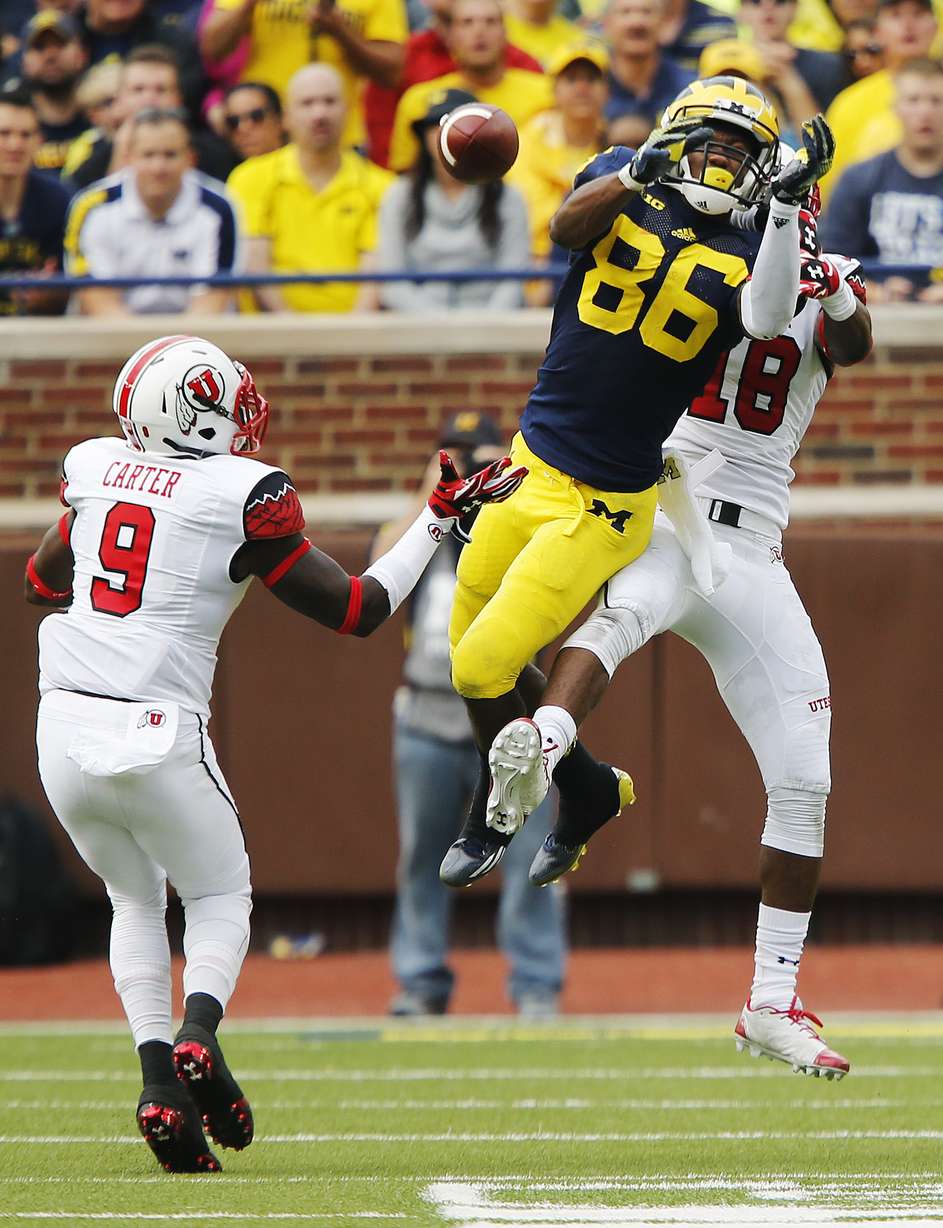 With so much uncertainty at quarterback, it's hard to believe Michigan will be 100 perfect in its offensive execution, particularly in the first game of the season under a new head coach and in the passing game. But if Michigan hopes to have any amount of success, it will likely go through tight end Jake Butt, which is likely considering Harbaugh's love for tight ends.
As a sophomore, Butt only had 211 yards and two touchdowns on 21 receptions. However, Butt dealt with some ligament injuries last year and wasn't 100 percent. According to Mark Snyder of the Detroit Free Press, Harbaugh called Butt "one of the most talented he has coached." Butt, though, is still relatively unproven, but a decent tight end option in Harbaugh's offense.
Beyond Butt, Michigan is searching for some answers at receiver. Seniors Amara Darboh and Jehu Chesson are two projected starters in a situation with players who haven't played a snap in college football. Darboh and Chesson combined for 627 yards and two touchdowns last season.
Sophomore Drake Harris and freshmen Grant Perry and Brian Cole are others battling for a starting spot at receiver, but they're young. Snyder said all three "have the ability to produce big numbers in receptions and act as potential game-breakers" but that none are proven and "all have issues."
Michigan's special teams
Yes, the entire special teams unit was listed as co-starters for Thursday, so why not include them here, too. While those returning punts and kickoffs are vital to any team, Michigan has some unsolved questions in its place-kicking and punting game. And as college football has taught us over the years, if you're not sure about the players kicking the football, you're probably in a tough situation and you'll like lose a game on a missed kick or poor punting.
Michigan lists Kenny Allen and Kyle Seychel as co-starting place-kickers and Kenny Allen and Blake O'Neill possibly sharing punting duties. Anyone else we could throw in there to kick the ball?
But Snyder said the "place-kicking job is uncertain and might remain that way," while the punting unit is meant to not be needed too much.
Devontae Booker
Booker came back to Utah to prove to himself and the several NFL scouts watching his game that he can be even better than he was last season. While it's easy to say Booker will have a fantastic season and roll over defenders, Michigan posed a problem for him at the Big House last year. Booker only had 11 carries for a total of 34 yards — his lowest producing game of the season.
Now before Utah fans get upset, Booker wasn't utilized the same in the Michigan game as he was at the end of the year. As the lead back and focus of the offense this year, Booker is expected to have a much larger role against Michigan. But could Michigan be Booker's kryptonite? Doubtful, but there's always a chance.
Jabrill Peppers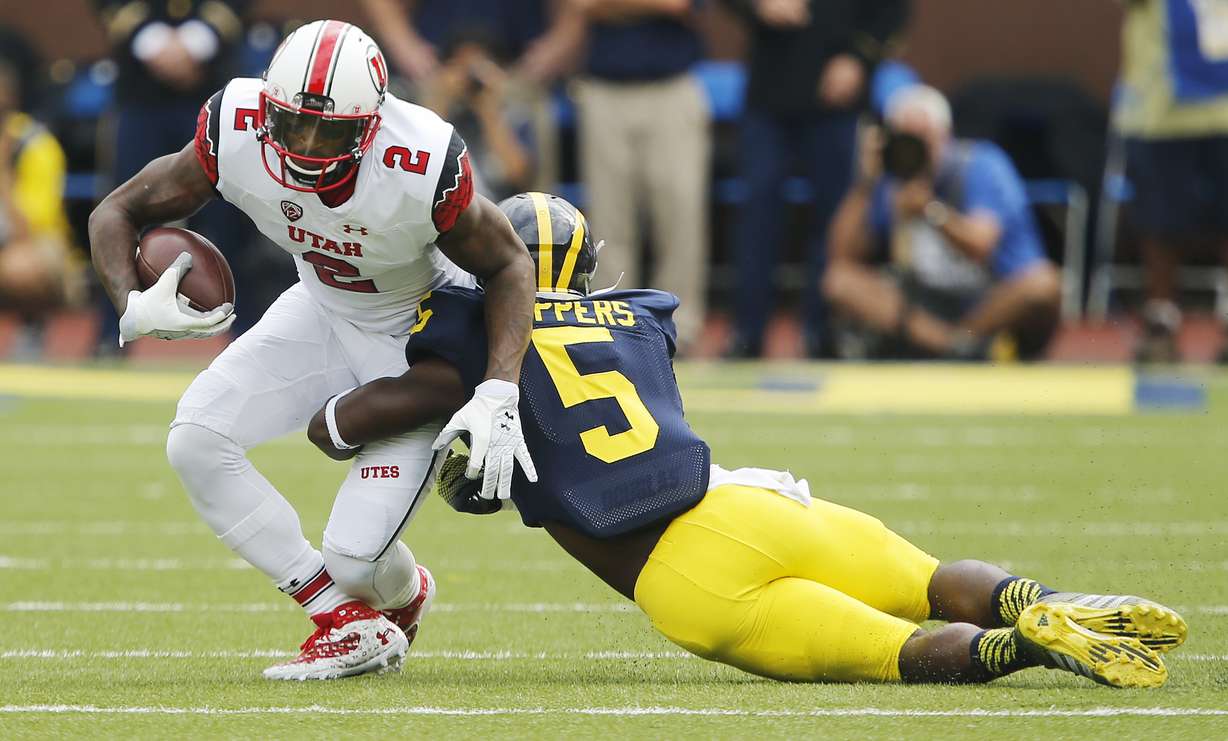 Peppers is a multi-talented defensive back who missed much of last season due to a leg injury sustained in September. He's slated at strong safety in Harbaugh's latest depth chart but could move to cornerback, nickel back, or even spend some time on the offense and special teams. While his stats don't show it, Peppers is projected to be a major playmaker for Michigan.
×
Related stories
Most recent Sports stories