Estimated read time: 5-6 minutes
This archived news story is available only for your personal, non-commercial use. Information in the story may be outdated or superseded by additional information. Reading or replaying the story in its archived form does not constitute a republication of the story.
SALT LAKE CITY — Utah opens its season against Michigan Thursday in one of the most anticipated returns to college football.
Many will be tuning in to see Michigan head coach Jim Harbaugh in his return to the college ranks, but locally, many are just as excited about the return of Heisman candidate Devontae Booker and the future he holds for the Utes this upcoming season.
Following a 1,500-yard rushing season last year, Booker had the difficult decision of deciding whether to return to Utah or to pursue a career in the NFL. It was a 50/50 decision, he said, but one that wasn't too hard when he put everything into perspective.
"I really wanted to come back and get my degree; that's something that I always wanted to do is graduate college," Booker said. "I was really thinking of it as, do I really want to go into the NFL as a thousandaire this past year or do I want to be a millionaire — possible millionaire — in a year. I just thought of it like that and came back and got my degree."
Now, Booker has a legitimate shot to be a Heisman-contending running back this season for Utah and has a better opportunity to showcase his skills for the many NFL scouts that will be watching him this year.
For Booker, it's a dream come true to be considered for the Heisman and one that he doesn't take lightly. The expectations will be high, the competition will be elite and the pressure to succeed will always be present, but Booker maintains a mature but humble attitude toward how he approaches the season.
"I don't feel pressure at all about it," he said. "It's just humbling for me to be in this conversation of Heisman Trophy. It's something that you dream of as a kid and I'm just going to continue to work hard and stay humble about the whole thing until it comes true."
The Heisman, for Booker, is the culmination of hard work and never believing a starting role or opportunity to play football would be handed over to him; it's coming in each day and proving to the rest of the team and the coaching staff that he's the best player at his position.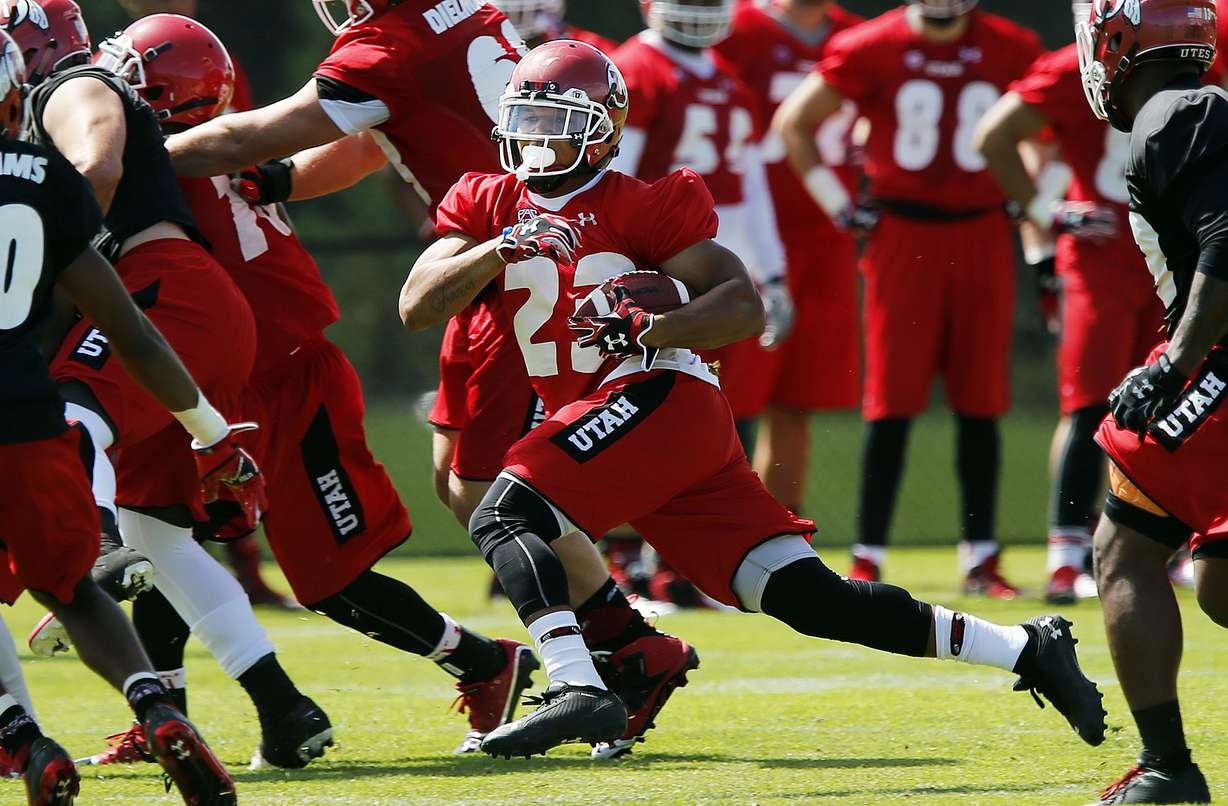 "I knew the spot wasn't just going to be given to me when I got here," he said. "I knew I had to work for it, and that's what I did; I worked my butt off every day and finally got the starting job and just took it and ran with it. It's pretty much the same now: continue to stay humble about everything and just work my butt off out there."
"He's very level-headed, very mature. He's handled this thing better than most have handled it," assistant head coach and running backs coach Dennis Erickson said about Booker's approach to the Heisman hype coming into the season. "He knows that he's getting all that (hype), but he hasn't changed one bit. He still works hard. If you were here watching practice, he busts his rear end every day and wants to get better. The No. 1 thing for us is to win, and that's the No. 1 thing for him."
The hard work Booker puts in every day is something the coaching staff and members of his team have noticed.
"He's hands down the hardest person I've ever had to tackle, and that's with playing every team in the Pac-12," linebacker Jared Norris said. "He's going to have a great year this year and I'm excited for him."
"He's one of the best college backs I've coached," Erickson said. "The thing that he does is he does it all. He's a strong runner, he breaks tackles, he's got speed, shifty, he's a good blocker, strong in his lower body, and he's got great hands. That's something people don't really know, but he can really catch it."
---
I don't feel pressure at all about it. It's just humbling for me to be in this conversation of Heisman Trophy. It's something that you dream of as a kid and I'm just going to continue to work hard and stay humble about the whole thing until it comes true.
–Devontae Booker
---
While many college athletes in a similar position are motivated by their own talents or pursuit for a high-paying career in the NFL, Booker draws his motivation from his 2-year-old son — a spitting image of Booker but in miniature form.
"He's definitely motivating to me, just seeing the things that he does every day is just a reminder of the things that I used to do as a kid," Booker said. "But he's motivating for me every day out there on the field.
"Every time I put on a game — a football game — or something, I'm like who's that and he's like, 'daddy, daddy.' But sometimes it's not even me in the uniform but he just knows that it's something that I do, football is just something I do. It is definitely good for me," he added. "I may still go out with my teammates and stuff like that, but knowing I've got a kid at home, I definitely make smart decisions and stuff like that."
While the hype surrounding Booker will only intensify, he said he's only concerned about winning football games and doing his job. He believes that if he's able to obtain his season goals, he'll have done his job for Utah and that the team will be successful.
"Gaining 2,000 yards rushing is something I want to do," he said, speaking about his season goals. "Probably catching the amount of passes I did last year — I think I caught something like 40-something balls — so I want to catch more than I caught last year."
"Booker is an amazing player and they're going to stack the box against him," receiver Kenneth Scott said. "Even if they stack the box against him he's still going to get 1,000+ yards because he's just a beast like that."
×