Estimated read time: 4-5 minutes
This archived news story is available only for your personal, non-commercial use. Information in the story may be outdated or superseded by additional information. Reading or replaying the story in its archived form does not constitute a republication of the story.
PROVO — BYU running back Jamaal Williams had a question for reporters at Wednesday's Media Day when one of them asked if he was expecting to play in the Cougars' 2015 season opener Sept. 5 at Nebraska.
"Do you expect a fish to swim in water? Of course, I'm ready to go," Williams said with the humor he's shown for nearly four years. "I'm here to play. I've been trying to play since the day I got hurt.
"This dog is never going away. I'm ready to go and show that I'm not going anywhere, no matter how hard an injury is."
Williams return to health after a knee injury and surgery toward the end of the 2014 campaign is a good sign for BYU, which lost Williams and quarterback Taysom Hill to gruesome injuries that contributed to a disappointing 8-5 season in 2014.
But the dynamic duo is adamant they are back to full health, and it showed in several interactions with the local press at the BYU Broadcasting Building.
Hill said his rehabilitation from a broken leg suffered in a home loss to Utah State wasn't easy, but he just wants to move forward and cap his BYU career in style.
"There are stages where it hits you harder than others," Hill said. "At the end of the day, you can choose to be bitter or you can choose to say 'this sucks, but let's make the most of it.'
"I've got another year showcase what I can do as a BYU quarterback, so let's make the most of it."
That's not saying his prolonged absence from the team, which went 4-5 after his injury, wasn't entirely bereft of benefits. Hill learned a lot about himself in what became an extended offseason — and most of it relates to his life away from the football field.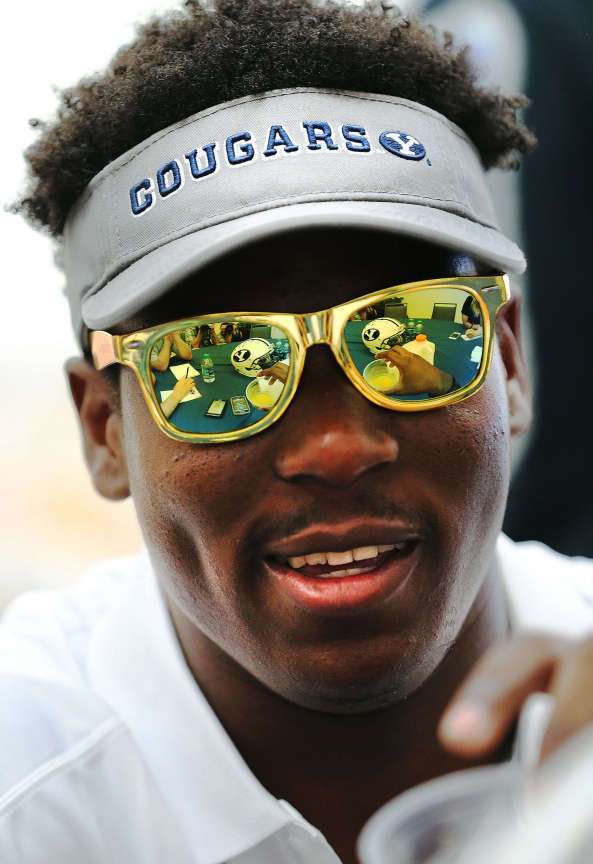 "Football is going to end, at some point. At any moment, it can be taken from you," Hill said. "My biggest asset is my brain, and my ability to think."
Hill took the time to focus on academics, completing the junior core of BYU's finance major — a series of classes that he said opened his eyes to opportunities in an industry far removed from a career on the gridiron.
"That's hands down probably the biggest lesson I learned outside of football," he added. "I hope I don't have to think about that for a long time. But when I do — because it's a when and not if — I'll have the background to be successful."
For Williams, time spent away from the game and focusing on his rehabilitation helped bring him closer to his friends within the football program. Head coach Bronco Mendenhall called, texted and visited him regularly, and teammates brought gifts and meals to his house on various occasions.
But possibly the biggest bond was forged with his quarterback, a fellow senior who was going through the same thing.
"It was like having another me," Williams said of his rehab with Hill. "We have the same competitive edge to get better, no matter what it is.
"To know that somebody is working just as hard as you to get better; it's somebody that you want to play with. You trust him when it comes to game time."
Game time comes Sept. 5 at Nebraska, and it will come with a heavy dose of Williams, according to BYU offensive coordinator Robert Anae.
"We are ready to utilize him 100 percent after his knee injury," Anae said. "He's a very important part of the offensive scheme, and we've added a few of the kids from the defensive side as tight ends. So we have a tailback run scheme with a lot of blockers that will help the offense."
The return to force of two of their top offensive playmakers has the rest of the Cougars optimistic, as well.
"With Taysom and Jamaal on the field and contributing, our team is more confident," Mendenhall said. "These two positions easily could be about themselves, but neither (player) is like that. Our team respects that. To have them out there, it unites everybody."
Through the long offseason of surgery, treatment and rehab, BYU's two offensive standouts maintained focus on one moment: the season opener at Nebraska.
"I'd think about it all the time," Hill said. "I think about those first four games last year all the time, too, and I remember that feeling. I get emotional thinking about that. I love playing football, and I love playing for BYU. Thinking about Nebraska in Week 1 gets me very excited."
Contributing: Jeremiah Jensen
×
Photos
Related stories
Most recent Sports stories