Estimated read time: 4-5 minutes
This archived news story is available only for your personal, non-commercial use. Information in the story may be outdated or superseded by additional information. Reading or replaying the story in its archived form does not constitute a republication of the story.
SANDY — Real Salt Lake fans who arrived early enough to Wednesday's weather-delayed match with the defending MLS Cup champion L.A. Galaxy might not have recognized the formation originally sent out onto the field at Rio Tinto Stadium.
RSL appeared to line up in a 4-4-2 formation with a diamond-like midfield, with Jordan Allen and Luke Mulholland playing on either side of attacking midfielder Luis Gil.
But don't read that as RSL head coach Jeff Cassar surrendering defeat on the new system paired with a new 4-3-3 formation for most of the year. In fact, don't read the reversal in formation as much of a diamond midfield, he added.
"We drew it up differently," Cassar said following RSL's 0-0 draw with the Galaxy after a 62-minute weather delay. "Attacking-wise, we were in a different formation, but defensively we dropped into that, and that was just to make sure we have cover.
"It wasn't necessarily a diamond. It might look like that at times, but that's not what it was."
Allen, who has played wing forward for most of 2015 with RSL, played tucked inside the midfield for part of the night — but also ran out and pressed forward with the speed and flair of a third forward to starters Alvaro Saborio and Devon Sandoval. Saborio finished with two shots, both on goal, and was flagged offside five times as RSL (2-2-5) picked up seven offside calls in the first half. It was more of the same when Olmes Garcia replaced Sandoval in the 76th minute as a substitute, and Sebastian Saucedo's introduction with four minutes remaining in regulation showed the tireless effort of Mulholland, who spent the evening in a box-to-box midfielder role.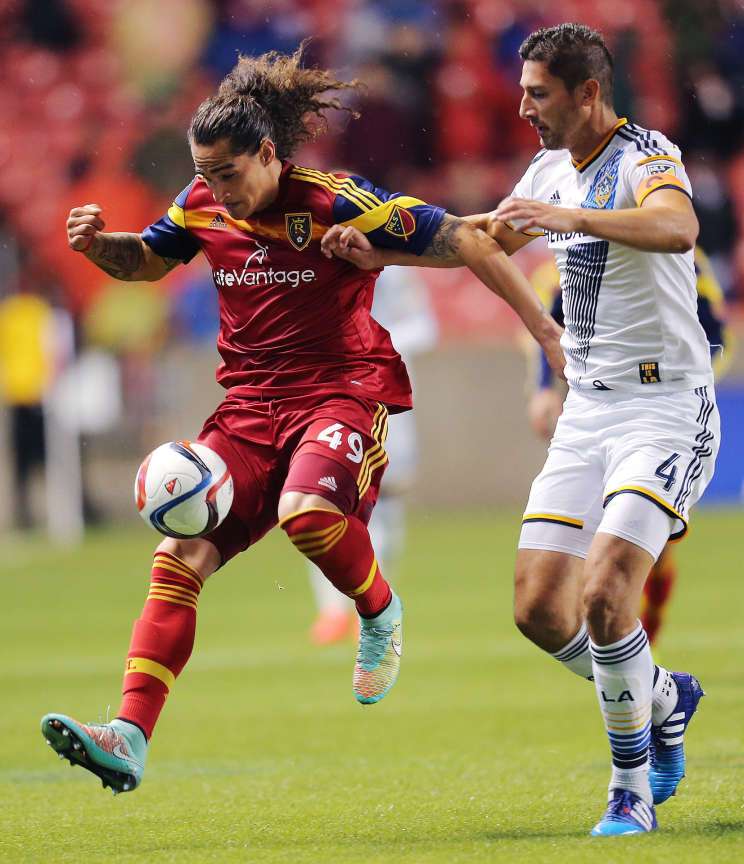 Whatever the tactics, RSL goalkeeper Nick Rimando called it "a step in the right direction."
"A change in the formation a little bit. We had a lot of chances this game, a lot of attack in the offensive third," said Rimando, who notched his 118th career shutout. "A lot more than the previous games, and our coach was saying a lot, but I thought that tonight we were really inches from scoring a goal and getting things moving."
Whether it was a 4-4-2 defense or a rotating 4-3-3, RSL found its rhythm once again, and only Galaxy striker Alan Gordon was much of a threat offensively, chalking up five of nine shots from the Galaxy (3-2-5). Save for a standout effort from L.A. goalkeeper Jaime Penedo, who had six saves, RSL could have easily bagged at least one goal.
"Better rhythm than the last couple of games for sure," Mulholland said. "Maybe because of the playing conditions, the referee let us play more compared to last game, so that was good.
"I thought that Jordan Allen had another great game. Going forward, Luis and Saborio's as well, even after winning back the ball for us — I thought he had a stellar game."
Allen's role in the formation proved vital. The RSL homegrown player has filled in as a "Swiss Army knife," according to some RSL personnel, and his versatility to play forward, midfielder and even a bit on the back line has been a tool for the Salt Lake side in transition.
"Everything stood about Jordan Allen," defender Tony Beltran said. "I mean, when he was training with us four years ago, I knew he was going to be incredible. He's got it all. He's fast, he's strong, he's technical and I think most importantly he's hungry."
Allen's play also drew rave reviews from his head coach, and it could likely contribute to a spot for the youngster on the U.S. national team for the U-20 World Cup in New Zealand later this year.
"He's just dynamic, and he's willing to take people on," Cassar said of Allen. "He's responsible defensively as well. He just brings energy."
RSL goes into the start of a road trip at Chicago with a 496-minute scoreless streak. But that isn't much of a concern for Cassar after the way his team played Wednesday night in touch conditions against one of the league's regular powers.
"I think we put ourselves in position to score tonight," Cassar said, "and that's what I'm talking about. If we continue to put ourselves in those positions, we will score. We have quality players — quality strikers, midfielders. It's coming. We just have to keep trying to do the right things."
×
Photos
Related stories
Most recent Sports stories