Estimated read time: 4-5 minutes
This archived news story is available only for your personal, non-commercial use. Information in the story may be outdated or superseded by additional information. Reading or replaying the story in its archived form does not constitute a republication of the story.
SALT LAKE CITY —Tal vez Eliana Vaha'i Feao se enamoró de ballet cuando tenía 18 meses de edad, al ver la película "Barbie en el Cascanueces".
"Ella la veía una y otra y otra vez", dijo Gloria Vaha'i, la madre de Eliana.
Dos años más tarde, Eliana tuvo su primera clase de ballet y le encantó, pero asustó a su madre. El papá de Eliana es tongano y, hasta donde Gloria Vahai sabe, no hay bailarinas profesionales de Tonga.
"Cuando miré a mi alrededor, yo no vi a nadie que se pareciera a ella, lo que realmente me asustó", dijo Gloria Vaha'i. "Eran chicas muy, muy, muy delgadas, y eran todas blancas.
"Pensé 'ella se va a enamorar de algo que no va a estar disponible para ella'".
Así Gloria Vaha'i matriculó a su hija en clases de gimnasia en su lugar.
"Yo, básicamente, nací en el gimnasio, y siento como si me hubiera criado allí", dijo Eliana.
"Ella fue muy impulsada en la gimnasia", dijo su mamá.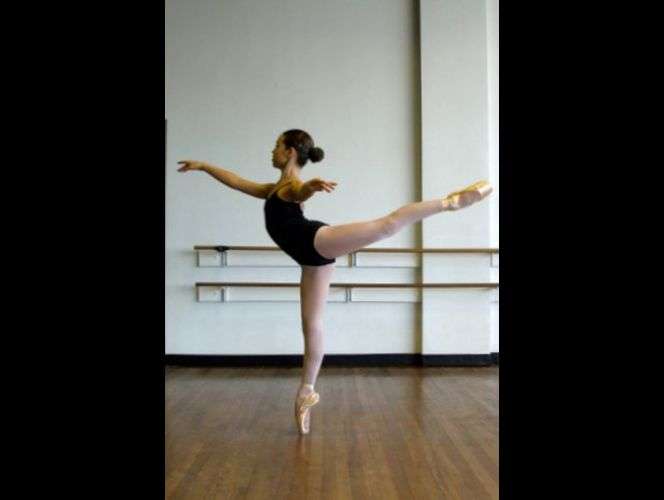 Su hija empezó a soñar con competir por Tonga, pero una lesión - osteocondritis - cortó su carrera. Para llenar el vacío, Eliana regresó a la barra, a una escuela de baile en un centro comercial en South Jordan.
"Ella aprendió las cosas tan rápido", dijo Sheila Cramer, directora de la Academia de Ballet Arts, donde Eliana estudió durante varios meses. "Ella había pasado de no tener ninguna experiencia de ballet a estar en punta".
Es algo, Cramer dijo, que por lo general tarda de cuatro a cinco años.
Eliana audicionó y fue aceptada en la Academia de Ballet West, donde ahora, a sus 13 años de edad, estudia.
Para ayudar con el gasto adicional de sus estudios de ballet - como las zapatillas de punta, que Gloria Vaha'i dice que tienen un costo de $100 y son reemplazadas semanalmente - la familia se mudó de una casa a un pequeño apartamento cerca de la escuela.
"Me encanta la sensación que tengo cuando bailo ballet", dijo Eliana. "A veces me siento como que estoy conectándome con mi ascendencia y otras veces es simplemente estar en el momento".
Recientemente se realizó en la producción del ballet West la obra el "Lago de los Cisnes". Además de las clases regulares, Eliana a menudo ensaya la variación de la boda de "La Bella Durmiente" con la primera bailarina de Ballet West Christiana Bennett.
Eliana ha sido invitada a realizar el baile este verano en la coronación del Rey de Tonga.
Gloria Vaha'i acredita a la abuela de Eliana, "Abuela Tongana", con hablar a su nieta y ayudar a asegurar la invitación.
"Abuela Tonga", Gloria dice, está relacionada con la familia real.
Bennett dijo que cuando ella ve a Eliana danzar, ella ve las piernas de una bailarina de ballet y los brazos y las manos de una bailarina cultural de Tonga.
"He visto bailarines tonganos culturales y su calidad de movimiento es tan hermoso", dijo Bennett. "Ella realmente ha traído eso en la variación. La forma en que mueve sus brazos y la forma en que presenta sus manos es lo que la diferencia de la mayoría de las niñas de 13 años".
"Creo que debe ser un poco, casi como si estuviera en su línea de sangre; es instintivo que ella se mueva de esa manera", dijo.
Eliana ahora aspira a convertirse en la primera bailarina de Tonga y abrir la primera escuela de ballet en las islas.
Ella también se está preparando para entrar en la universidad en el otoño. Eliana ha estado mayormente educada en casa y ha avanzado cerca de dos niveles de grado en un año. Ella planea estudiar danza.
El año pasado, dijo Gloria Vaha'i, se dio cuenta de que no tiene que tener más miedo del ballet.
"Oh, Dios mío, ella está bien. Ella es una niña pequeña medio-tongana con la piel oscura y grandes músculos, y ella está bien. El mundo del ballet no se derrumbó", dijo Gloria Vaha'i.
"Hey, el ballet de molde no es real", dijo. "Claro, se puede hacer más progreso, pero las chicas como Eliana están haciendo que esto suceda".
×
Most recent News stories