Estimated read time: 3-4 minutes
This archived news story is available only for your personal, non-commercial use. Information in the story may be outdated or superseded by additional information. Reading or replaying the story in its archived form does not constitute a republication of the story.
South Jordan — El policía que disparó y mató a un hombre de South Jordan ha sido justificado de haberlo hecho.
El fiscal de distrito del condado de Salt Lake, Sim Gill, anunció el lunes que el sargento Larimie Lancaster hizo uso justificado del poder letal de su arma contra Ty Worthington, de 26 años.
Los oficiales habían sido llamados el 22 de noviembre a la casa de los padres de Worthington, donde, según informes había estado metiéndose sin permisdo. Los oficiales habían sacado a Worthington de la misma casa, el día anterior después de que él tuviera una sobredosis de drogas, dijo el lunes Jason Knight, teniente de la policía de South Jordan. Worthington había sido llevado a Lone Peak Medical Center y puesto en libertad más tarde ese día.
Worthington había huido de la casa para cuando llegaron los policías. Unos 45 minutos más tarde, un vecino avisó a la policía que Worthington se dirigía otra vez hacia la casa, y Lancaster fue a interceptarlo.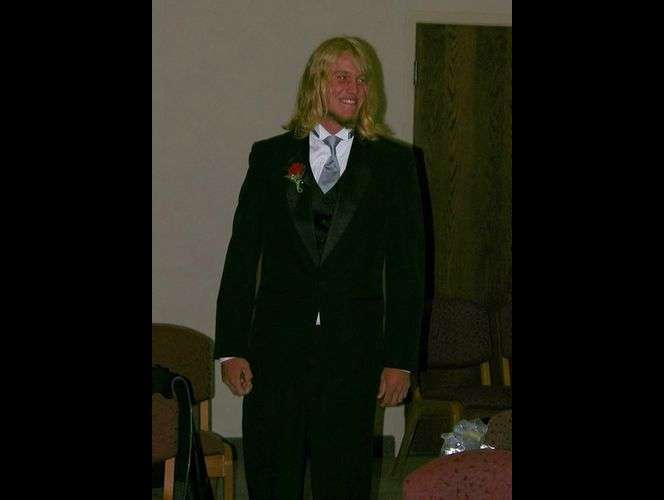 Cuando Lancaster llegaba a la casa "los dos se encontraron frente a frente en el corral de caballos", dijo Knight.
Worthington no obedeció la petición de Lancaster a venir y hablar con él, en lugar salió corriendo al corral, agachándose detrás de un barco estacionado y en cuclillas mientras buscaba algo en su mochila.
Como Worthington no respondió a las instrucciones para salir, Lancaster sacó su arma y comenzó a caminar alrededor del barco. Se encontró con Worthington, levantando un revólver Ruger calibre 22 y Lancaster tiró varios tiros, dijo Knight.
Worthington le disparó cuando Lancaster hizo una pausa, y Lancaster devolvió el fuego. El oficial pidió ayuda por radio, continuó moviéndose alrededor del barco y cuando encontró a Worthington con la pistola todavía en la mano, le disparó varias veces más.
Worthington colapsó, alcanzado por tres de las 13 balas que disparó Lancaster, incluyendo un tiro que entró por su torso, dijo Knight. Worthington disparó dos veces. Lancaster y otro oficial intentaron mantenerlo vivo, pero Worthington fue declarado muerto en la escena.
Lancaster, un policía veterano de 17 años que ha pasado la mayor parte de su carrera en South Jordan, llevaba una cámara de cuerpo en el momento de los disparos, pero no la activó. El departamento de policía está actualmente probando diferentes modelos de cámaras y aún no tiene políticas establecidas que requieran que los policías las tengan encendidas, dijo Knight.
Una vez que el departamento seleccione un modelo de cámara serán "plenamente integradas en las operaciones diarias y habrá una expectativa de su uso en situaciones justificadas como se indicará en el manual", explicó Knight.
Este es el segundo tiroteo fatal en Utah este año donde el oficial involucrado llevaba una cámara de cuerpo, pero no la usó.
La policía de Saratoga Springs confirmó el mes pasado que uno de los dos oficiales que se enfrentaron a Darrien Hunt, de 22 años, antes de que le dispararan el 10 de septiembre tampoco encendió su cámara de cuerpo, y es posible que no hubiera funcionado de todos modos.
Una búsqueda de registros de la corte reveló que Worthington tenía una turbulenta historia de acusaciones y condenas en su mayoría respecto a drogas y alcohol en los últimos años.
Worthington, según documentos judiciales, había sido liberado de la cárcel del condado de Salt Lake sólo cuatro días antes de su enfrentamiento con la policía de South Jordan para que pudiera asistir a un centro de tratamiento de desintoxicación de drogas.
Traducido por Amiel CoccoAmiel es el gerente y editor de www.TodoSobreAmor.com donde se dan consejos de amor a las parejas y familias. Amiel tiene una licenciatura en Marketing y Comunicaciones de la Universidad Brigham Young
×