Estimated read time: 4-5 minutes
This archived news story is available only for your personal, non-commercial use. Information in the story may be outdated or superseded by additional information. Reading or replaying the story in its archived form does not constitute a republication of the story.
ALBUQUERQUE, N.M. — Playing on the Utah State defensive line, Aggie defensive end B.J. Larsen has been a little bit anonymous this year with the spotlight shining on linebackers like Zach and Nick Vigil and the run defense ranked as high as No. 4 in the nation.
In the postseason, though, Larsen is part of a special group of Utah State seniors.
He's part of a senior class that has gone to a bowl game for four straight seasons, not that he's too focused on the past. Utah State (9-4) is preparing to face UTEP (7-5) in the Gildan New Mexico Bowl Saturday at noon MT on ESPN.
In fact, he's just excited to get back on the football field one more time and erase the sting of an embarrassing loss at Boise State in the Aggies' regular-season finale.
"Emotions run high toward the end of the season, especially in games as high-caliber as that," Larsen said. "Emotions will run high for this game too. It's going to be for us seniors the last time we're in an Aggie uniform, and we're going to want to go out with a bang.
"We're going to want to go out with a 'W.' There won't be any lack of emotional investment in the game, and I think that will help us play at a higher level, play at a more physical level and more than anything, play fast and make sure that we finish through tackles."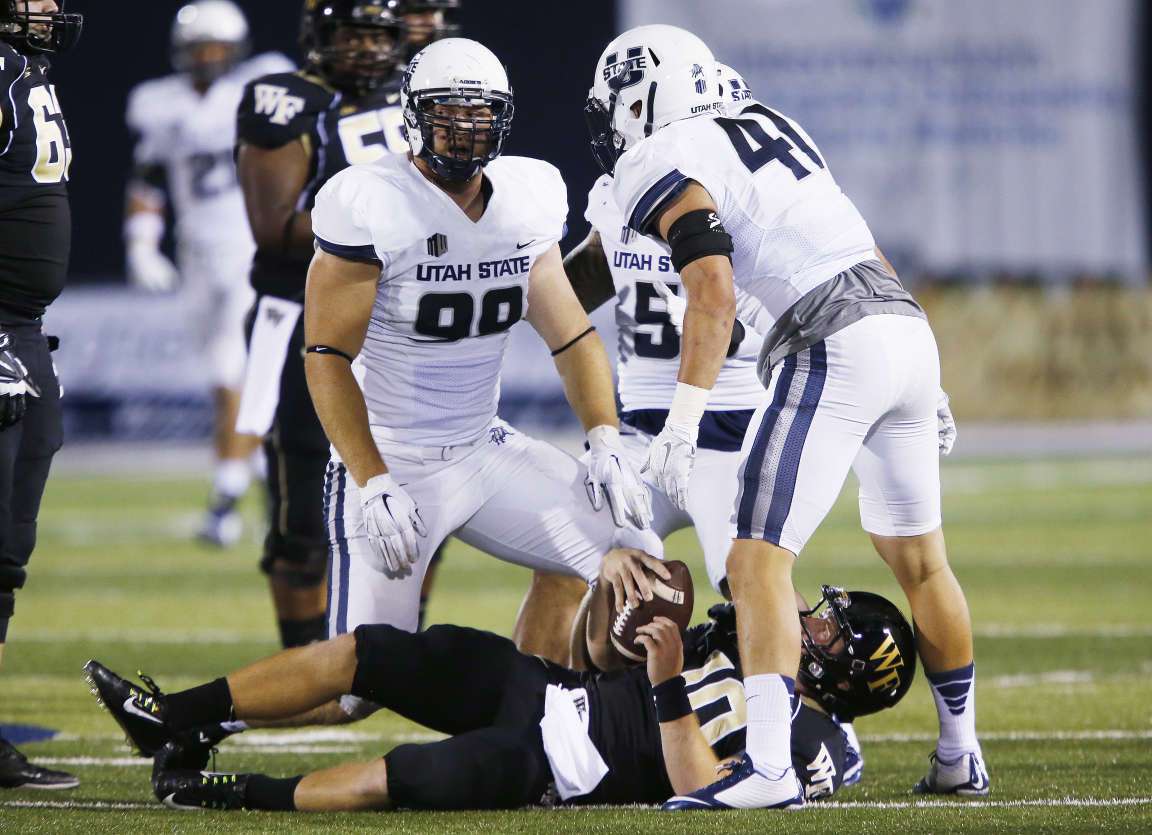 Utah State is well-acquainted with Albuquerque, New Mexico, because the Aggies played at New Mexico just a year ago. Most of those memories still reside in the bulk of this team, so the bowl-game experience is all business.
"I'm excited to see what they have planned for us for what we're doing in our off time," Larsen said. "That time we'll be able to kind of cross over with UTEP and get to know the other team personally before we play against them. I'm looking forward to it. It'll be a great experience. Bowl games are really a prize at the end of the year for a great season and we're all looking forward to it."
Junior wide receiver and punt returner JoJo Natson is also excited to get back to Albuquerque — for one particularly good memory at New Mexico's University Stadium.
"I got my first punt return (touchdown) there," he recalled. "Should have had two, but they called one back. I hope luck's on my side again so I can get another one. I'm hoping for the best."
The matchup pits two of the better special teams units in the country against each other on the first day of three weeks of college football bowl games. Utah State ranks 69th in the country in special teams efficiency and UTEP follows at No. 90.
"I know their punt team is going to keep it away from me, but the coaches have been getting us ready all week, and finding ways to try to hold up the punt team to try to get me loose on punt return," said Natson, who expects to play after suffering a hyperextended knee at Boise State. "I'm excited for special teams this week as well as offense."
Natson ranks 12th in the nation with 22 punt returns, averaging 12.14 yards per return, and he also has three rushing and two receiving touchdowns as the Aggies' most versatile offensive threat.
"It's going to be a physical game," Natson said. "They have a pretty good defensive line and linebackers, but I feel like their strongest group is their defensive backs. It's going to be a great challenge for us receivers, I feel like."
With a win, the Aggies can reach 10 wins on the season for the second time in four years, a fact that hasn't escaped head coach Matt Wells.
"There's no question that the possibility of getting to 10 wins and the possibility of winning three straight bowl games is a big-time motivation for us," Wells said. "It's never been done in here before, three straight. Ten wins will be the second-most amount of wins in this program's history.
"Each of us that were here two years ago to be a part of that, that's something that we'll have for a long time. We're doing a lot of things that have never been done in Utah State football, and those two are right there at the top of the list. Those are extremely motivating factors."
Just as big of a motivation is the seniors who, like Larsen, will be looking for their third straight bowl victory and fourth straight appearance as a team.
"The ability to send the seniors out with a win, three straight bowl wins, is high motivation," Wells said. "There's no question that our No. 1 focus this week, and once we get to Albuquerque, will be to win the game. There's no doubt. Our guys are motivated, as well, to get the bad taste out of their mouths after the last game, too."
×
Photos
Related stories