Estimated read time: 2-3 minutes
This archived news story is available only for your personal, non-commercial use. Information in the story may be outdated or superseded by additional information. Reading or replaying the story in its archived form does not constitute a republication of the story.
SYRACUSE, Davis County - Val Chadwick Bagley podría saber una cosa o dos acerca de la intimidación.
"Tuvimos un niño en la escuela que tenía una 'discapacidad' mental", le recordó Bagley a los estudiantes de Syracuse Junior High. "Así que pensé que sería divertido burlarse de él".
Por suerte, Bagley dijo que alguien se apresuró a intervenir.
"Me empujó contra los casilleros, y un niño me dijo: 'Basta ya!' ", Dijo Bagley. "Le estoy muy agradecido a ese chico".
Bagley, un dibujante para las revistas "The Friend" y "New Era" y también el escenógrafo para el Nightmare on 13th, una casa 'encantada', está ahora de gira en los condado de Davis y Salt Lake con un mensaje anti-bullying.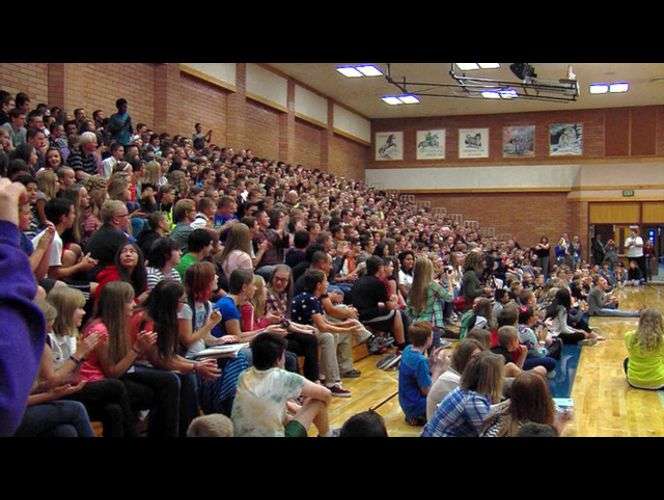 Durante la presentación en la secundaria, los estudiantes vieron un video donde un estudiante llamado Frank Shelley - que se parece mucho a Frankenstein - es molestado por sus compañeros de escuela. Entrando en el gimnasio de la escuela el miércoles, Shelly dio a los estudiantes un mensaje simple: "No seas un bully (un intimidador). No seas un monstruo".
El hombre de Layton detrás de Frank Shelley sabe algo acerca de la intimidación también. Cuando Steven Duggar nació 56 años atrás, los fórceps utilizados para su nacimiento estaban demasiado apretados alrededor de su cabeza y apretaron su cerebro. Como resultado, Duggar tiene necesidades especiales. Dijo que a veces las burlas durante su infancia fueron tan difíciles para la familia, como lo fueron para él.
"Fue muy duro para mí", dijo Shirley Moosman, la madre de Duggar. "Un montón de lágrimas cuando era pequeño por las cosas que me enteraba y cómo trataron a Steven".
Duggar y Bagley se han convertido en amigos cercanos. Ambos comparten intereses en el arte y Halloween, que han fomentado su relación de más de 24 años.
"Él me llama todo el tiempo, porque él ama Halloween", dijo Bagley. "Yo trabajo en una casa encantada, así que él ama tener mis fotos. Él viene y posa en mi patio con mis decoraciones de Halloween".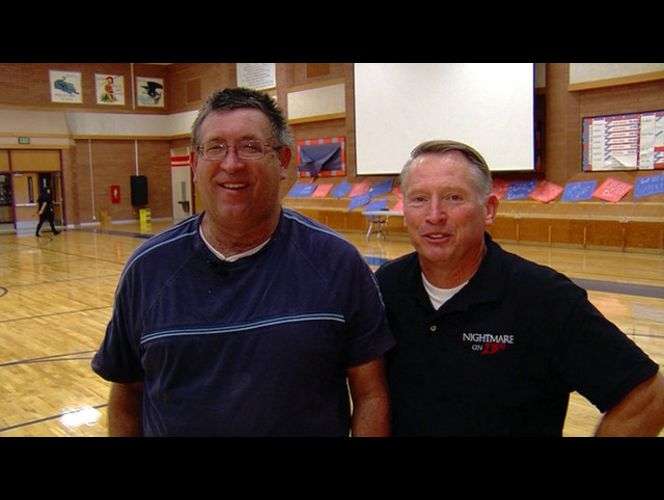 Bagley y Duggar son ahora los dos presentadores en la nueva entrega de la campaña contra el acoso escolar nacional de Utah. "No sea un monstruo" la que fue fundada en Austin, Texas, por los dueños de una casa embrujada en el 2012. Empresas similares en nueve ciudades del país han pasado a patrocinar el programa desde entonces.
"Todo el mundo es diferente. Todos tenemos nuestros propios retos", dijo Bagley.
Bagley y Duggar compartirán su mensaje con alrededor de 8.000 estudiantes durante el mes de octubre, que también pasa a ser el mes nacional de la prevención del Bullying.
×
Most recent News stories