Estimated read time: 3-4 minutes
This archived news story is available only for your personal, non-commercial use. Information in the story may be outdated or superseded by additional information. Reading or replaying the story in its archived form does not constitute a republication of the story.
LOGAN — Utah State wide receivers JoJo Natson and Hunter Sharp turned last weekend's 36-24 home win over Wake Forest into their own personal game of H-O-R-S-E, football-style.
Boom: Sharp went up for a grab from quarterback Chuckie Keeton in the first quarter.
Bang: Natson responded with a play out of the Aggie back field, then added a 44-yard touchdown reception from fellow wide receiver Ronald Butler in the second quarter.
Pow: Sharp hauled in 12 catches from two quarterbacks for 138 yards, the most total yardage by an Aggie since Butler's 145 receiving yards against Fresno State in last year's Mountain West championship game.
If competition breeds excellence, Utah State's dynamic duo has found the first part of the equation before the fourth game of the season Saturday at Arkansas State at 5 p.m.
"We do that. We compete and push each other to go hard," Sharp said of him and Natson. "It helps us play better, and then we do that in practice a lot. It just naturally translates to the game."
Sharp's receptions were the most by an Aggie wide receiver since Kevin Curtis had 13 catches against Middle Tennessee in 2002. But the Antelope Valley Junior College transfer had a pretty good idea his number would get called plentifully against the Deacons — he just had to make good use of it.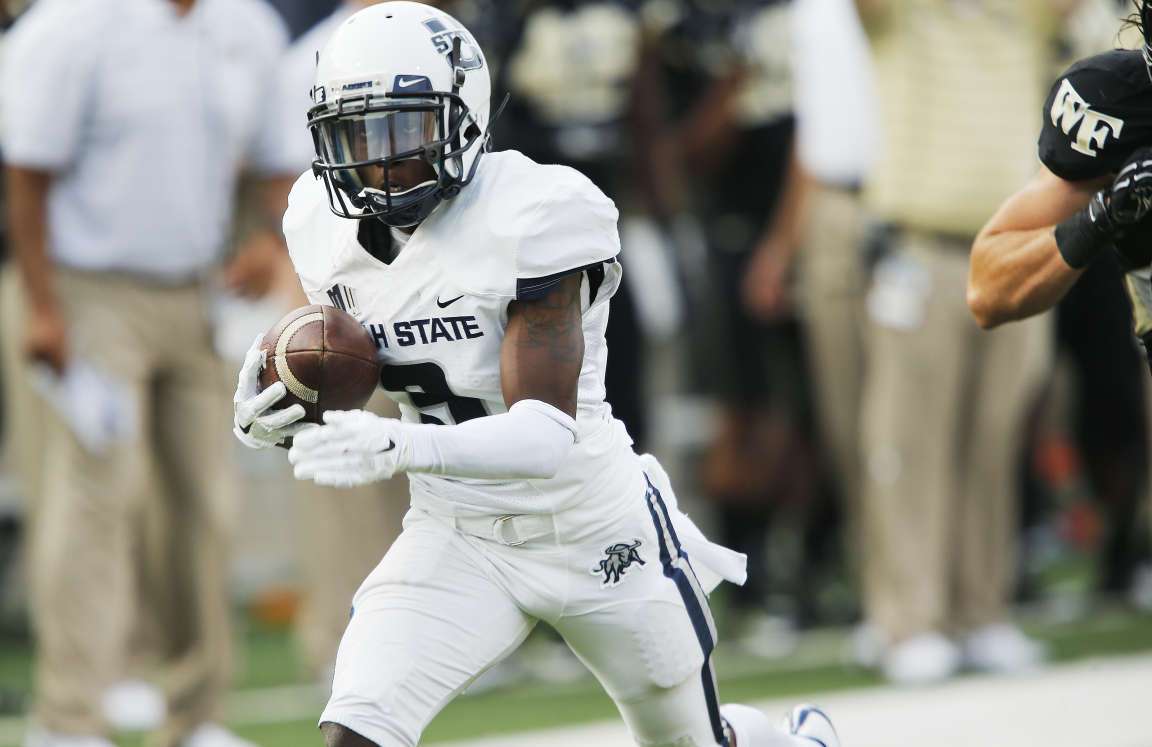 "This week, we prepared for my number to be called a lot more," Sharp said. "Coach just told me to be ready, because my time was coming."
The emergence of Sharp in the receiving game, Butler as a potential passer off a direct snap or reverse outlet, and Natson in the run game has given Utah State coach Matt Wells and offensive coordinator Kevin McGiven plenty of options to spread the ball around.
"I thought Hunter and Ronald both played well. We needed them to, both of those guys," Wells said of the 6-foot Sharp after the win over Wake Forest. "They're big, physical receivers on the edge. Hunter has a little bit of an expanded role. Seven days ago, I said those guys are going to have to step up and play quality reps, and I'm proud of Hunter and I'm proud of Butler."
Natson's expanded role has been expected, according to Wells, but the junior wide receiver has relished the chance to make plays outside of his traditional duties at punt return and in the passing game.
"It's been really fun," Natson said. "The coaches find a way to get the ball each week. They know I can make plays. The coaches gave me opportunities and I made the best of them, and I thank them for putting me in the situation to make plays to the best of my ability."
With speed on the edges and a sophomore quarterback Darell Garretson making his first start of 2014, the Aggies will hope to start quickly Saturday and get their first road win of the year.
"We have to come out fast," sophomore safety Devin Centers said. "Our first game against Tennessee, we came out a little slow, as far as the team goes. But if we come out and actually play at a high level like we did here against Wake Forest, I feel like we'll be able to roll in there, play our game and come out with a win."
×
Photos
Related stories