Estimated read time: 3-4 minutes
This archived news story is available only for your personal, non-commercial use. Information in the story may be outdated or superseded by additional information. Reading or replaying the story in its archived form does not constitute a republication of the story.
Los votantes escoceses dijeron "no" a la independencia y decidieron seguir siendo parte del Reino Unido, en un histórico referendo que sacudió el país. La decisión impidió la ruptura de una unión de 307 años con Inglaterra y causó un enorme alivio al "establishment" político británico. Los escoceses votaron 55% a 45% contra la separación, en una consulta que tuvo una participación sin precedentes con casi 85%.
"Hemos elegido la unidad sobre la división", dijo el viernes Alistair Darling, líder de la campaña del "No", desde Glasgow. "Hoy es un día crucial para Escocia y el Reino Unido como un todo".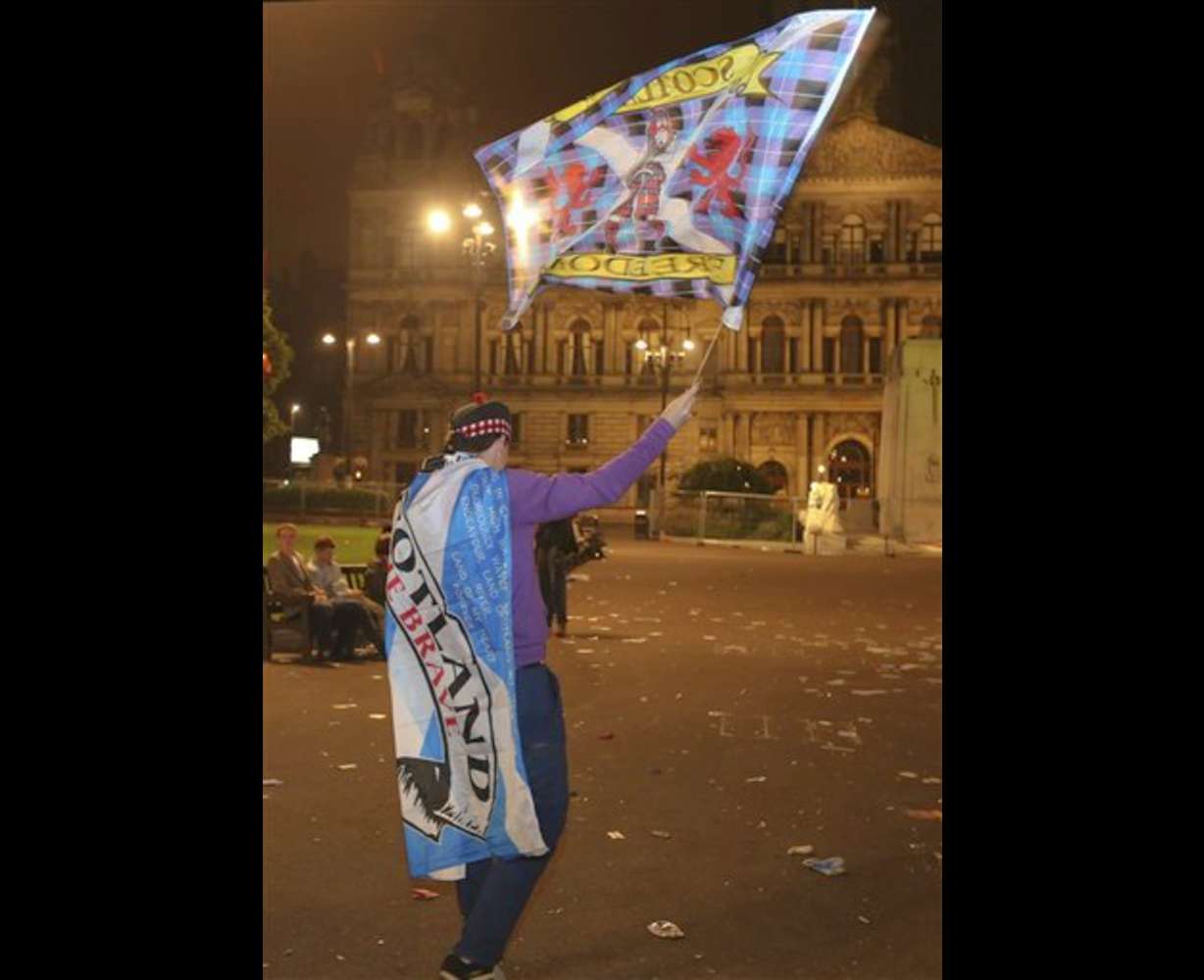 La mayoría de los votantes no adoptaron el apasionado pedido del primer ministro escocés Alex Salmond de lanzar un nuevo estado, optando en lugar de ello por la seguridad de permanecer con Inglaterra, Gales e Irlanda del Norte. Aun así el resultado establece toda una nueva dinámica política en el Reino Unido mientras el primer ministro británico David Cameron ha prometido dar más poderes a los gobiernos regionales.
Pese a la derrota, Salmond dijo que la consulta fue "un triunfo para el proceso democrático".
Un aliviado Cameron prometió cumplir su promesa de dar nuevas facultades a Escocia sobre todo en impuestos, gasto y programas sociales. Dijo que los nuevos planes se acordarán en noviembre y para enero estará elaborado un borrador legislativo.
"Así como las personas en Escocia tendrán más poder sobre sus asuntos, lo mismo sucederá con la gente de Inglaterra, Gales e Irlanda del Norte", declaró el primer ministro. "Los derechos de esos votantes también necesitan ser respetados, preservados y mejorados".
La campaña del "No" ganó en la capital Edimburgo por un margen de 61% a 38% y triunfó con 59% a 41% en Aberdeen, el centro petrolero del país. La campaña del "Sí" ganó en Glasgow, la ciudad más grande de Escocia, pero no fue suficiente.
Salmond había argumentado en su campaña que los escoceses podían separarse debido a sus amplias reservas de petróleo y sus altos niveles de creatividad y educación. Dijo que Escocia prosperaría por su cuenta, libre de interferencia de cualquier gobierno basado en Londres.
Pese a la derrota, el habilidoso político de 59 años estuvo cerca de ganar la independencia y consiguió una promesa de nuevos poderes para Escocia de nerviosos políticos en Londres.
Muchos vieron la consulta como una campaña de "cabezas contra corazones", con muchos escoceses de mayor edad concluyendo que la independencia sería demasiado riesgosa financieramente, mientras que los jóvenes se sentían atraídos por la idea de construir su propio país.
El resultado salva a Cameron de una derrota histórica y ayuda al líder opositor Ed Miliband a mantener a sus numerosos legisladores en Escocia. Su Partido Laborista habría tenido más dificultades para ganar las elecciones nacionales de 2015 sin ese apoyo de Escocia.
El voto contra la independencia escocesa impide que Gran Bretaña pierda una parte substancial de su territorio y reservas petroleras y previene que tenga que encontrar una nueva base para su arsenal nuclear, ahora estacionado en Escocia. El Reino Unido enfrentaba además la posible pérdida de influencia dentro de instituciones internacionales, incluso la Unión Europea y la ONU.
×