Estimated read time: 3-4 minutes
This archived news story is available only for your personal, non-commercial use. Information in the story may be outdated or superseded by additional information. Reading or replaying the story in its archived form does not constitute a republication of the story.
LAS VEGAS — It's not often that college kids pay attention to high school kids, unless you are TJ Haws and the high school is Lone Peak.
BYU's connections to Lone Peak are incredible, and so much so that it's almost an afterthought. Last year when Lone Peak was making its national championship run an ESPN reporter called the team, "BYU's junior varsity team."
Not counting the legacy players like Jackson Emery and Sam Burgess, BYU has four current players that graduated from Lone Peak: Tyler Haws, Nate Austin, Josh Sharp and Eric Mika.
The Cougars have three more on the way: Nick Emery, TJ Haws and Frank Jackson.
TJ is Tyler's brother and Nick is Jackson's brother.
When Lone Peak won its record fourth-straight Class 5A Utah State Championship Saturday, it was the first thing BYU players heard as they walked off the court after a win over Loyola Marymount in the West Coast Conference Tournament.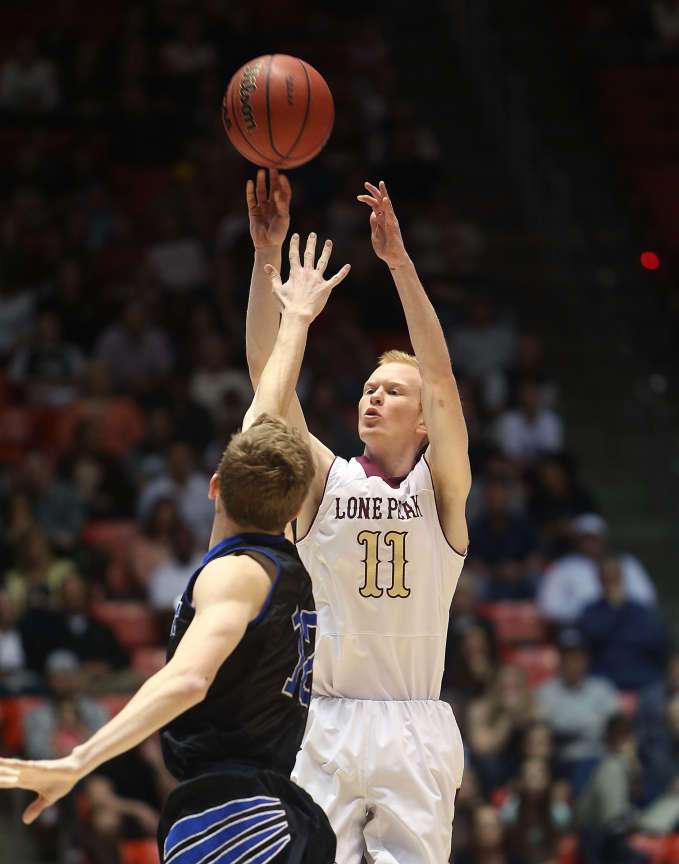 "Somebody yelled it at me as we were walking back to the locker room after the game," Mika said.
Tyler answered three questions in his postgame interview before his baby brother's name came up. Tyler was a two-time Utah Mr. Basketball, but won just two state championships — half the total of his brother.
"I'm sure he's going to rub it in a little bit," said Tyler with a proud smile. "I'm so happy for my brother. He's had an incredible career at Lone Peak and to win four state championships is pretty special."
Mika won one state championship as a senior.
"It kind of sucks, I only won one (championship). I wish I would have won more," said Mika, who also won a national championship.
"I won two while I was there, so to be able to double that is impressive," Sharp said. "My hats off to TJ and all those guys working so hard, so that they could do that."
"My senior year, we lost in the state championship," said Austin, who was a winner of two state titles. "It's incredibly tough to win two, three or four."
This Lone Peak basketball dynasty has won seven of the last 10 state championships all under the watch of head coach Quincy Lewis.
"I think it says a lot about Quincy Lewis and the type of program he runs," Austin said. "He's a big-time coach that helps develop his players (and) helps his players be the best that they can be. I think BYU snagged those guys because Quincy is a great coach."
Related:
"It's a tribute to coach Lewis to be able to take different guys in different years and be able to produce all those wins and even put them on the national stage," Sharp said.
Even though Mika is the only Lone Peak player that Tyler Haws, Sharp and Austin will play with, they are excited to bring in more Knights to play for the blue and white.
"We're all welcoming them into the family," said Sharp.
×
Related stories
Most recent Sports stories