Estimated read time: 3-4 minutes
This archived news story is available only for your personal, non-commercial use. Information in the story may be outdated or superseded by additional information. Reading or replaying the story in its archived form does not constitute a republication of the story.
(CNN) — A Chinese icebreaker heading to free a polar expedition vessel trapped in an Antarctic ice floe got stopped by the ice and weather, its captain told CNN.
The Chinese government ship Xue Long, or Snow Dragon, was 6 nautical miles away from the stranded Russian ship MV Akademik Shokalskiy, Capt. Wang Jiangzhong said.
Due to bad weather and ice conditions, the Xue Long may take another two days to get to the trapped research vessel with 74 passengers and crew members on board, Wang said.
"Right now we are waiting for winds to blow ice away so we can move closer," he said. "The current ice condition is exceeding our capabilities to break through further."
The captain acknowledged his ship may need help from two other icebreakers headed to the area if conditions deteriorate. At the same time, Wang noted the Xue Long has a helicopter on board to provide any emergency assistance to the trapped Russian vessel.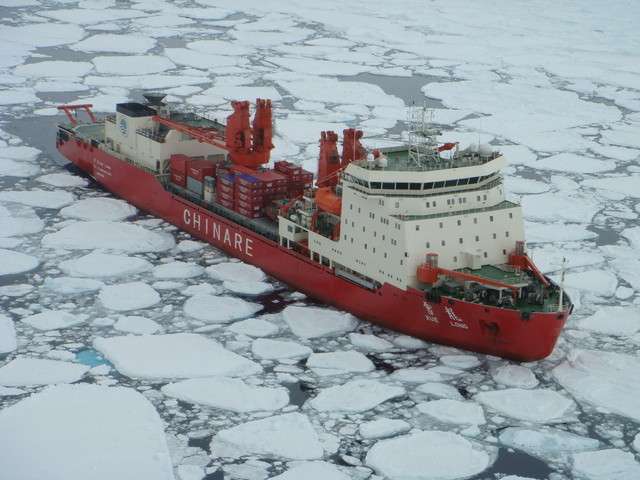 "We are in continual communication with the (stranded) ship," he said in a satellite phone call with CNN. "I think it's at least a form of emotional relief for them to know we are nearby to help. We know that they (passengers) are all doing well on that ship."
The Chinese icebreaker as well as the French vessel Astrolabe and an Australian ship, the Aurora Australis, were heading toward the trapped research ship. The Aurora Australis is also two days from the Russian ship, its captain, Murray Doyle, told CNN on Friday.
China's State Oceanic Administration said the Xue Long sailed through an intense cyclone to reach the Akademik Shokalskiy sooner.
Meanwhile, spirits were high Friday aboard the Akademik Shokalskiy.
"The vessel is fine, it's safe and everyone on board is very well," expedition leader Chris Turney, a professor of climate change at University of New South Wales in Australia told CNN. "Morale is really high."
It got stuck in the ice on Monday night — 15 days after setting out on the second leg of its research trip.
According to Turney, the ship was surrounded by ice up to nearly 10 feet (3 meters) thick some 100 nautical miles east of the French base Dumont D'Urville, about 1,500 nautical miles south of Hobart, Tasmania.
---
The vessel is fine, it's safe and everyone on board is very well. Morale is really high.
–expedition leader Chris Turney
---
On Christmas morning, the ship sent a satellite distress signal after conditions failed to clear.
The crew had a "great Christmas" despite their situation, Turney told CNN earlier. He said crew members have used the delay to get more work done.
"We've just kept the team busy," he said.
The expedition is trying to update scientific measurements taken by an Australian expedition led by Douglas Mawson that set out in 1911.
The expedition to gauge the effects of climate change on the region began November 27. The second, and current leg of the trip, started December 8 and was scheduled to conclude with a return to New Zealand on January 4.
Turney said the ship should still be back in New Zealand on time.
CNN's CY Xu, Tom Cohen and Mike Martinez contributed to this report.
The-CNN-Wire™ & © 2013 Cable News Network, Inc., a Time Warner Company. All rights reserved.
×
Photos
Related stories
Most recent World stories