Estimated read time: Less than a minute
This archived news story is available only for your personal, non-commercial use. Information in the story may be outdated or superseded by additional information. Reading or replaying the story in its archived form does not constitute a republication of the story.
El papa Francisco pidió a la gente protestar contra la persecución a los católicos, a quienes comparó con los primeros mártires de la iglesia.
Su denuncia acerca de la discriminación que sufren los católicos ocurrió un día después de que se cometieran tres atentados con explosivos contra devotos de esa religión en Irak.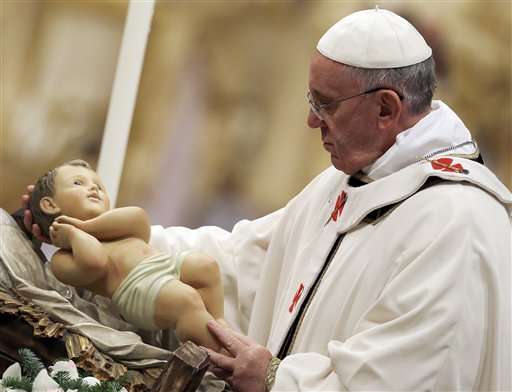 Francisco no mencionó algún país en específico en el discurso que pronunció frente a turistas y peregrinos en la plaza de San Pedro el día en que la iglesia recuerda a su primer mártir, San Esteban. Francisco dijo que desafortunadamente en la actualidad hay más católicos que sufren discriminación y violencia que en los primeros tiempos de la cristiandad.
Dijo que algunos países garantizan los derechos humanos "sólo en el papel" pero no en la práctica, lo que hace a los católicos sujetos de "limitaciones y discriminación".
Francisco dijo que "la injusticia debe ser denunciada y eliminada".
Los católicos han sido atacados en partes de África y el Medio Oriente y en otros países no pueden practicar su fe abiertamente.
×
Most recent News stories