Estimated read time: 2-3 minutes
This archived news story is available only for your personal, non-commercial use. Information in the story may be outdated or superseded by additional information. Reading or replaying the story in its archived form does not constitute a republication of the story.
El papa Francisco celebró el miércoles la conquista del campeonato argentino de fútbol por el equipo del cual es fanático, San Lorenzo, y cargó una réplica del trofeo para que todos vieran.
Una reducida delegación de jugadores y directivos se reunió con Francisco en las escalinatas de la Basílica de San Pedro al término de la audiencia general del miércoles.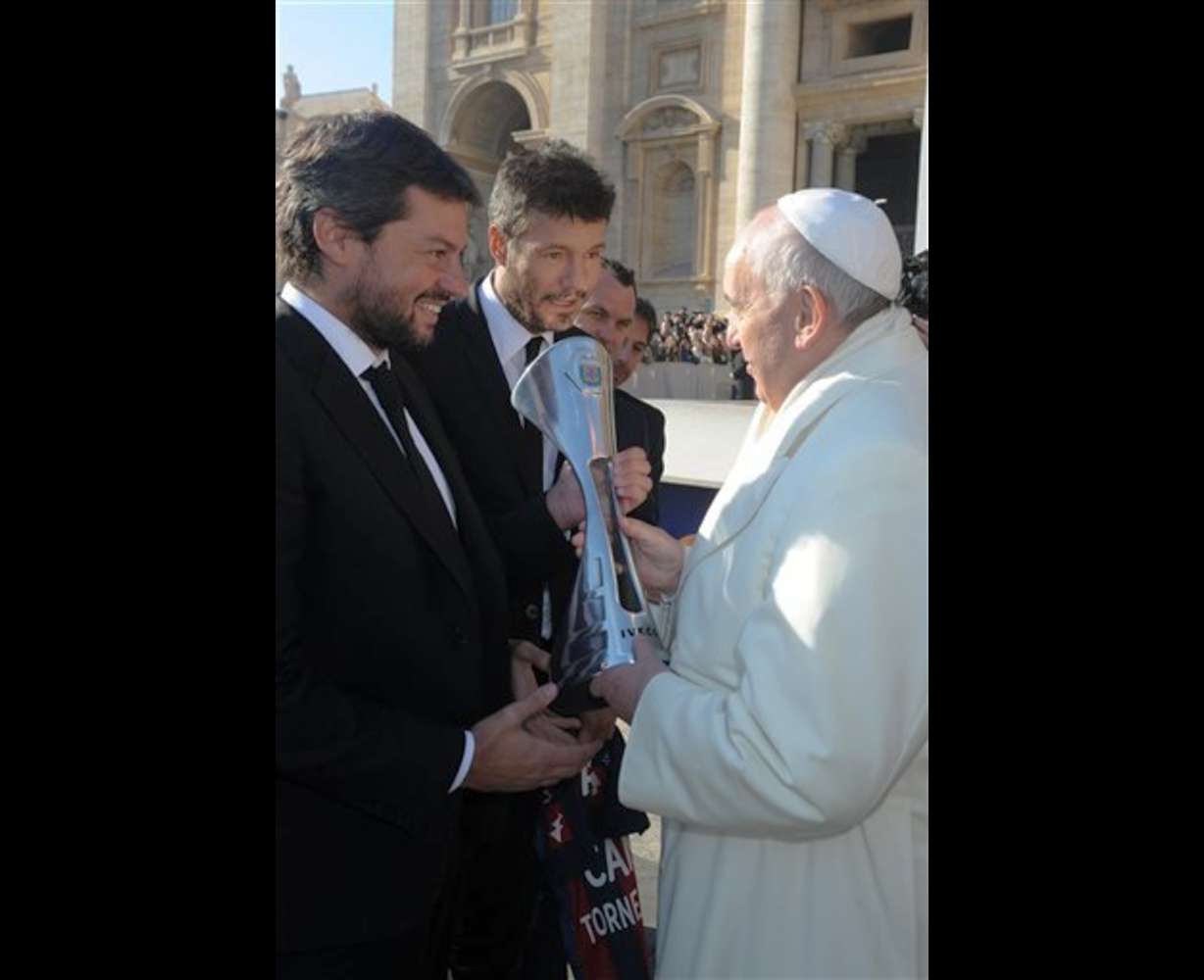 El grupo entregó al pontífice una réplica del trofeo y una camiseta rojiazul del conjunto con las palabras "Francisco Campeón" escritas en la espalda. El papa, evidentemente contento, alzó el trofeo.
El San Lorenzo se proclamó el domingo campeón del Torneo Inicial en el futbol argentino. El antes cardenal Jorge Mario Bergoglio era aficionado registrado del equipo.
La audiencia general del miércoles fue la última de Francisco en 2013; en ella el pontífice recibió buenos deseos de cumpleaños (porque cumplió el martes 77 años) e incluso algunos le ofrecieron un sorbo de mate, un té verde tradicional.
Por su parte, el Vaticano difundió estadísticas de fin de año relacionadas con el papado de Francisco. Al menos 1.548.500 boletos fueron distribuidos en las 30 audiencias que Francisco ha dirigido en sus primeros nueve meses en el cargo.
La cifra real de personas que asistieron a las audiencias es mucho mayor debido a que cualquiera puede acudir a ellas y el Vaticano cierra ahora el bulevar principal que conduce a la Plaza de San Pedro para acomodar a las multitudes todos los miércoles.
En comparación, 810.000 boletos fueron distribuidos en el primer año como papa de Benedicto XVI en 2005, en el que efectuó 32 audiencias tras su elección el 19 de abril.
En 2005, 2,85 millones de personas asistieron a los diversas presentaciones públicas que encabezó Benedicto en ese primer año, incluidas todas sus misas, bendiciones dominicales y actos por el Día Mundial de la Juventud en Colonia, Alemania, según el Vaticano.
El Vaticano no difundió el miércoles estadísticas tan completas como esas en cuanto a los actos de Francisco.
Sin embargo, a decir extraoficialmente de la Santa Sede, Francisco quizá atrajo 3,7 millones de personas sólo a su misa de clausura por el Día Mundial de la Juventud en Río de Janeiro, que tuvo lugar en julio, aunque expertos dicen que la cifra sería de menos de la mitad.
×
Photos