Estimated read time: 2-3 minutes
This archived news story is available only for your personal, non-commercial use. Information in the story may be outdated or superseded by additional information. Reading or replaying the story in its archived form does not constitute a republication of the story.
La cantidad de roca fundida acumulada bajo el Parque Nacional Yellowstone es dos veces y media más grande de lo calculado anteriormente, lo que significa que el supervolcán del lugar tiene el potencial para hacer erupción con una fuerza equivalente a unas 2.000 veces la del Monte Santa Elena, de acuerdo con un nuevo estudio.
Mediante la medición de ondas sísmicas, los científicos pudieron determinar que la cámara de magma que yace bajo la caldera de Yellowstone mide 88 kilómetros (55 millas) de largo, dijo el lunes el principal autor del estudio Jamie Farrell, de la Universidad de Utah.
La cámara tiene 29 kilómetros (18 millas) de ancho y profundidades de entre 5 y 15 kilómetros (3 y 9 millas), agregó.
Ello significa que bajo la superficie hay suficiente material volcánico para igualar la más grande de las tres erupciones del supervolcán ocurridas en los últimos 2,1 millones de años, dijo Farrell.
La erupción más grande, la primera del volcán, tuvo una intensidad 2.000 veces mayor que la del Monte Santa Elena, en el estado de Washington, en 1980.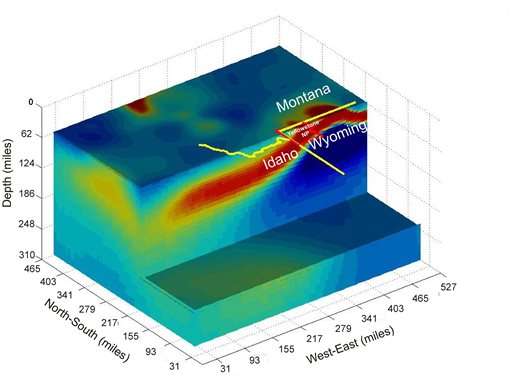 Una erupción de ese tamaño arrojaría enormes cantidades de material volcánico a la atmósfera que daría vueltas a la Tierra, dijo.
"Sería un evento global", dijo Farrell. "Habría mucha destrucción y muchas repercusiones en todo el planeta".
La última erupción de Yellowstone ocurrió hace 640.000 años, de acuerdo con el Servicio Geológico de Estados Unidos (USGS, por sus siglas en inglés). Durante años, algunos observadores han advertido que desde hace tiempo se espera que la caldera tenga una nueva erupción.
Pero Farrell minimizó esa noción, y dijo que no existen suficientes datos para calcular el momento de la siguiente erupción.
"Sí creemos que habrá otra erupción, simplemente no sabemos cuándo", dijo.
Existen suficientes instrumentos vigilando la actividad sísmica del Yellowstone para que los científicos muy probablemente sepan con mucha anticipación si hay actividad extraña y si hay magma desplazándose hacia la superficie, dijo Farrell.
El Observatorio del Volcán Yellowstone, del USGS, designó el nivel de alerta volcánica del parque como normal para diciembre.
La BBC reportó primero el estudio.
Farrell presentó sus hallazgos la semana pasada a la Unión Geofísica Estadounidense.
×
Most recent News stories