Estimated read time: 6-7 minutes
This archived news story is available only for your personal, non-commercial use. Information in the story may be outdated or superseded by additional information. Reading or replaying the story in its archived form does not constitute a republication of the story.
PROVO &mdash: Defense doesn't only win championships; it also wins regular season games -- especially road ones against undefeated and nationally-ranked opponents.
Defensive struggles have been the thorn in the Cougars' paws this season and were the theme of Tuesday night's installment of the weekly "BYU Basketball with Dave Rose" radio show at Malawi's Pizza at the Shops at the Riverwoods in Provo.
BYU's high-paced offense ranks 8th nationally at 89.9 points per game, but it's 80.4 points allowed ranks 318th nationally out of 352 teams. Last Saturday's game against No. 21 UMass was no improvement. The Cougars lost 105-96 -- the most points surrendered in a BYU defeat since losing to Arizona State 106-95 in 1993.
It was another good showing on the offensive end, but a porous defense once again spoiled the Cougars' chance to knock off a top-25 team.
"Everything went pretty well except for defensively in that game; we just had a hard time getting them stopped," said head coach Dave Rose about BYU's performance against UMass. "We played well offensively and played on attack, and I think there's a lot of really good things. We handled runs and made runs of our own to come back, but we just couldn't finish the game, and that's the most disappointing thing."
The Minutemen's Chaz Williams led the offensive onslaught against the Cougar "D" to the tune of 32 points and 15 assists -- the first Division-I player to reach such gaudy numbers in a non-overtime game in the last 15 seasons.
Rose attributes a lot of the struggles to early foul trouble that changes how aggressive players are defensively the rest of the game.
Rose says that game plan is wanting to play a more aggressive man-to-man defense -- something that's difficult to do while trying to protect players from picking up another foul.
"We played a lot of zone the other night at UMass, and maybe mistakenly so," said Rose. "We need to be way more active defensively, and we need to match up man-to-man and actually be able to guard without fouling. We need to keep ourselves out of foul trouble but still aggressively be able to execute our game plan."
Despite the defensive woes, the Cougars are still 7-3 through the first 10 games of the season with all three losses coming to undefeated ranked teams. Rose says the difficult schedule will pay dividends once the team rolls into WCC conference play.
"With those really tough games that we've played, it feels kind of like we've been through the first have of league [play] already," said Rose. "We know who our guys are and the challenging schedule we've had I hope really prepares us for our league play."
*****
The Cougars will work on improving that team defense against Prairie View A&M (2-6) Wednesday night at the Marriott Center -- another offensive-minded team that's also fought through a tough schedule to start the season.
"They've played a difficult schedule, and they're on the road most of the time," said Rose about the Panthers from the SWAC. "It's a team that's actually a very good offensive team, and they've got four players that average double figures."
The Panthers play a similar fast-paced style of basketball to what BYU runs and has faced recently, and the matchup serves as an opportunity to tighten up defensive deficiencies.
"The way they play is similar to North Texas and UMass where they're going to race the ball up and try to attack you as quick as possible in transition," said Rose, "and if they don't have anything, they're going to pull the ball out and run really good sets. So, we're going to need to defend a lot better than we defended the other night [against UMass]."
*****
The player guest on Tuesday's show was freshman guard Frank Bartley IV. The Louisiana youngster has made quite the impression as a spark plug off the bench with clutch three-point shooting and relentless drives to the basket.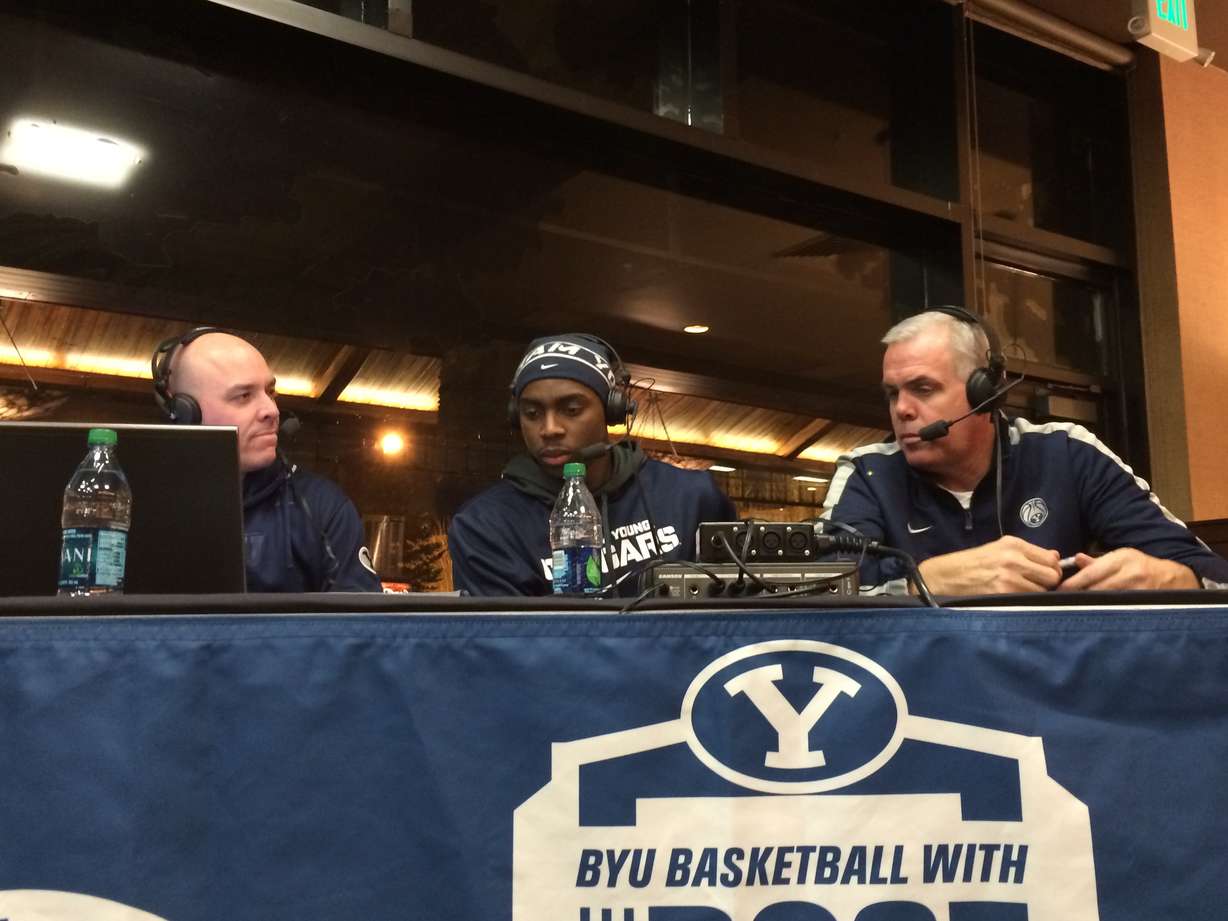 Despite his strong showing as a freshman standout to begin this season, Rose says he and his staff didn't recruit Bartley initially and actually discovered him by chance.
"He had a really special season at his prep school last year, and everyone that we had talked to had really positive things to say about Frank, but we were in the gym recruiting his teammate, one of his point guards," said Rose about how BYU discovered Bartley. "After a night of evaluation in the gym, we talked with one of the coaches and said we would really be interested in talking with Frank if he had an interest in us.
"One thing lead to another, and before we knew it, he was on campus and visiting. His parents were there, and he loved it -- loved the visit, loved the feel, loved our guys and the style we play."
Growing up, Bartley says he always dreamed of playing basketball at the Division-I level, but because he also starred in football at Christian Life Academy in Baton Rouge, few schools recruited him to play hoops at the collegiate level.
"I didn't have a lot of offers coming out of high school for basketball because I was a two-sport athlete, and a lot of schools overlooked [me]," said Bartley, "but I knew I was good enough to play D-1 ball. So I went to prep school, matured, got better on the court and off the court with my grades, and I'm here today."
That prep school was Future College Prep in Carson, California. Bartley guided Future to a 52-13 record and a West Coast Prep Championship title while leading the team in points (19.0), steals (3.3), and blocks (1.0) per game. He also shared the Most Outstanding Player award, and by the end of the season, he was receiving major attention from high-profile D-1 programs such as Gonzaga, St. Mary's, San Diego State, New Mexico, Louisiana State, and Auburn.
Rose says the experience and dedication at prep school prepared Bartley to succeed at the D-1 level.
"For Frank, prep school made this adjustment just a lot more smooth," said Rose. "It helped him in his school work and on the floor with his game. Frank is just a hard worker, he's got his head down, he really knows what he wants in life, and he's working hard every day for it."
Bartley says he loves sharing the court with his more tenured teammates but does not shy away from the moment when coach Rose calls his name.
"As a freshman, you're always excited to get on the court with veterans," said Bartley, "but you come in and make plays, and I knew that would be my role -- to just come in and make plays and bring energy off the bench."
*****
The Cougars also travel up north to Salt Lake City to take on rival Utah this Saturday at 8 PM MST at the Jon M. Huntsman Center.
Rose revealed that Utah has stalled in talks to extent the series past the last two years of the current contract even though BYU continues to make efforts to keep the rivalry going.
BYU has won the last seven meetings against Utah.
*****
Jason Ludlow is a KSL Newsradio BYU intern.
×
Most recent Sports stories