Estimated read time: 3-4 minutes
This archived news story is available only for your personal, non-commercial use. Information in the story may be outdated or superseded by additional information. Reading or replaying the story in its archived form does not constitute a republication of the story.
Gobernantes del mundo y una multitud de sudafricanos que cantaban con júbilo rindieron homenaje el martes a Nelson Mandela en un estadio de fútbol en Soweto durante una jornada fría y lluviosa.
Las multitudes abuchearon al presidente sudafricano Jacob Zuma, quien pronunciaba el discurso principal en las exequias, que comenzaron con una hora de retraso. El gobierno de Zuma se ha visto plagado de escándalos de corrupción, aunque su Congreso Nacional Africano, otrora dirigido por Mandela, sigue siendo el favorito para ganar las elecciones el año próximo.
Las multitudes convergieron sobre el Estadio FNB, el cual tenía dos terceras partes de sus asientos ocupados, en Soweto, el municipio de Johannesburgo que fue baluarte de la lucha contra el apartheid que encarnó Mandela como preso del régimen blanco durante 27 años, y luego como líder de una precaria transición a las elecciones plurirraciales que lo consagraron como presidente.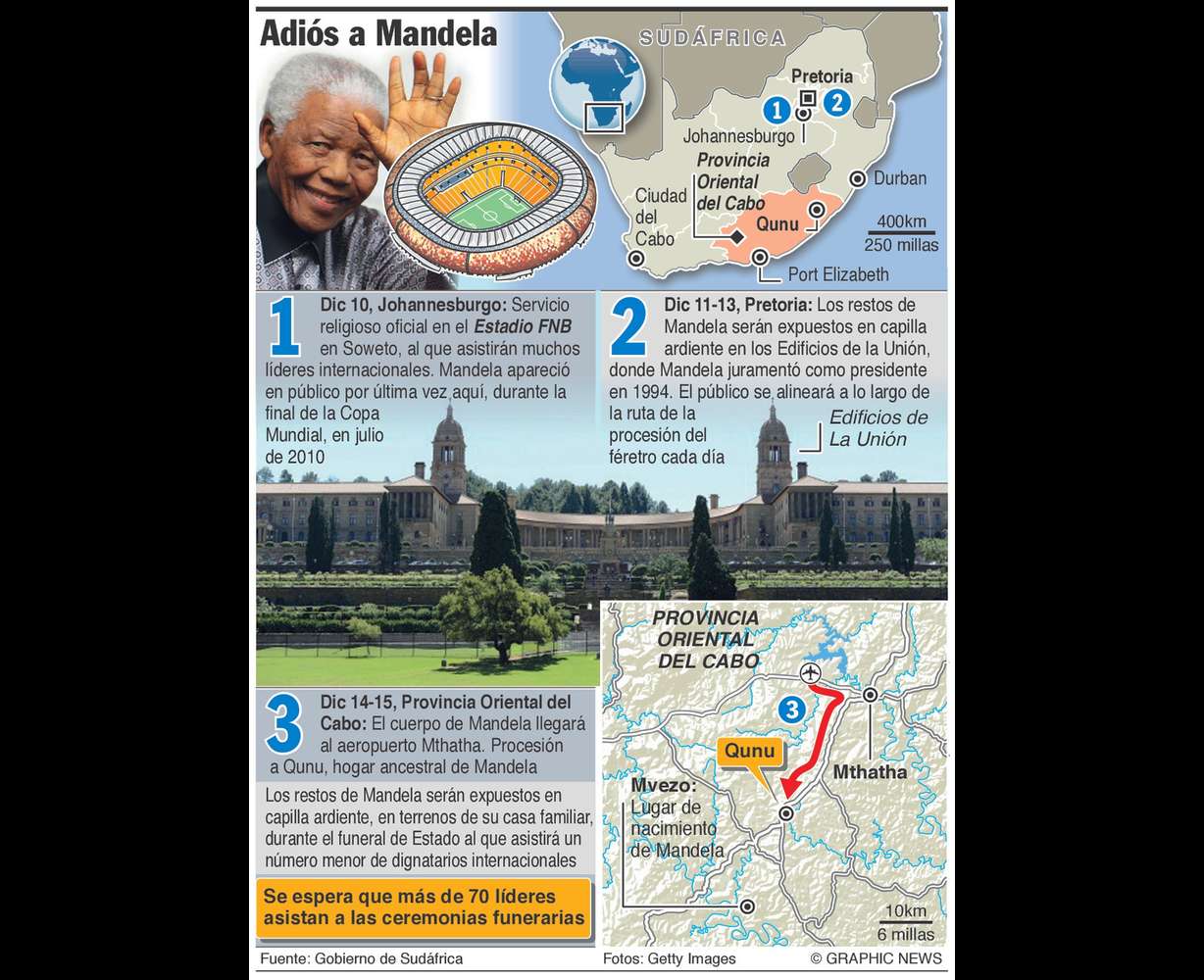 La lluvia persistente mantuvo alejada a mucha gente. El estadio, con capacidad para 95.000, no estaba lleno al mediodía hora local, cuando comenzó la ceremonia con la entonación del himno nacional. Varios trenes dispuestos para llevar gente al lugar se vieron demorados por un corte de electricidad.
Reinaba un ambiente de celebración, con la presencia deslumbrante de realeza, hombres de estado y celebridades.
"Su lucha fue la lucha de ustedes. Su triunfo fue el triunfo de ustedes", dijo el presidente estadounidense Barack Obama en su discurso ante una multitud que lo aplaudió. Describió a Mandela como "un gigante de la historia" y el último gran libertador del siglo XX, que impuso la justicia en su país e inspiró al mundo.
Cuando se dirigía a la tribuna, Obama estrechó la mano del presidente cubano Raúl Castro.
Thabo Mbeki, el ex presidente sudafricano que sucedió a Mandela, fue recibido con una ovación. El presidente francés Francois Hollande y su predecesor Nicolas Sarkozy arribaron juntos. Ban Ki-moon, el secretario general de la ONU, agitó la mano y se inclinó ante los espectadores, quienes cantaban alabanzas a Mandela, considerado por muchos el padre de la nación.
"Yo no tendría la vida que tengo hoy si no fuera por él", dijo Matlhogonolo Mothoagae, que estudia un posgrado en mercadotecnia y llegó horas antes de la apertura del estadio. "Fue a la cárcel para que nosotros tuviéramos nuestra libertad".
Rohan Laird, director general de una aseguradora de salud, dijo en el estadio que por ser blanco, creció en una "posición privilegiada" durante el régimen del apartheid, y que Mandela ayudó a los blancos a superar el peso de sus culpas.
"Su reconciliación permitió a los blancos obtener su propia liberación", dijo Lair. "Honestamente, no creo que el mundo verá otro líder como Nelson Mandela".
La viuda de Mandela, Graca Machel, y su ex esposa Winnie Madikizela-Mandela estaban en el estadio y se abrazaron largamente antes de la ceremonia. Entre los presentes estaban la actriz Charlize Theron, la modelo Naomi Campbell y el cantante Bono.
El martes se cumplieron 20 años del día en que Mandela y el último presidente de la era del apartheid, F.W. de Klerk, recibieron el premio Nobel de la paz. De Klerk, quien se hizo amigo de Mandela, también estaba presente.
Sones de cornetas y aplausos resonaban en el estadio. La lluvia, considerada una bendición por la población negra, entusiasmó a la multitud.
×
Photos
Most recent News stories