Estimated read time: 2-3 minutes
This archived news story is available only for your personal, non-commercial use. Information in the story may be outdated or superseded by additional information. Reading or replaying the story in its archived form does not constitute a republication of the story.
Las autoridades de Newtown se sumaron el lunes a las familias de las víctimas para conmemorar el inminente aniversario del ataque a la escuela primaria de Sandy Hook con actos bondadosos o trabajando como voluntarios para organizaciones de caridad.
Familiares de más de la mitad de las 26 víctimas dijeron en una conferencia de prensa que planeaban encender un cirio el viernes por la noche en recuerdo de sus seres queridos. También instaron a las personas que se condolían por las víctimas a que buscaran la forma de devolver algo a sus comunidades.
"De este modo, esperamos que alguna pequeña medida de buena voluntad sea devuelta al mundo", manifestó JoAnn Bacon, cuyo hijita de 6 años, Charlotte, fue una de 20 estudiantes y seis docentes muertos a tiros en la escuela el 14 de diciembre del 2012. Leyó una declaración dada a conocer por las familias de todas las víctimas.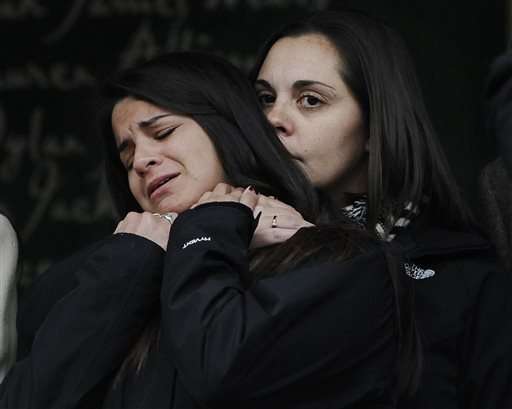 La ciudad no había planeado ningún acto formal para el sábado y las autoridades han desalentado a los medios de comunicación a que vengan a Newtown.
"Tratamos de respetar el interés que tiene el mundo en nosotros, pero también necesitamos reponernos en nuestra comunidad", afirmó Pat Llodra.
Las familias también anunciaron el lanzamiento de un nuevo cibersitio -HTTP://MYSANDYHOOKFAMILY.ORG- en el que cada familia puede compartir información acerca de cómo rendir homenaje a las víctimas.
"En medio de nuestro pesar nos hemos dado cuenta de que deseamos que nuestros seres queridos sean recordados por las vidas que vivieron y cómo quedaron impresos en nuestros corazones", afirmó Krista Rekos, madre de Jessica, de 6 años. "Nos ha estimulado el apoyo de tanta gente, y nos agradaría mantener vivo ese espíritu de unidad y amor en todo lo que hacemos para recordar a quienes tanto extrañamos".
El atacante, Adam Lanza, mató a su madre en su hogar en Newtown antes de ir a la escuela donde desencadenó la matanza. Se suicidó cuando llegaba la policía.
El tema de los "actos de bondad" ha tenido eco en otros funcionarios, incluso el gobernador Dannel Malloy y miembros del Congreso.
Varios servicios conmemorativos se planearon para el fin de semana en Newtown.
En Santa Rosa de Lima, la iglesia católica donde se llevó a cabo el funeral de ocho niños, el servicio incluirá la dedicatoria de un arco conmemorativo y el tañido de las campanas de la paz. El religioso Robert Weiss dijo que planeaba mantener la iglesia abierta 24 horas en el aniversario del ataque para brindar a todos un lugar donde orar.
×
Most recent News stories