Estimated read time: 3-4 minutes
This archived news story is available only for your personal, non-commercial use. Information in the story may be outdated or superseded by additional information. Reading or replaying the story in its archived form does not constitute a republication of the story.
PROVO — The BYU men's basketball team went 7-2 while playing four of its first nine games away from the Marriott Center, but head coach Dave Rose believes the early road trips are entirely manageable by this year's team.
"We knew this schedule would be difficult. But I felt like we had a team that could handle it, with three experienced guards," Rose said at the inaugural coach's show at Malawi's Pizza on Tuesday. "We need the young guys to perform."
The returning veterans of juniors Matt Carlino and Tyler Haws, along with recently returned missionary Kyle Collinsworth, have buoyed the Cougars as they try to put together a resume that merits an NCAA Tournament bid by March. The trio has averaged more than 53 points in the first month of the season, and freshman center Eric Mika is close behind with 13.8 points per game.
BYU will have another chance at a statement-win Saturday, when the Cougars travel to Springfield, Mass., to play No. 21 Massachusetts in the Hall of Fame Holiday Classic. The game will be broadcast at 11:30 a.m. MST on KSL Newsradio 102.7 FM/1160 AM and ksl.com.
"A lot of teams really like to play fast, and they will allow you to do what you want to do on offense," said Rose, whose team has lost by a combined 15 points to a pair of top 25 squads. "This team is a pretty good defensive team for one that plays as fast as they do. They have long, athletic guys."
******
Junior point guard Carlino, a veteran leader on a team with no seniors, was the show's first player-guest of the season. The shooter from Arcadia, Ariz., dished on his first-ever lip syncing video, jamming to Skee Lo's "I wish," and the team's dynamic chemistry.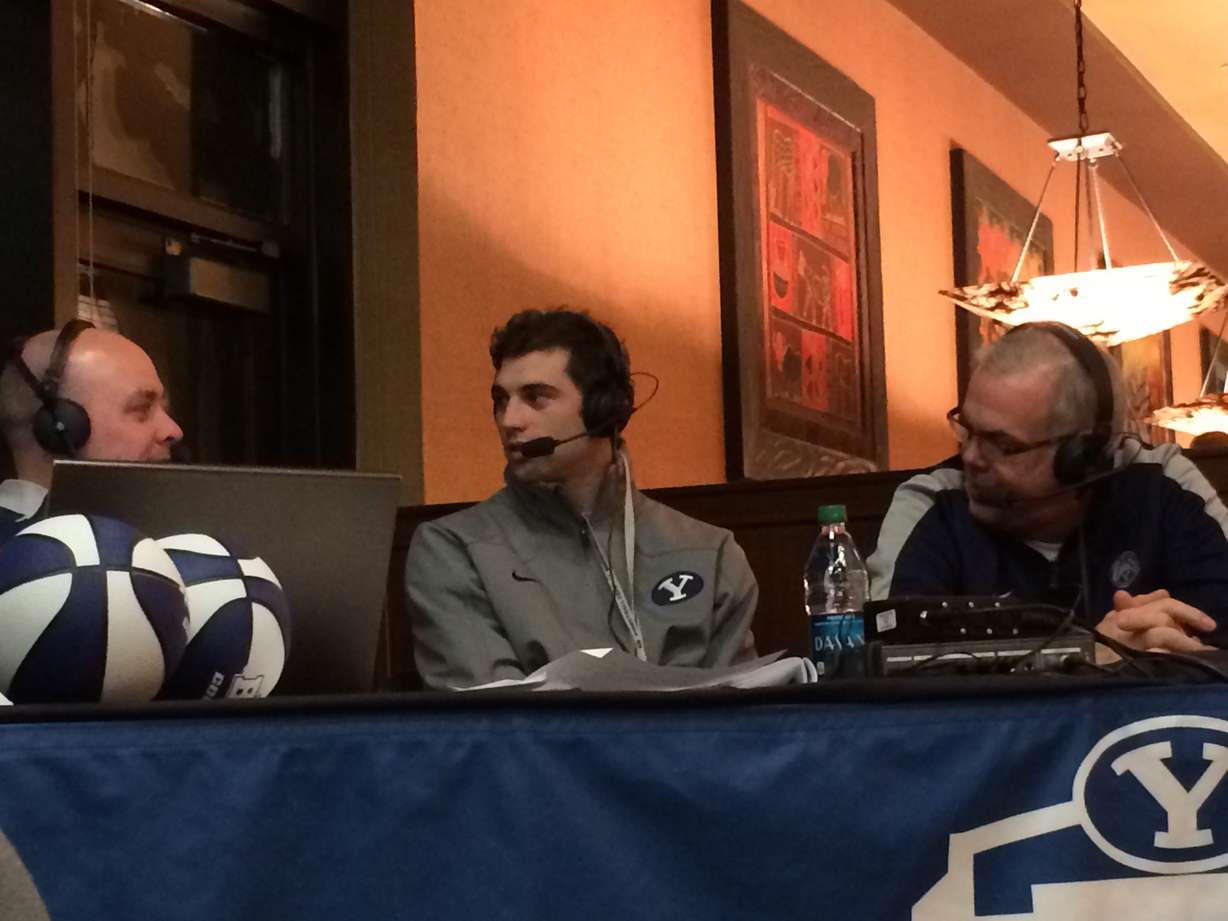 "We're really close," Carlino said. "Most of us are single, and there are only a few married guys. I count Rex (Nate Austin); I don't want to say anything, but he's close."
That chemistry makes passing the ball just as easy as taking a shot for Carlino.
"Three (points on an assist) is always better than two," Carlino said, before adding, "but either one is pretty good."
******
Carlino brought company to Malawi's Pizza for the first show of the 2013-14 season. Chase Fischer, the Wake Forest transfer who is sitting out this season per NCAA regulations, joined the junior point guard for pizza and fan interaction.
"We're really excited to have Chase," Rose said. "He's perfect for what we do, and how we fit. He's a great shooter, great personality that meshes with all our players, and great energy for our guys."
Fischer, a 6-foot-3 junior guard, averaged 4.5 points and 1.1 rebounds in 14.2 minutes of play for the Demon Deacons. The 2011 Parade All-American from West Virginia will sit two semesters before returning to full team activity in 2014.
******
Rose knows the Cougars will have a dogfight when they travel to take on the Minutemen and star point guard Chaz Williams.
"He's a guy who you can't go in thinking you're going to stop him; he's really good with the ball," Rose said of Williams, who is averaging 15.4 points and 11.4 assists. "On offense, we'll have to go right at them. It will be interesting to see how the game is called, because it will be a physical fight.
"He kind of reminds us of (Baylor guard) Pierre Jackson, which is not a good thing. Pierre carved us up last year."
******
Sean Walker is a KSL Newsradio BYU intern.
×
Most recent Sports stories