Estimated read time: 3-4 minutes
This archived news story is available only for your personal, non-commercial use. Information in the story may be outdated or superseded by additional information. Reading or replaying the story in its archived form does not constitute a republication of the story.
Aunque lo recibieron como un héroe tras su victoria sobre Brandon Ríos el fin de semana pasado, Manny Pacquiao dijo el martes que no tiene dinero para cumplir su promesa de ayudar a las víctimas del tifón porque las autoridades impositivas filipinas han congelado sus cuentas bancarias.
El organismo recaudador dijo que Pacquiao no ha demostrado el pago de sus impuestos en 2008-09. Asegura que el ex campeón mundial en ocho categorías y en su momento uno de los deportistas mejor pagados del mundo, debía en julio 2.200 millones de pesos (50 millones de dólares) en impuestos atrasados.
Pacquiao, el legislador más rico del país, dijo el martes que pidió un préstamo de 1 millón de pesos (22.700 dólares) para ayudar a las víctimas del tifón antes de su pelea con Ríos en Macao y pedirá otros para cumplir su promesa. Dijo que quiere ayudar a más de 10.000 familias.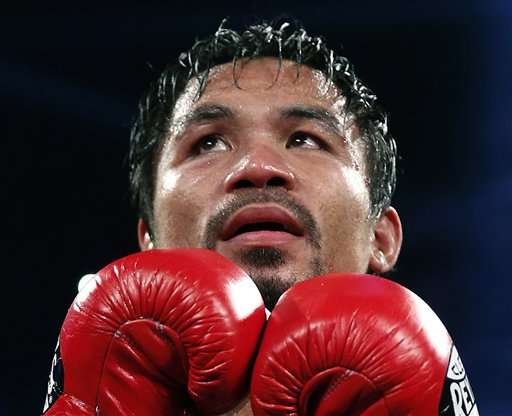 El tifón Haiyan, uno de los más poderosos que se hayan registrado, provocó fuertes vientos y marejadas similares a un tsunami, que destruyeron poblaciones enteras y mataron a más de 5.200 personas en el centro de Filipinas. Más de 1.600 personas están desaparecidas.
Pacquiao dijo que pagó impuestos en Estados Unidos tras sus victorias contra Ricky Hatton y Oscar de la Hoya, y que un tratado prohíbe la doble imposición. La fiscalía desistió de una demanda penal por presunto impago de impuestos en 2010, pero los reclamos de las autoridades tributarias para 2008-09 están pendientes de juicio.
"Los exhorto a descongelar mis fondos para que pueda pagar los sueldos de mi personal", dijo Pacquiao a la prensa en General Santos, su ciudad de residencia en el sur del país. "No soy un criminal ni un ladrón".
Dijo que también han congelado las cuentas de su esposa.
El púgil aseguró que de no haber pagado correctamente sus impuestos en Estados Unidos, lo habrían arrestado en alguna de sus visitas al país. "El dinero congelado (por las autoridades) no es dinero robado", aseguró. "Es el fruto de los puñetazos, palizas, sangre y sudor que padecí en el cuadrilátero".
Dijo que la acusación de la agencia impositiva, de que ganaba más de lo que declaró, eran infundadas.
Sin embargo, la comisionada de impuestos Kim Henares dijo que la única prueba suministrada por Pacquiao de sus pagos a la hacienda era una carta de la promotora Top Rank y la televisora HBO de pagos al Servicio de Rentas Internas estadounidense (IRS), pero ningún documento de ésta.
"Es una posición egoísta basada en un trozo de papel", dijo Henares. "Que vaya al IRS, que le pida al IRS que autentifique esta copia (de sus pagos de impuestos). Es lo que esperamos desde hace dos años".
En un comunicado, el líder de Top Rank Bob Arum dijo que su empresa cuenta con comprobantes de cada depósito que se ha hecho por concepto de impuestos de Pacquiao en Estados Unidos. Agregó que, a instancias de la autoridad fiscal filipina, la compañía ha solicitado documentos certificados sobre esos pagos al IRS.
"Obtener copias certificadas de documentos del IRS lleva tiempo", dijo Arum. "Manny hizo la petición formal al IRS, y esperamos que los documentos necesarios se entregarán muy pronto" a la autoridad tributaria de Filipinas. Arum coincidió con el púgil en que resulta indebido el doble gravamen, y afirmó que la propia Top Rank retuvo a Pacquiao el dinero de sus ingresos que corresponden a impuestos.
"Por cada pelea de Manny que se realizó en Estados Unidos, incluso las efectuadas en 2008 y 2009, Top Rank retuvo 30% de sus bolsas monetarias y pagó ese dinero directamente al Servicio de Rentas Internas", aseguró. Con respecto a los 22 bancos a los que se pidió informes sobre las cuentas de Pacquiao, dijo Henares, sólo dos dijeron que tenían depósitos, y estos por un total de 1,1 millones de pesos (25.200 dólares), la suma congelada. "Yo no puedo creer que tenga apenas 1,1 millones de pesos", dijo la funcionaria.
×
Most recent News stories