Estimated read time: 4-5 minutes
This archived news story is available only for your personal, non-commercial use. Information in the story may be outdated or superseded by additional information. Reading or replaying the story in its archived form does not constitute a republication of the story.
SALT LAKE CITY — Timpview started slow and needed every minute of the game, but when the clock hit zero, the Thunderbirds held the 4A state championship in their hands.
Britain Covey scored from 9 yards out with 3:00 left in the game to put Timpview up 33-28, and ultimately give them the game over the East Leopards. Covey ended the game with 85 yards rushing, 273 yards passing and accounted for four touchdowns.
Covey bounced back after a number of big hits to keep leading his team.
"I knew these guys were big boys and I was going to get hit some," Covey said. "I actually think I have a concussion right now, I don't even know who scored on that drive, I think it was me. Took some big hits, but it was all worth it."
Covey stayed elusive the whole game. Every time East got a big hit on the small quarterback, Covey would slip out and gain 5 or 10 yards. He kept the team in the game despite adversity early on.
East jumped out to a lead in the first quarter and looked like it would be able to run over Timpview like it had so many other teams this season. Ula Tolutau had a historic season as the leading rusher for the Leopards. He punched in the first touchdown for East for a 2-yard touchdown with 8:31 left in the first quarter.
Tolutau ended the game with 121 yards rushing on 23 carries. His season ended with 2,465 yards and 31 touchdowns for his senior year. At the end of the game, with East down 33-28, the ball ended up in his hands, but he couldn't conjure up any more magic when Gabe Reid made one last tackle to end the game.
"We all knew we had one possession, that was all we needed," Reid said. "We got that stop, it was a team effort and everybody did their assignments. I just ended up being the one to make the play at the end."
Reid ended the game with 10 tackles, two sacks, 2½ tackles for loss and a punt block.
After Tolutau's first touchdown, East missed the first extra point of the game, which proved to be a problem through the game.
East got the ball back after a three-and-out from Timpview, and Isaac Vales went 67 yards on the next play to put the Leopards up two scores early, 13-0.
"Honestly we had a lot of former team members on Timpview, former state champions, and they said, 'there's going to be adversity, but you just got to forget about that and play through it,' " Covey said. "And that is the definition of this team, overcoming adversity, and we are really resilient."
In the second quarter, Timpview started to answer, but both teams had big plays. The Thunderbirds got their first score with 11:09 left in the second. While Timpview's first deep drive ended scoreless despite getting inside East's 5-yard-line. Isaiah Nacua forced and recovered a fumble to give Timpview the ball back on East's 7-yard line. Covey hit Rhett VanLeeuwen for a 5-yard touchdown pass to get Timpview on the board. The extra point brought the score to 13-7.
On the play after the kickoff, Preston Curtis took the handoff and found daylight for a 70-yard touchdown up the right sideline. Curtis ended the half with two touchdowns and 140 yards. East missed another extra point.
Sticking with the theme of the game, Timpview answered right back. The play after East kicked off, Covey connected to VanLeeuwen for 67 yards to bring the score to 19-14.
Curtis scored his other touchdown with 3:57 left in the half on a 6-yard rush to cap off a 13-play 75-yard drive that took over 6:30. He ended the game with 154 rushing yards on only 15 carries.
Timpview and Covey started to drive the field to make it a one-score game at half. Then rolling out he threw a ball across his body and it landed in the hands of Jake Baptise, who plays for East. Covey got advice from his coach about how to move on.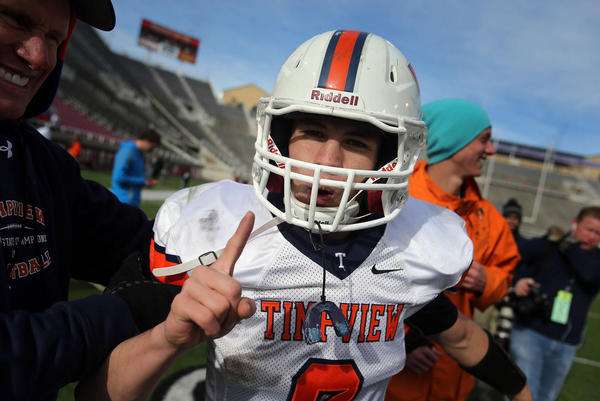 "Don't worry about it," said Timpview coach Cary Whittingham. "It's a long game, don't worry about it. Just learn from that mistake and keep moving forward."
East was driving for what could have been a back-breaking score, but the Timpview defense forced a punt to give its offense the ball back with 2:18. That was just enough time for Covey and the offense.
"When it comes to playing these guys, you got to step up and make plays," Covey said. "And everyone on our team stepped up and made some plays tonight."
The Thunderbirds took 53 seconds to go 72 yards, the biggest play being a Covey scramble for 34 yards. Porter Case capped the drive with a 1-yard run to get the score to 25-21 with East still leading.
The second half saw Covey get his first rushing touchdown on the first drive of the half. The Thunderbirds went seven plays for 70 yards with Covey scoring from 4 yards out.
The game went scoreless for more than 15 minutes until East hit a field goal with 5:41 left in the game to give East a one-point lead.
Covey lead his team down the field one more time into the end zone and to the top of the 4A class for 2013.
×
Related stories
Most recent Sports stories