Estimated read time: 7-8 minutes
This archived news story is available only for your personal, non-commercial use. Information in the story may be outdated or superseded by additional information. Reading or replaying the story in its archived form does not constitute a republication of the story.
SALT LAKE CITY — The Jazz have six players under contract next year, with the assumption that Marvin Williams doesn't opt out, and all need to improve in an area to make allow the team to step into the playoffs.
Six players will be back Williams, the "Core Four" and Jeremy Evans return and will be expected to play various roles on the team no matter who the Jazz acquire whether through free agency or the draft.
#poll
The "Core Four" of Gordon Hayward, Derrick Favors, Enes Kanter and Alec Burks all need to step up with the new amount of time they should be getting. Why they didn't get time this year could be many reasons, but those should be gone by the time the Jazz play game one.
Favors and Kanter sat behind Al Jefferson and Paul Millsap. Those players added offense and experience. The young guys will add hustle and defense. Hayward was lost early on with new additions, but found his stride late in the season. Burks was in the doghouse, then played a lot, then fluctuated depending on situations.
Ty Corbin will still be the coach so if for some reason really just didn't like these guys it won't really matter, but seeing that these are the only players on the roster he will have to. Each player has potential to become a star in this league, but have areas they need to improve on. These aren't complete lists, each player could improve a lot.
Derrick FavorsFoul Trouble:
Favors is a defensive stalwart. He has great range and athleticism. He passes the eye test with his ability to keep the paint clean and forcing people to adjust their shots. Even if it doesn't always show up on the stat sheet he makes a difference.
Now if he can only stay off the bench. Assuming the Jazz want these young players to play 36-40 minutes a night Favors will need to keep his fouling down. He averages 5.5 fouls per 40 minutes. He is sixth in fouls per 48 minutes in the entire league, with 6.1 per.
There are no stars on that list. JaVale McGee is up there, Roy Hibbert is in the teens and Dwight Howard is around 30, but other than that there are very few big names on the list. There are six fouls to give and the Jazz are known for fouling a lot, Kanter and Millsap are also on the top-50 list
In 2011 he wasn't as bad, playing only two fewer minutes, he averaged a full foul fewer per game. He was No. 30 on fouls per 48 minutes with only 5.1. Which one of these seasons is the outlier?
His offensive game is still a work in progress, but the other players should be able to pick up the slack for him. If he can stay on the court he could really make a push for a some votes on the defensive team. However he needs to increase his patience and keep his feet down and hands up.
Enes KanterOutside shot:
There might not be any player that improved more last season than Kanter. His rookie year he was lost more times than not. He came chiseled from his offseason workouts. Jefferson had taught him some low post moves and he got to the rim. He stopped putting the ball on the ground after every time he touched the ball down low.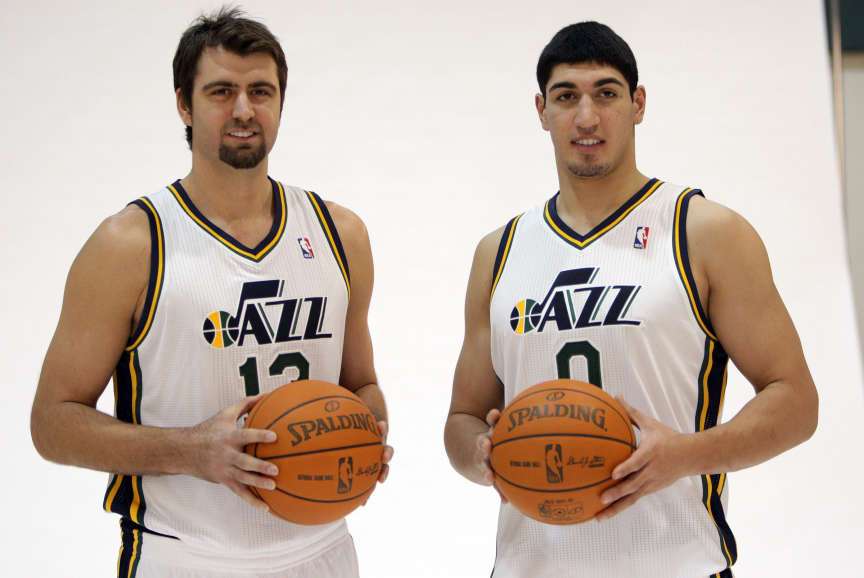 He has a lot of room to grow. He can be better defensively and down low on offense, but what would really put the team over the top would be him developing a great outside shot. He is probably a better offensive big than Favors right now and will be counted on as such.
He shot last season at a fantastic clip in small minutes. If he was eligible for minimum minutes he would have been tenth in the NBA in shooting percentage with 54.4 percent. Per 40 minutes he averaged 19 and 11. He could be so much more.
He shot 60 percent down low, 53.8 percent in the paint and 39 percent with his mid-range shot. Really his shot between 13-17 feet from the basket could be a lot better. If he can hit that and let Favors work down low the Jazz would be looking really pretty.
Gordon HaywardPlaymaking:
How does Hayward improve? He's good at everything, maybe not great at anything. He is a good defender, good with the ball, good without the ball. He is a top-25 3-point shooter. He hustles and gets everyone involved. Now he needs to become the star.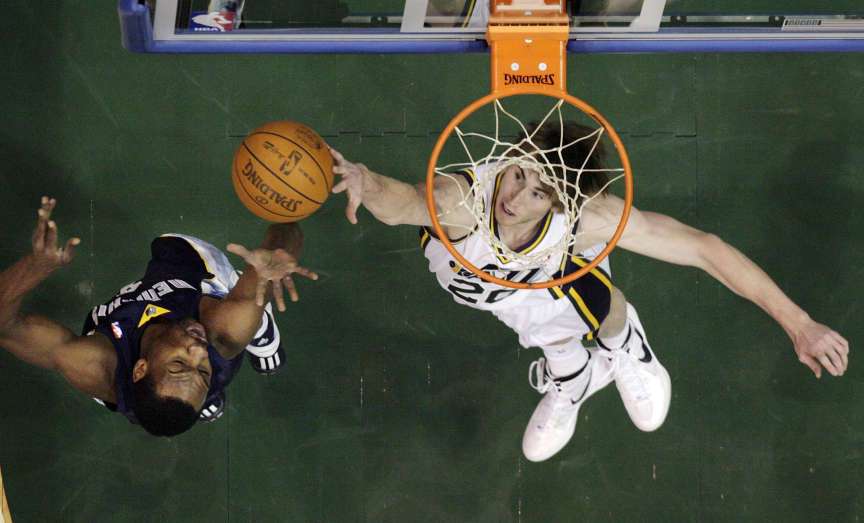 Right now he is averaging 14 points, 3 assists and 3 rebounds per game. For the Jazz to take the next step he needs to make all those numbers go up. Is he MJ or Magic? Kobe or LeBron? No, not in terms of talent, but is he a more of a cold-blooded shooter who will take the shot in the clutch or a facilitator who will flirt with five-by-fives every game.
He has always seemed more facilitator. He is best with the ball in his hands, slashing then picking where the ball goes. But if he is going to become his non-point numbers need to double. He could, and should, be in the area of 18 points, 5 assists and 5 rebounds. If James, again not a pure comparison, can average 27, 8 and 7, then Hayward could do this. Kevin Durant does 28, 8 and 4.5.
Hayward isn't as good of a scorer compared to those two, but if Corbin decides to run the offense through Hayward he should be able to put up some impressive numbers and allow his team to score.
Alec BurksConsistency:
Who is Burks? Is he the 26 points in 27 minutes on 16 shots against the Kings? The 8 points in 33 minutes against the Celtics? Closer to 12 points in 14 minutes against the Pacers? Two points in 15 minutes against the Clippers?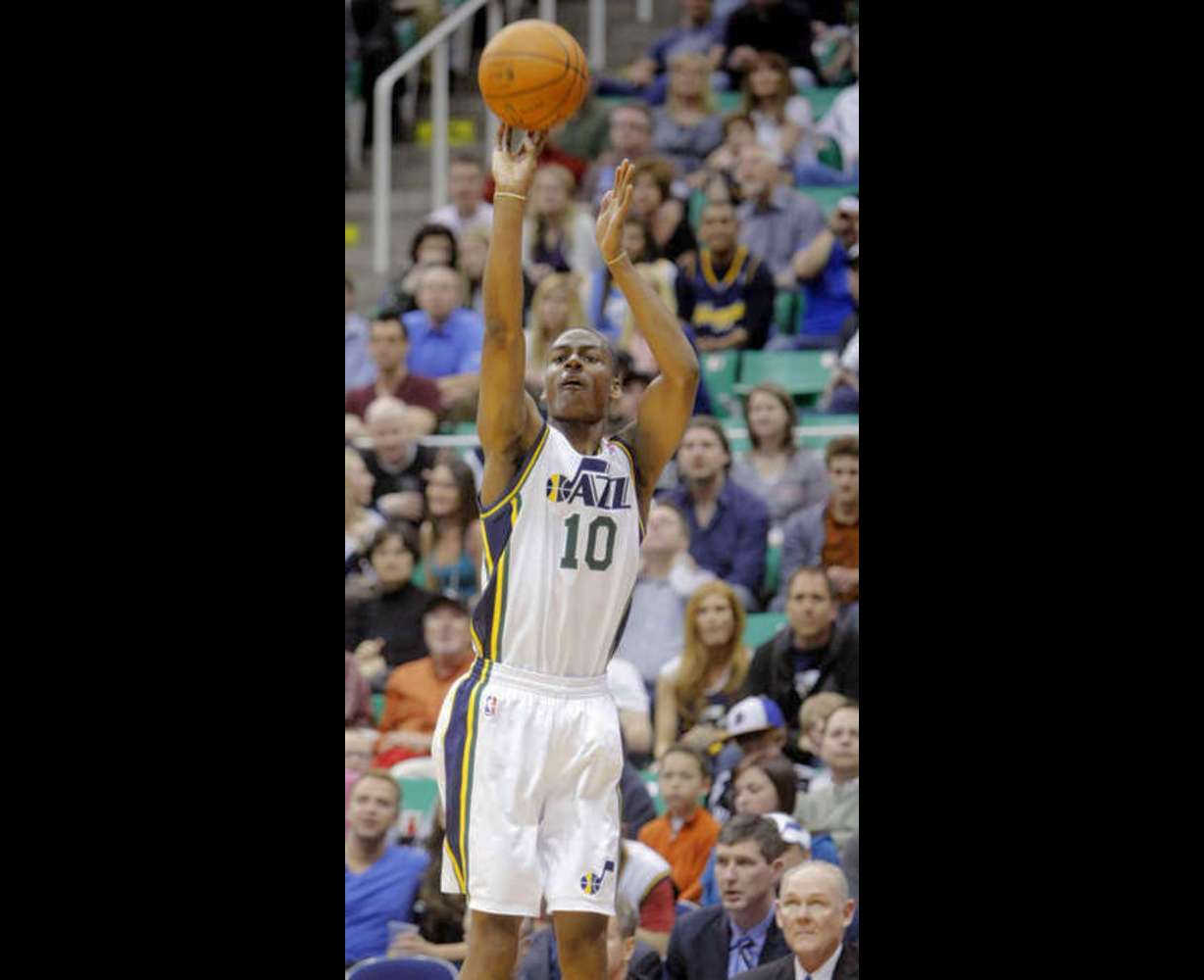 Was he wildly inconsistent because he was played such a wide variety of minutes, or was he played a wide variety of minutes because he was wildly inconsistent?
One way or the other he needs to keep his standard deviation down. In March he averaged 10 points per game. He scored two points in a game and 26 in another. The standard deviation is 6.4 in that month. That means on any given night his "average" of 10 points really should be expected to be anywhere between 4 and 16 points.
In wins for the Jazz he is plus-9 per 48 minutes, in losses he is minus-1.6. Roughly a 10-point swing. The Jazz lost by five points per game on average and won by five points per game. Roughly a 10-point swing.
The rest of his month, with significant playing time, his deviation is 4.3 when he averages 6.6 points per game in January, 3.6 on 6.2 in February, 5.2 on 8.6 in April and 2.1 on 6.2 in May. These numbers aren't a perfect, but a small glimpse into what is out there.
Players will naturally go up and down, but if he is expected to be a piece of the Jazz's puzzle then he will need to close the gap from good games to bad games. Jefferson played last year because he could score consistently. In March he averaged 20 points per game and his deviation was 5 points. He could be anywhere from 15-25 points. A 20 percent swing either way. Burks' March is a 60 percent swing.
If he can't be counted on to score consistently he might not have a spot on the court consistently.
Marvin WilliamsCorner three:
This is a little rough because he is who he is at this point. There isn't much to it, but if he can hit a corner 3-pointer at a 40 percent rate he should be able to make the Jazz dangerous. He could start parts of the season or he could come off the bench like he did late.
Ultimately his spot will be determined by his shooting. He will score a few buckets a game with his natural athleticism. He will provide on the defensive end and won't cause problems, but if he wants to help push the Jazz to the next level he needs to find the stroke that he occasionally has and knock it down.
Jeremy EvansJump shot:
He won't be a star, or a role player most of the time, but depending on how the Jazz draft he might get some playing time as the fourth big. He has shown bursts of offense a few times when he had a chance to play.
He is still rail thin and will have trouble on defense with any big body, but has shown that his leaping ability can let him make up for what he lacks. He can't be counted on for 25 minutes, but 10 or so a night and he could contribute. He might be able to add more if he could get a jump shot.
People just play off him and watch out for the alley-oop, but if he could hit a 15-foot jumper he could really become a little match up problem in the right situation.
×
Related stories
Most recent Sports stories