Hi. I'm Kevin Graham, and I'm a New York Jets fan.
I'm not proud of it. The realistic, pessimistic, miserable sports fan I am today results from the fact that I root for the Jets.
Growing up as a kid in West Virginia, a state without an NFL team, I could have picked anyone to root for. In fact, in my early years I did cheer for the Pittsburgh Steelers — along with the Jets. That was the closest team to where I lived and yes they were good. In fact they won a couple of Super Bowls and maybe that's why I was a happy little kid for a while.
So why the Jets? Well my dad was managing a general store at the time and decided one day to bring home this Jets half-helmet plaque thingy. I'm guessing he couldn't sell it, so he figured, 'Why not give it to my son?' Accordingly, it hung on the wall of my room. Being an impressionable kid it just stuck. Then one Christmas Santa brought me a Joe Namath Jets football uniform and the Jets became my 1B team to the Steelers' 1A.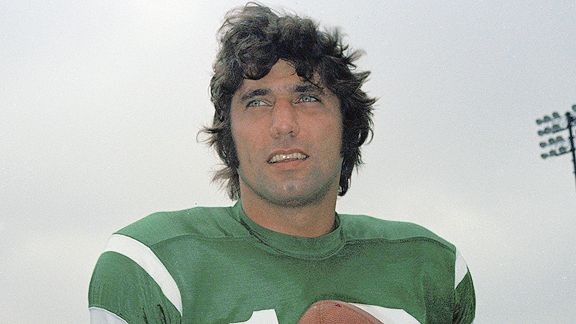 As I turned 8, something in my little brain clicked and told me I couldn't root for two teams. The Steelers and Jets would play each other on occasion and I guess it became confusing to pull for both. And then came the moment that quite honestly changed and shaped the sports fan that I am today — I decided I was going to be a die-hard New York Jets fan. To this day I'm not sure why I chose them over the Steelers. Maybe it was because Pittsburgh had won a couple of Super Bowls in my lifetime already and I figured the Jets would be due. I mean, their miraculous win in Super Bowl III happened just a few months before I was born.
Well, 43 years later I'm still waiting.
In my Jets fan life I have seen it all. Heartbreaking losses due to fake spikes (thanks Dan Marino!) and blown second-half leads when my team was on the cusp of reaching the Super Bowl (thanks, John Elway!). I have seen crushing missed field goals in playoff games (thanks, Doug Brien!) and not one, not two, but three interceptions (thanks, Richard Todd!) thrown to the same linebacker (thanks, A.J. Duhe!) blowing a chance to reach another Super Bowl. And those are some of the best Jets moments.
I try to forget the many others — like the entire Rich Kotite era when the Jets finished 4-28 in two seasons. Or the first game of the 1999 season when the Bill Parcells-led Jets were picked as the Super Bowl favorite only to see quarterback Vinny Testaverde blow out his Achilles tendon in the first quarter and be replaced by punter Tom Tupa, who was also the backup QB. Needless to say that season didn't go so well. And what about this past year when on Thanksgiving night Mark Sanchez created a new term — the "butt fumble."
I also try to forget the many Jet games I saw in person whenever they came to the area I lived. I had popcorn thrown at me in Detroit, beer poured on me in Pittsburgh and two male fans holding hands ridiculing me in San Francisco — not that there is anything wrong with that, of course. Oh by the way, the Jets lost all those games.
The only time I ever felt at home being a Jets fan is when I saw them at the old Meadowlands in New Jersey (yes at the time they were playing in Giants Stadium. Sad when you can't even have your own stadium). And that was only because the "home town" Jets fans were just as cynical as I was. It was like I had died and gone to Jets heaven — as demented as that may sound.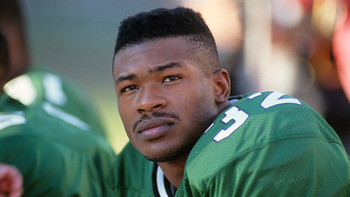 So why am I telling you all this? Well maybe because my Super Bowl has arrived — the NFL draft. It's the one time as a Jets fan that we can have hope that the organization will draft the players that will finally lead us to the promised land. Just like when they drafted Johnny Lam Jones with the No. 2 overall pick in 1980. Or first rounders like Ken O'Brien over Dan Marino in 1983. Or guys like Russell Carter, Mike Haight, Roger Vick, Dave Cadigan, Blair Thomas, Johnny Mitchell, Dewayne Robertson and Vernon Gholston. Oh wait. Now you wonder why at every draft you see on TV the Jets fans booing and screaming.
But I'm in too deep at this point to abort because if I do you know that will be the year they finally get to the Super Bowl. Because as a Jets fan that would just be my luck! And all the while I wonder how much different of a sports fan I would be if I would have just stuck with the Steelers.
So do me and yourself a favor. Pick a good team to root for and make sure you push your children to do the same. Heaven knows you don't want to be as miserable as me.
And even with all that said: J-E-T-S! JETS! JETS! JETS!

Kevin Graham co-hosts Gunther and Graham 3pm-7pm on 1320 KFAN. He is also the founder and editor of www.SportsMashup.com. You can follow him on Twitter @KevinGrahamKFAN and like him on Facebook (SportsMashup).
×
Related Stories