PROVO, Utah (AP) - Tyler Haws scored 37 points and Brandon Davies added 22 to lead Brigham Young to a 90-79 win over Washington in the first round of the NIT Tuesday night.
Matt Carlino also scored 20 points, including 18 in the second half, for BYU (22-11).
"He put together a great half and down the stretch he was terrific," BYU coach Dave Rose said of his sophomore point guard.
Junior guard C.J. Wilcox led the way for Washington (18-16) with 20 points, while sophomore forward Shawn Kemp Jr., scored 15 points and grabbed a game-high 11 boards.
The Cougars took an 18-11 lead when Haws hit a long 3 to finish off a 12-2 run. But when Andrew Andrews came off the bench for Washington and hit two 3s the Huskies went up 27-25.
Two free throws by Haws put the Cougars back ahead 33-32. But Wilcox sent Washington into halftime leading 35-33 with a deep 3 to beat the horn.
With the game tied at 45 the Cougars used a 9-0 run to go on top for good. The Huskies scratched back to 66-63 at the seven-minute mark on a pair of layups by Abdul Gaddy. When Carlino responded with two NBA-distance 3s the Cougars took control for good at 76-67.
"We were hungry and just wanted to win this game and advance," Haws said.
Haws, who set a BYU NIT scoring mark, went 15 of 24 from the floor, 9 of 12 in the second half, and made a perfect 6 of 6 from the line.
"Thirty-seven points are a lot, but you just kind of expect him to carry a big load," Rose said.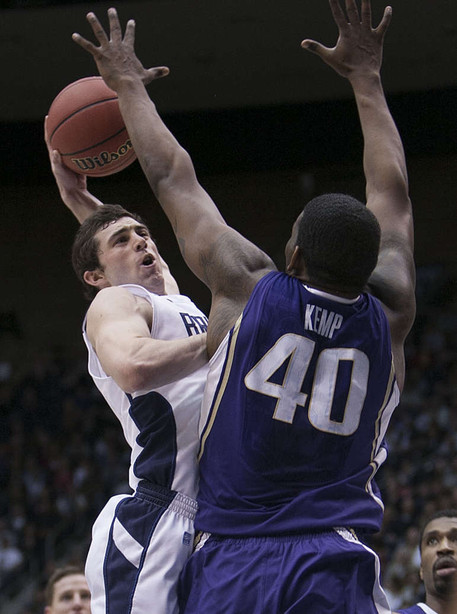 Wilcox, who prepped 15 miles north of BYU's campus and grew up competing against Haws, added, "He has a very good pull-up game and he was executing tonight. He hit a lot of tough shots."
Carlino hit 4 of 8 threes, including 3 of 7 in the second half, and was also a perfect 6 of 6 from the line. The Cougars made 21 of 23 free throws.
"I thought Carlino in the second half may have been the difference," Washington coach Lorenzo Romar said.
The Huskies hit 6 of 10 3s in the first half, but only 2 of 12 after the break.
"I think they hit a wall and we just kept running," Carlino said.
The Cougars will host the winner of Wednesday night's Mercer/Tennessee game in the second round.
"This is four seasons in a row that we've won a postseason game and I think that's a real positive thing for your program," Rose said.
(Copyright 2013 The Associated Press. All rights reserved. This material may not be published, broadcast, rewritten or redistributed.)
×
Photos
Related Links