This archived news story is available only for your personal, non-commercial use. Information in the story may be outdated or superseded by additional information. Reading or replaying the story in its archived form does not constitute a republication of the story.
SALT LAKE CITY — DeMarre Carroll grew up in Birmingham, Alabama, where he won a couple of state high school basketball championships.
He was the 27th overall pick in the 2009 NBA draft (Memphis Grizzlies).
And that about sums up the stuff we know about DeMarre Carroll.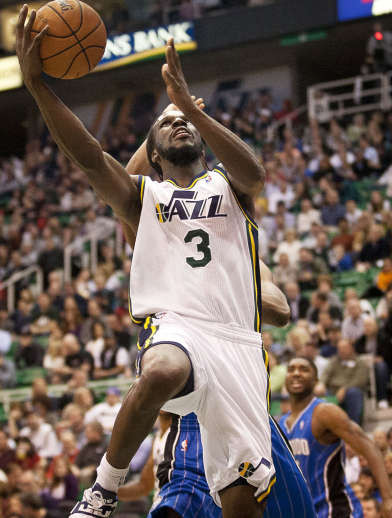 However, there are a number of things you may not know about the Jazz forward, until now.
DeMarre took me to his favorite shopping spot, True Religion apparel in the City Creek Center, where the self-proclaimed 'fashion expert' allows us to get to know him a little bit better. Here is our conversation.
DeMarre Carroll: I think I have about every jean in here (True Religion). I am a fashion expert. Right now it's winter so I want to get loud. In the summer I will tone it down a little bit with white and blue.

Rod Zundel: So you know what you're doing?

DeMarre: I think my mom taught me good. When I was little she would always tell me when I step out of the house you're representing your family and I am also representing the Utah Jazz so every time I step into an arena I try to represent the Utah Jazz in a good way.

RZ: Is your mom your 'rock'?

DeMarre: My mom and my dad. They have been together for a very long time. My father is a pharmacist and a pastor. My mom is an RN and she's a minister. I come from a Christian background. I grew up in a religious household, going to church every Sunday and the Easter speech and the whole '9'. Without God I wouldn't even be here I give all the glory to God. Every day I step out on the floor I feel blessed. You look at my twitter and that's all I say. Stay positive! There are a lot of people in the world that have it worse than you do.

RZ: Would you say that your childhood was one that you look back and say "I was blessed"?

DeMarre: Ya! Most definitely. There are a lot of kids that have single parents and my parents have been together 25 years now. I have not once heard my mother and father spark an argument and I think that is a blessing being able to go home and have your parents be able to talk to.

RZ: You have been playing a lot more, but are you enjoying Utah and Salt Lake City?

DeMarre: Oh ya definitely! That's the best part about Utah, the fans. I try to get out like last week I went and saw Lone Peak (high school) play. I just try to get out and visit with a lot of people and let them know I appreciate them appreciating me.

RZ: What was your perception of Utah before you came to play here and has it changed since you now live here?

DeMarre: Yes! When I played for Memphis I thought this was the most boring city in the world. I thought it was just cold and people really don't do much, but ever since I got here the food has been great, the people have been great. I actually have a hobby now. I like to bowl. I try to have fan bowling once a week and I have had a lot of fans come out and it's been good.

Utah's DeMarre Carroll dunks the ball (Scott G Winterton, Deseret News)

RZ: A couple of years ago your legs started itching and you thought you had an allergy. You went to the doctor and what happened after that?

DeMarre: I went to the doctor and they did several tests. They thought I was itching from my dog and we didn't know what it was. This went on for probably six months. Eventually they did one last test, a test on my liver and they figure out it was my liver.

RZ: Liver disease! After your career you possibly could need a liver transplant, 20 or so years down the line correct?

DeMarre: Yes.

RZ: When you heard that did you think to yourself that this can't be happening to me?

DeMarre: Oh ya I was very emotional. I had been through a lot in my life already. From earlier in my life my brother dying from a brain tumor to this. I was emotional but I overcome it and God wouldn't put me through something I couldn't handle.

RZ: So as far as your career goes, as far as your life now and for the next 20 years or so you are as 'healthy as a horse'?

DeMarre: Yes, no affects other than taking medicine from time to time but other than that I'm living good!

RZ: So life is good for Demarre Carroll

DeMarre: Ya it is a blessing ! Very good!

RZ: And you look good in True Religion huh?

DeMarre: Oh ya!

RZ: You're making mamma proud!

DeMarre: You got to make mamma proud! Mamma really gets mad at me when I don't dress the part. I hope I look good mamma!
DeMarre Carroll may be the 'junkyard dawg' on the court but he is 'Mr. Fashion' and Mr. nice guy off the court!
It was a pleasure to get to know him a little bit better.
×