Estimated read time: 3-4 minutes

This archived news story is available only for your personal, non-commercial use. Information in the story may be outdated or superseded by additional information. Reading or replaying the story in its archived form does not constitute a republication of the story.

SALT LAKE CITY -- A powerful state lawmaker was arrested in Salt Lake City on suspicion of driving under the influence of alcohol. It came following a fundraiser for another lawmaker, attended by top Republican legislators and a large group of lobbyists.

Just after midnight Friday, a Utah Highway Patrol DUI squad trooper stopped a vehicle driving suspiciously near 3300 South and 700 East. When he pulled the driver over, the trooper noticed a strong odor of alcohol.

Behind the wheel: Senate Majority Leader Sheldon Killpack; a male passenger was in the other seat.

**Who is… Sheldon Killpack?**

![](http://media.bonnint.net/slc/1711/171130/17113033.jpg)• A Republican member of the Utah State Senate, representing the 21st district in Syracuse • Senate Majority Leader; elected Nov. 7, 2008 • Vice President of [Academica West](http://www.academicawest.com/), which manages the establishment and operations of Utah charter schools. • A husband and father of four children • Attended Layton High School • Earned a Bachelor of Science degree from Weber State University

The trooper ran Killpack through a field sobriety test then asked him to take a pair of breath tests. UHP said he refused, so they obtained a warrant to draw blood. Killpack was arrested on suspicion of driving under the influence and was booked into the Salt Lake County Jail at 2:45 a.m.

"This is pretty much a cut-and-dry DUI," said UHP Sgt. Jeff Nigbur. "The only thing different is the person involved."

Nigbur added, "It's important to understand that nobody is above the law, whether you're a police officer or whoever you are. We have to treat this like any other DUI stop that we would make."

Earlier that evening, Killpack was at a fundraiser for a fellow lawmaker, which was attended by many legislative leaders and key lobbyists. About 30 lobbyists and several lawmakers attended the event. Those lawmakers include Killpack, Draper Rep. Greg Hughes -- who the fundraiser was for -- and House Speaker David Clark; lobbyists there included IHC lobbyist Alan Dayton, former lawmaker Mark Walker and former House Speaker Greg Curtis.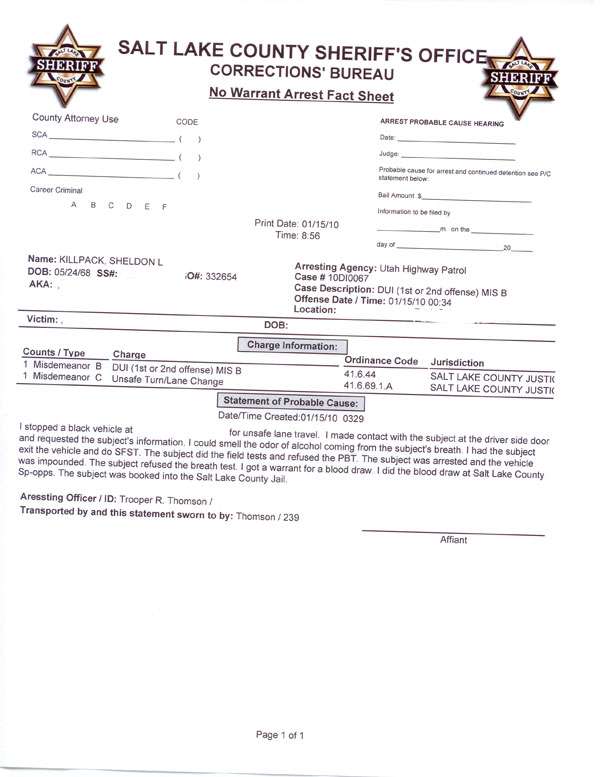 Multiple sources tell KSL News no alcohol was served at the event, but a source at the party says Killpack left around 9 p.m. accompanied by former lawmaker and lobbyist Mark Walker.
The news of the arrest has shocked the political community, especially in light of Killpack's history -- his father was killed by a drunk driver, and he's worked to toughen DUI laws in Utah's Legislature.
"He and I have both worked on DUI bills over the years, and what do you say? A little irony there, I gues," said Senate Majority Whip Scott Jenkins.
A call to Sen. Killpack was not returned, but he released a statement Friday afternoon saying: "I am deeply sorry for the impact this incident will have on those who support and trust me -- my colleagues in the senate, my constituents and, most importantly, my family. I am a firm believer in responsibility and personal accountability, and am prepared to accept all personal, legal and political consequences for my actions." [CLICK HERE to read the entire statement]
"This event has taken place, and now Sheldon's got to decide what he's going to do, whether this will affect his leadership role, if it will affect his position in the Senate," Jenkins said.
The results of the blood draw could take up to a month to come back.
The Utah Democratic Party weighed in Friday night on Killpack's refusal to take the breath tests. Although legally allowable, the Democrats say his doing so shows "that he did not deal with this in a responsible, forthright manner." [CLICK HERE to read the entire statement from the Democratic Party]
------
Story compiled with contributions from Sarah Dallof, John Daley and Andrew Adams.
×
Most recent News stories