Estimated read time: 1-2 minutes
This archived news story is available only for your personal, non-commercial use. Information in the story may be outdated or superseded by additional information. Reading or replaying the story in its archived form does not constitute a republication of the story.
SALT LAKE CITY -- General Conference for The Church of Jesus Christ of Latter-day Saints always draws a big crowd to Salt Lake City. But this weekend could be particularly difficult for drivers headed downtown.
Related:
It's not the downtown many conference-goers remember.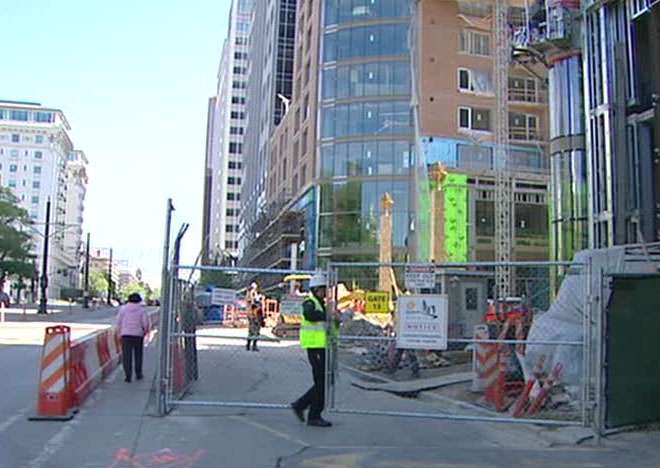 Kristin Rogers of Mesa, Ariz., observed, "They've torn down some of the buildings that are old, so it's wonderful. They've put in a lot of new things. It really is beautiful."
Salt Lake City's metro is going through a major transformation. Visitors from all over the world are seeing some of the renovations for the first time.
Cathy Maher, of Alberta, Canada, said, "There are a lot of new things to see on Temple Square that we've really enjoyed."
Crowds have begun to gather downtown, which means more traffic -- right in the middle of construction. Those headed to the city from the south may face delays from several projects:
The 11400 South on and off ramps to I-15 are open, but UDOT is restricting traffic flow northbound until 10 a.m. Saturday. In addition, both directions on I-15 will be restricted to three lanes Saturday from 9 p.m. to 10 a.m. Sunday.
Downtown, motorists will want to avoid the west portion of North Temple. It's closed between 300 West and 600 West. For more on the traffic options, click here.
The Downtown Rising project has narrowed some city streets.
But even with the potential traffic and crowds, visitors say it's worth it.
"This is my husband and my first time, and we're here with four of our grandchildren, our daughter and son-in-law. So, we're very excited," Cathy Maher said.
E-mail: jstagg@ksl.com
×
Related links
Most recent News stories