Estimated read time: 3-4 minutes
This archived news story is available only for your personal, non-commercial use. Information in the story may be outdated or superseded by additional information. Reading or replaying the story in its archived form does not constitute a republication of the story.
SOUTH AFRICA — Two men on different continents have worked together to provide a working, affordable prosthetic for a young boy who was born with no fingers.
The 3-D printed prosthetic hand came about when Ivan Owen, a part-time mechanical special effects artist in Washington, posted a video on YouTube about about a mechanical hand prop he had created. South African craftsman Richard Van As, who had lost most of the fingers on his right hand in an industrial accident, contacted Owen.
Van As invited Owen to join him in creating a mechanical device that could replace amputated fingers. Owen agreed, and the two got started on the project.
As the two worked on creating the mechanical hand, they posted videos about their goals on YouTube and wrote blog posts about their progress. Eventually, 5-year-old Liam's mother found the blog posts and contacted the pair about creating a hand for her son, who had been born with no fingers on his right hand.
When Van As first met Liam, he created for him an attachment so he could hold a pen and write. Van As wrote to Owen, telling him about observing Liam and realizing that despite missing his fingers, Liam was right-handed. He said he had observed Liam reversing his letters while writing with his left hand — but with the pen attachment, he was able to write correctly.
"Right now - his prosthetic is a sheet of thermal plastic that was formed to his hand and held on by rubber bands," Owen wrote. "Can you imagine what it will look like if we could get proper funding to help create something more comfortable for this little one?"
As Liam worked on getting used to using prosthetic devices, Van As and Owen crowdsourced funding for the project. Enough funds were ultimately raised to create a "robohand" for Liam. In late November, Owen flew to South Africa to meet Van As and Liam, and to see Liam grasp something with his right hand for the first time. Liam's smile, he said, was golden.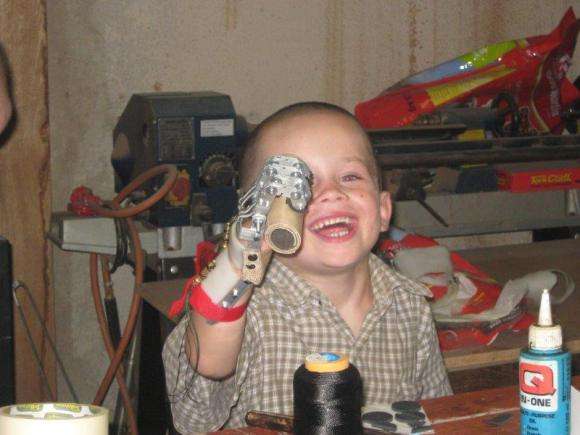 "That smile is due to two ordinary men - who decided to work together from 10,000 miles apart …to make a difference in the life of one little boy and potentially thousands more," he said.
Owen and Van As have continued to work on their project together, although separated by thousands of miles. They want to refine and increase the functionality of Liam's hand.
"We don't want to stop at 'good enough'. It's now time for seeking out the 'even better'!!" Owen wrote in late January.
On Jan. 25, Owen announced on the blog that Liam "is now the owner of a functional, comfortable device that increases what his right hand can accomplish." And he and Van As posted the design online for free use in the public domain.
Top image credit: Coming Up Short Handed
×
Photos
Related links
Related stories
Most recent News stories