SALT LAKE CITY — Al Jefferson was given a chance to give an homage to Alfonso Ribeiro, the actor who played Carlton Banks in "The Fresh Prince of Bel-Air" who was in attendance for the Jazz's win over the Kings.
Carlton was always the more uncoordinated cousin to Will Smith's character. In one episode Will and Carlton are playing basketball for their high school. Will was the better shot and had been keeping his team in the game. The coach wanted Will to take the last shot, but Carlton got the ball and took one shot for glory.
The game slowed down, the music changed and for a brief second the shot looked good. Until the camera angle changed and it turned out it wasn't close to going in and his team lost.
Jefferson and the Jazz were tied at 84 with the Kings as the clock was expiring. The Jazz were going to take the last shot and Jefferson set a screen for the 3-point shooter Randy Foye. Foye was well defended and he passed to Jefferson.
There was no time for another pass and Jefferson had to take a 3-pointer to win. Hero music started playing, time started to slow down and the ball didn't come close to the rim.
Fortunately for the Jazz and Jefferson they didn't lose the game, it was just sent into overtime where they won 98-91.
Josh Sharp dunks over a reporter:
Josh Sharp is starting to hit his stride with BYU. Greg Wrubell's Points Available Percentage, an advanced scoring metric, has him at the top of the team. Basically it means that when he gets the chance to score he does.
This time though he's going to get to the rim by going over a BYUtv reporter. And by over the reporter, he actually goes over him.
Kory Aldous is doing a story on Sharp who transferred from Utah two years ago. Sharp has gone from seven minutes per game last year up to 21 this season. His points aren't gaudy, but he is shooting 57 percent thanks to his ability to make plays like this.
While Aldous isn't a giant, jumping over another person is simply impressive. It brings to mind what might be the greatest dunk of all time: Vince Carter's Olympic dunk.
Carter's dunk came during the Olympics when he decided to dunk the ball no matter what or who lay in wait. It turned out to be 7-2 Frederic Weis, a French center. Carter pushed down on Weis's head to get over him, but it is still fantastic.
Sharp's dunk might not be professional, but he does make it over without touching him, which is a very nice touch.
Er, no touch.
Tattooed de-commitment: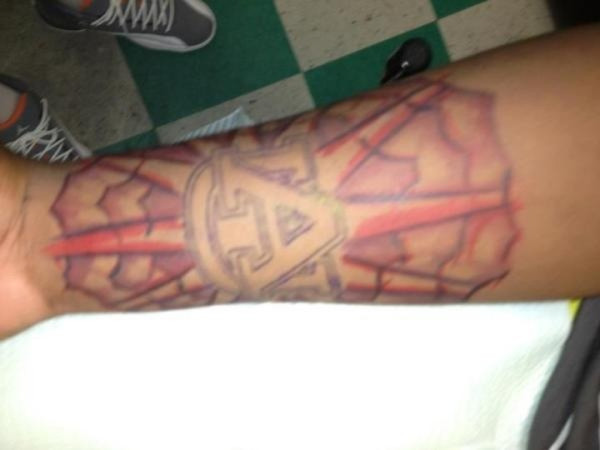 Sometimes people regret tattoos over time. Old age, divorce or just a change of mind could lead to a desire to get the tattoo removed, but for one college football recruit the desire will come quite a bit faster.
Reuben Foster is one of the top recruits in the country and is from Auburn. He had committed to Alabama then changed his mind and committed to Auburn. When he did so he wanted to make it permanent and got an Auburn tattoo on his forearm.
The only problem was that while the tattoo was permanent his decision wasn't. He has recently switched back to play for Alabama.
There is no word as of yet for what he plans on doing with his tattoo, but he will have until Wednesday to change his mind again. National signing day is on Feb. 6 where he will make a real commitment.
'A League of Their Own' inspiration dies:
Lavonne "Pepper" Paire-Davis, a star for the All-American Girls Professional Baseball League during its high-point, died Saturday, Feb. 2 at the age of 88. Paire-Davis was the main inspiration for the character that Geena Davis played in the 1992 movie "A League of Their Own."
Paire-Davis played mostly catcher and shortstop starting her career in 1944 and ending in 1953. Unlike Davis' character she never played for the Rockford Peaches, but won championships with the Racine Belles, the Grand Rapids Chicks and the Fort Wayne Daisies.
She coauthored the theme song, "Victory Song" which was the official song for the AAGPBL. This was the song that the girls sang in the movie.
In the end she played in 926 games and had a .225 batting average. The AAGPBL would play 120 games over a four-month period.
×
Related Stories